Please meet one of my favorite clients EVER: Cristina and Dmytro – or Dima, as he is called by his friends. After more than a year of wedding planning with the two of them, they are now Cristina and Dima to me, too!
Cristina and Dima hired my company, A Day Like No Other, last year – to put together a really memorable celebration for them, including decor in a vintage French Country theme. I jumped at the opportunity to do that project! Taking my cues from Cristina's favorite color – a soft French Blue – and a few Pinterest inspirations, I let my imagination take off, and the most wonderful thing happened: Cristina and Dima were thinking in the same direction, approved my ideas and let me "run with them." It was a wonderful, shared creative process, bringing together many of my favorite vendors, and culminating yesterday in one of the most memorable weddings I've ever done.
I had the opportunity to design their invitations – which set the tone for their decor theme…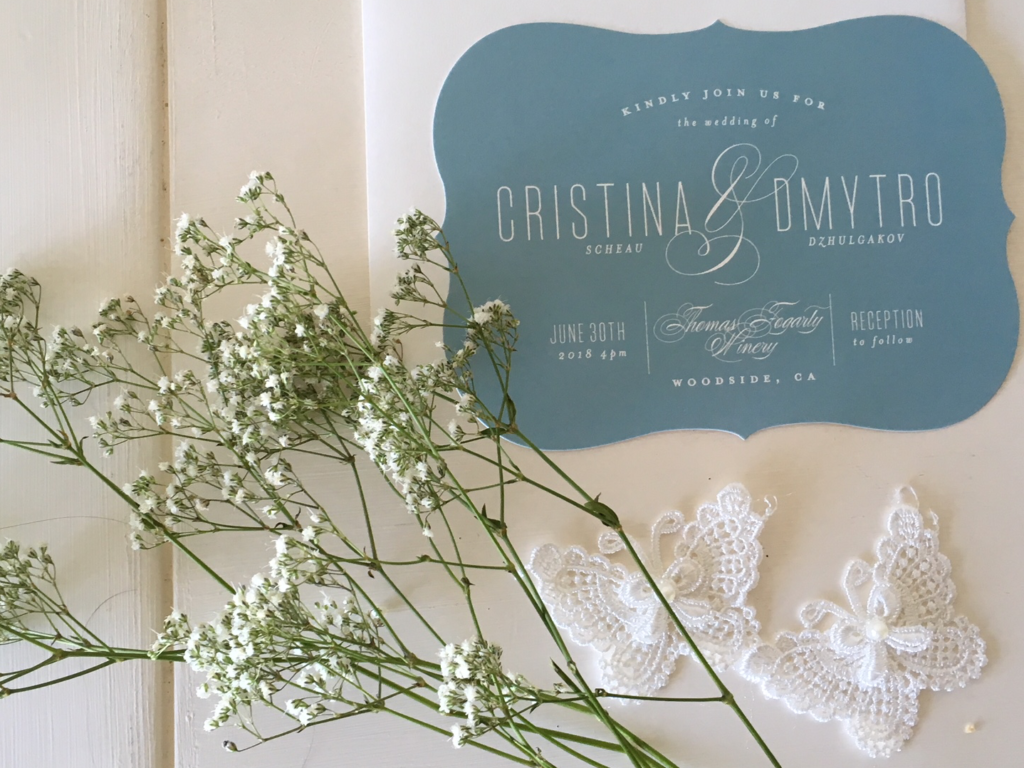 For their venue, the two had chosen Thomas Fogarty Winery – a spectacular location with endless views all over Silicon Valley.
Their "home base" for their wedding day was the Garden Court Hotel in Palo Alto, where both bride and groom and their attendants were getting ready. The ladies started early with hair and makeup styling by Miabel Artistry – and emerged as drop-dead gorgeous, red-carpet-worthy beauties.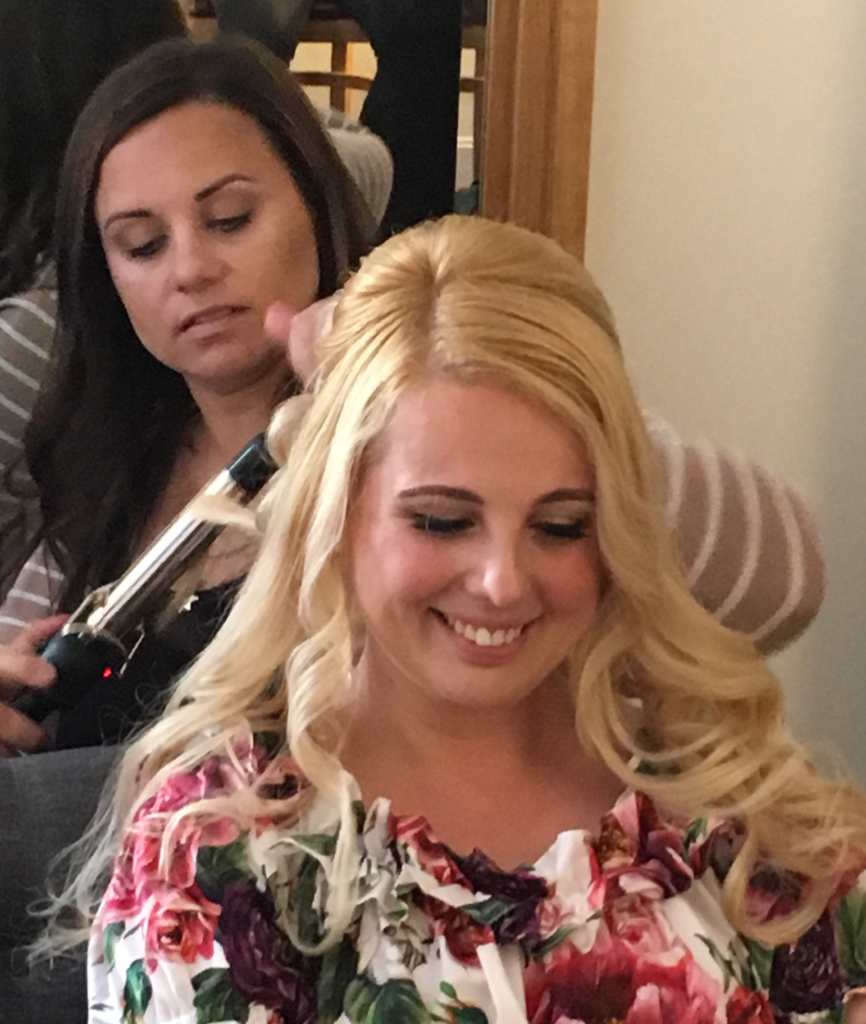 And just look at her "princess slippers:" sparkly golden Jimmy Choo heels.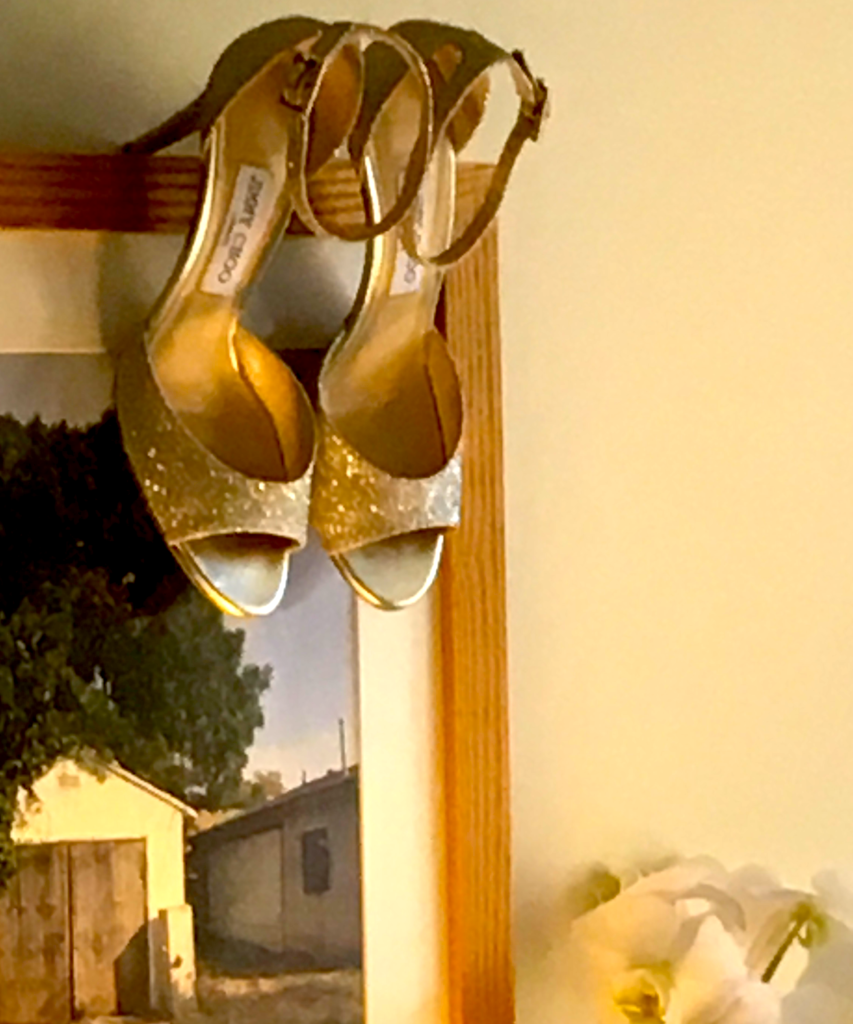 Stretch limousines from Le Grande Affaire – a white one for the ladies and a black one for the gents – pulled up, rolled out that proverbial red carpet (literally) and took everyone up that long, winding country road to the winery.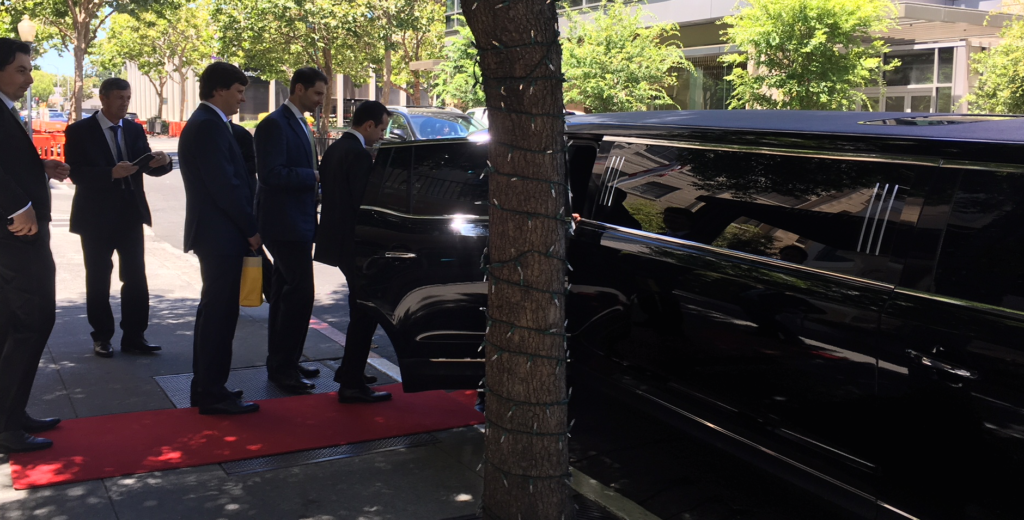 Up there, not only the onsite events team, but many other vendors were already busy to get everything set up for the great moment – working hard at temperatures over 90 degrees! A glorious, sunny day, with blue skies, but really, really hot…
The catering team of La Bocca Fina set up all the tables and chairs. Linens and napkins – custom-made from blue-and-white Toile de Jouy fabric just for this event – from Wildflower Linens set the light blue French country theme …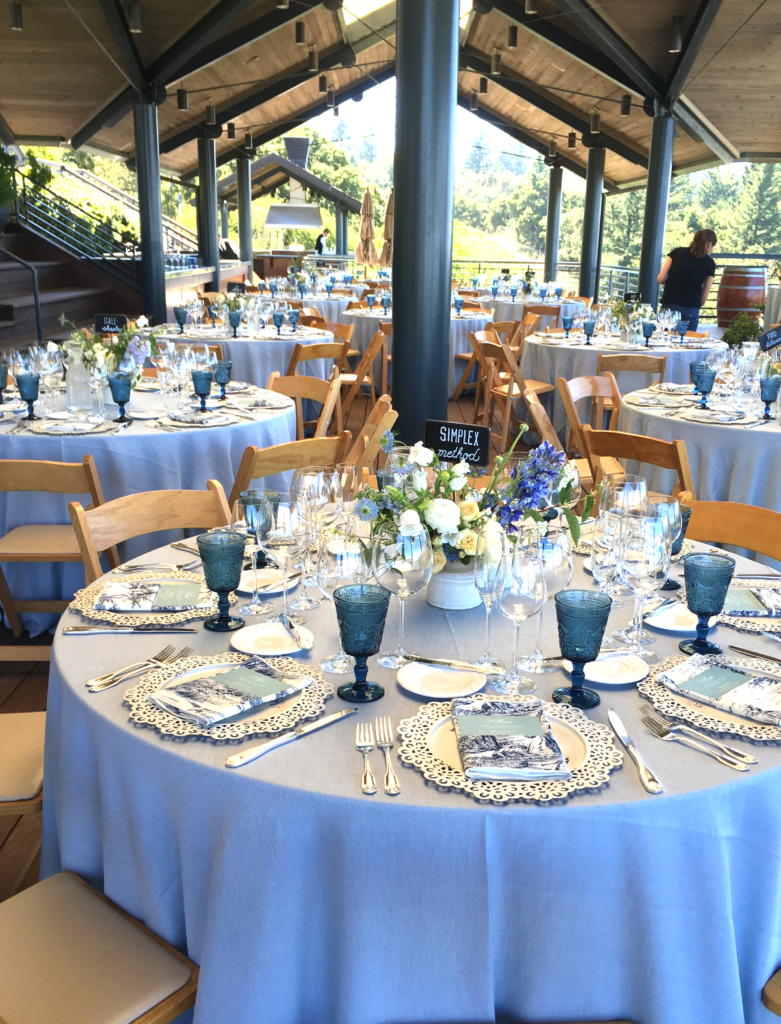 … and china, flatware and glassware from Hensley Event Resources completed the look, down to the tiniest details.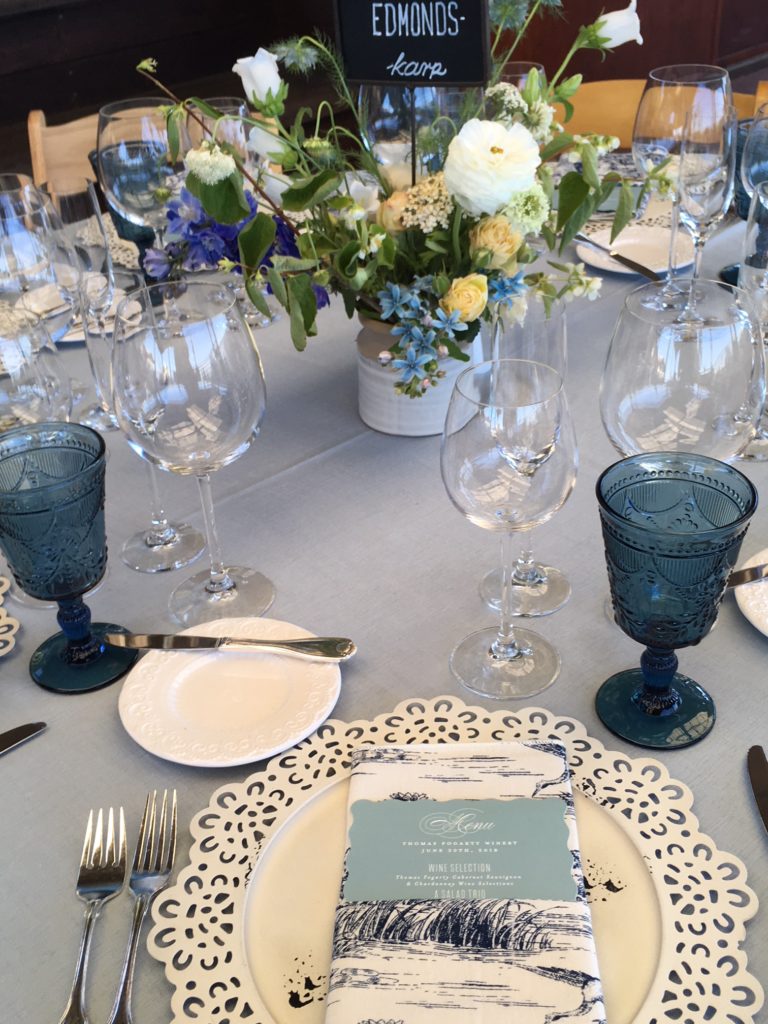 Florist/stylist Natasha Kolenko provided flowers reminiscent of French country gardens – light blue, in loose, effortless arrangements, incorporating wildflowers and greenery for an overall charmingly nostalgic, feminine and soft effect. She even had a structure of untreated slender tree trunks custom-made to surround and frame the couple's Sweetheart Table, with more summer flowers seemingly growing up and around this frame in the most natural fashion.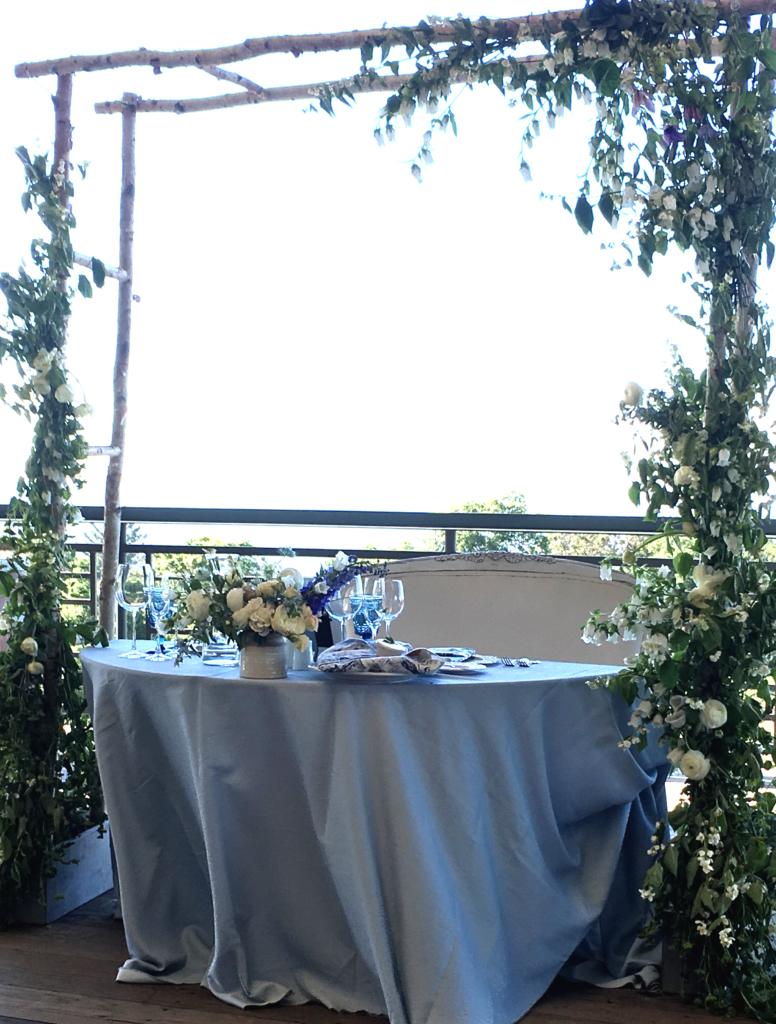 The arch for the ceremony mirrored this style perfectly; vintage-inspired vignettes of wine barrels and French wrought-iron garden chairs completed the "look."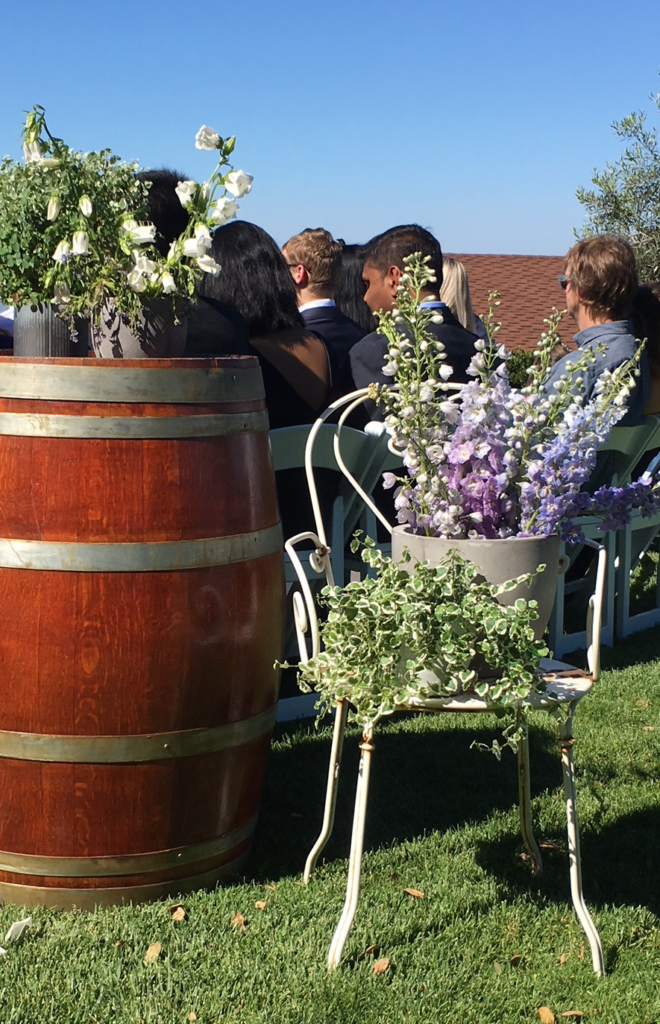 Guests were greeted by a custom-designed "Welcome" sign which I calligraphed myself – along with all the other signage for this wedding.
To add a little whimsy to their guestbook, I found a vintage typewriter for Cristina and Dmytro – with a time-worn sheet of typing paper asking guests to leave the couple a note…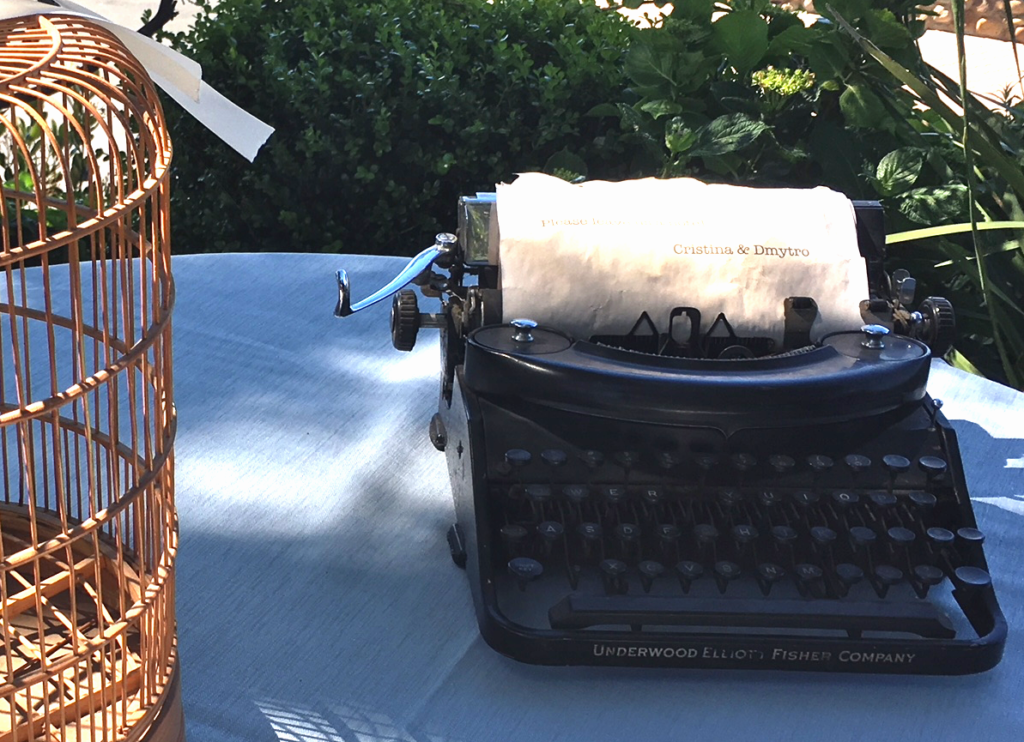 Time for the ceremony! The Mersonacta String Quartet provided beautiful music for prelude and ceremony… and here comes the bride, in an elegant lace wedding dress from Nouvelle Vogue Bridal Salon, accompanied by both her parents.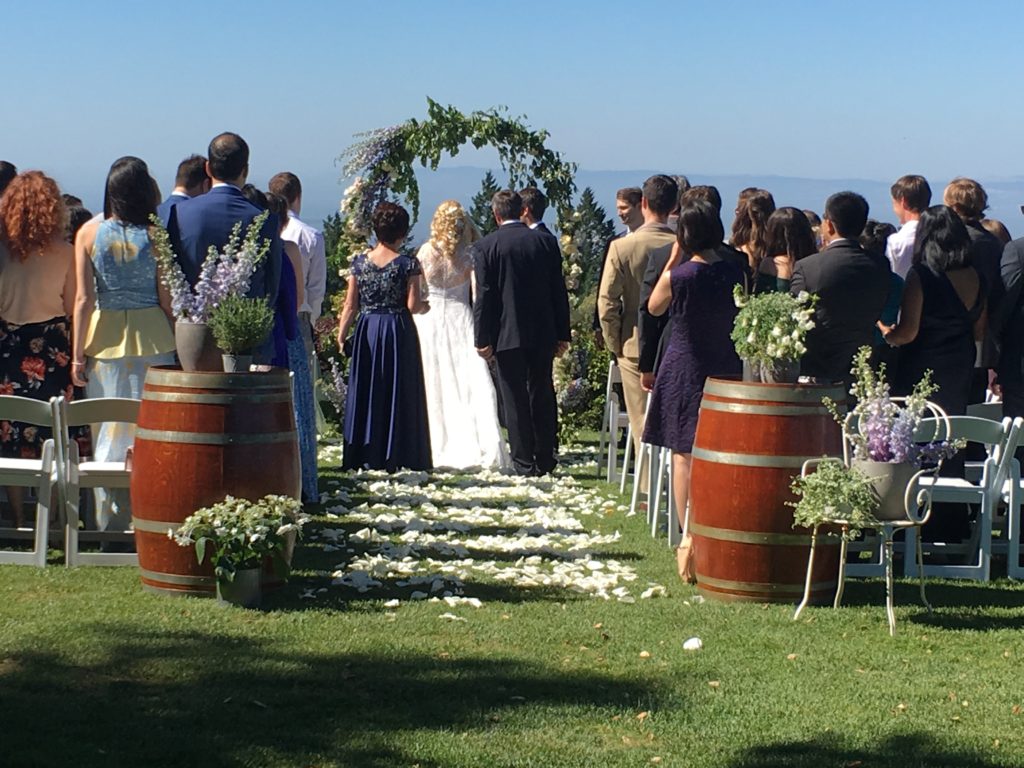 The setting for the ceremony was nothing short of spectacular.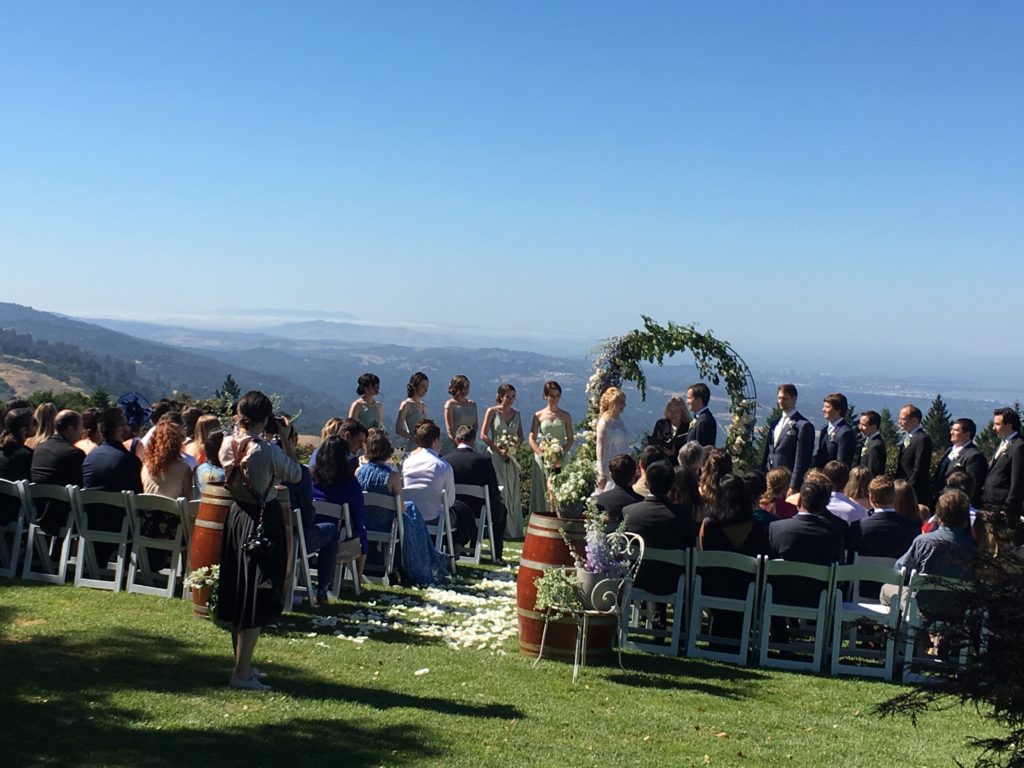 Our photographer Maria Hedengren (here in action!), who had flown in from Finland just for this wedding, captured every precious moment.
"Minister Maggie" Beretz found the most personal and heartfelt words to unite these two in marriage.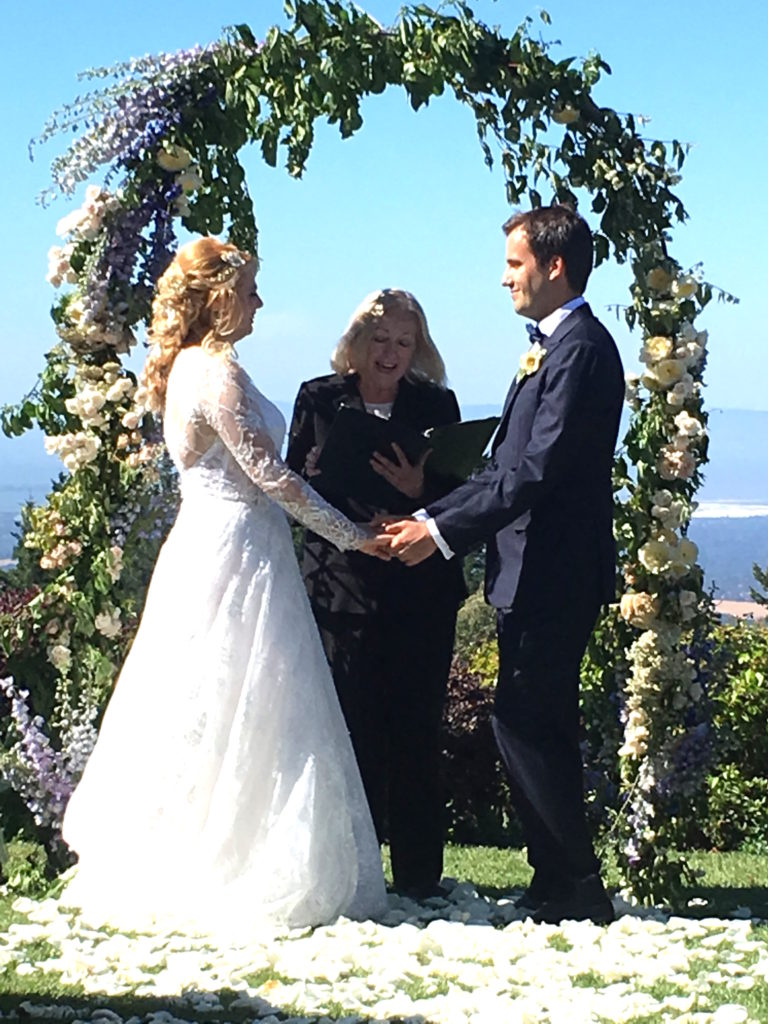 And here they are: JUST MARRIED!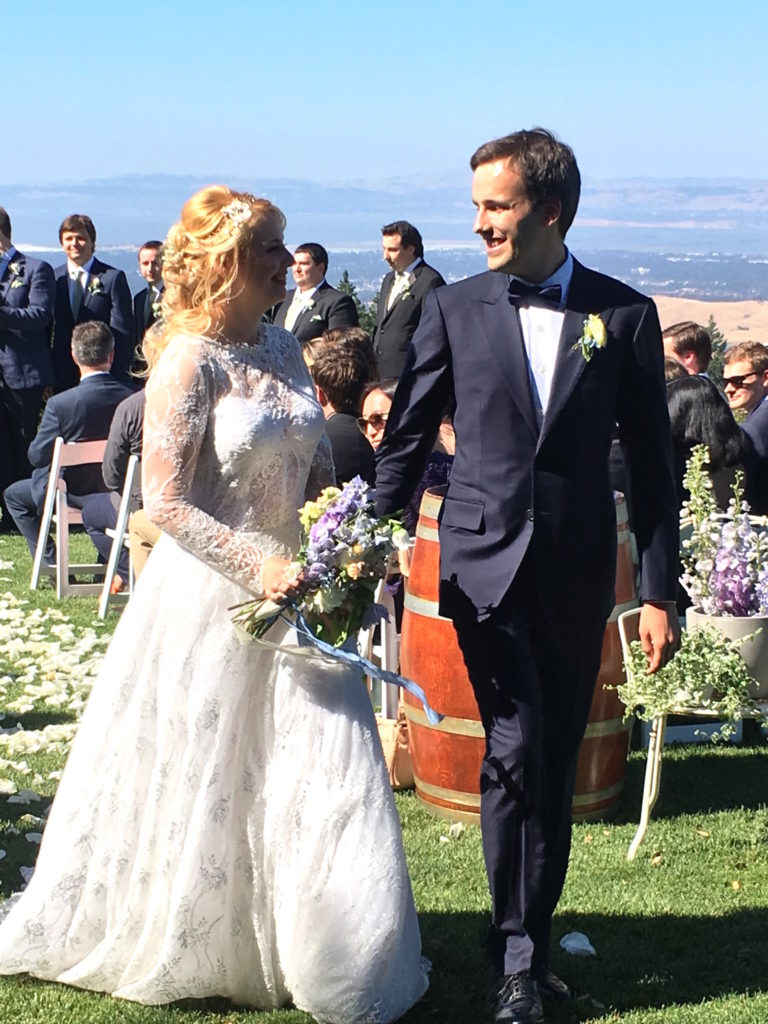 Off to many more photos with Maria,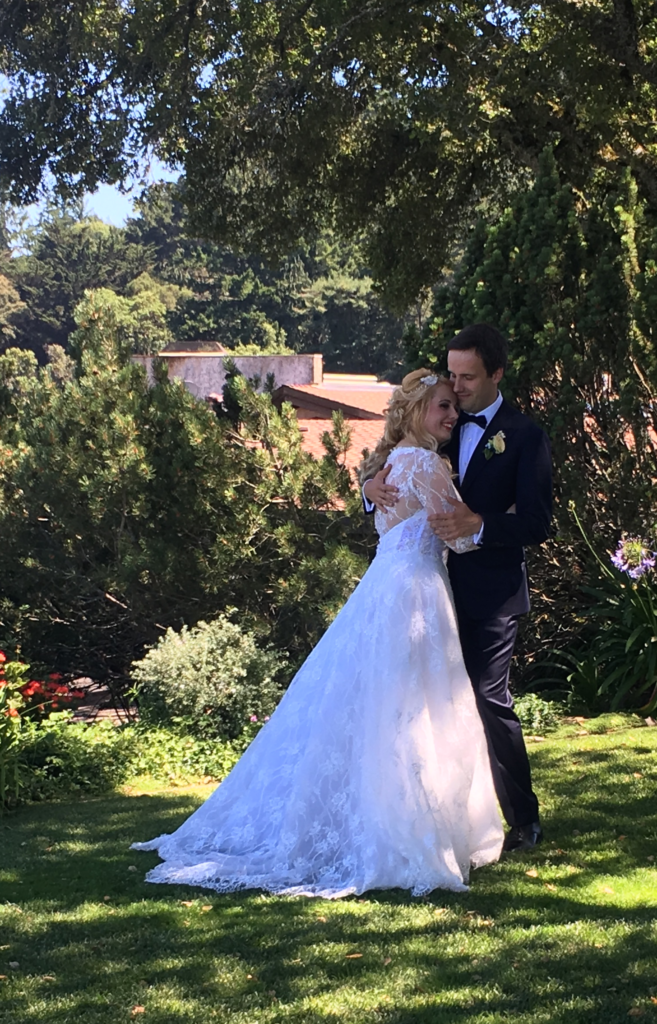 while guests were directed to Cocktail Hour via custom signage mounted on an authentic vintage French bicycle (from Found Vintage Rentals) with a matching, flower-filled antique basket…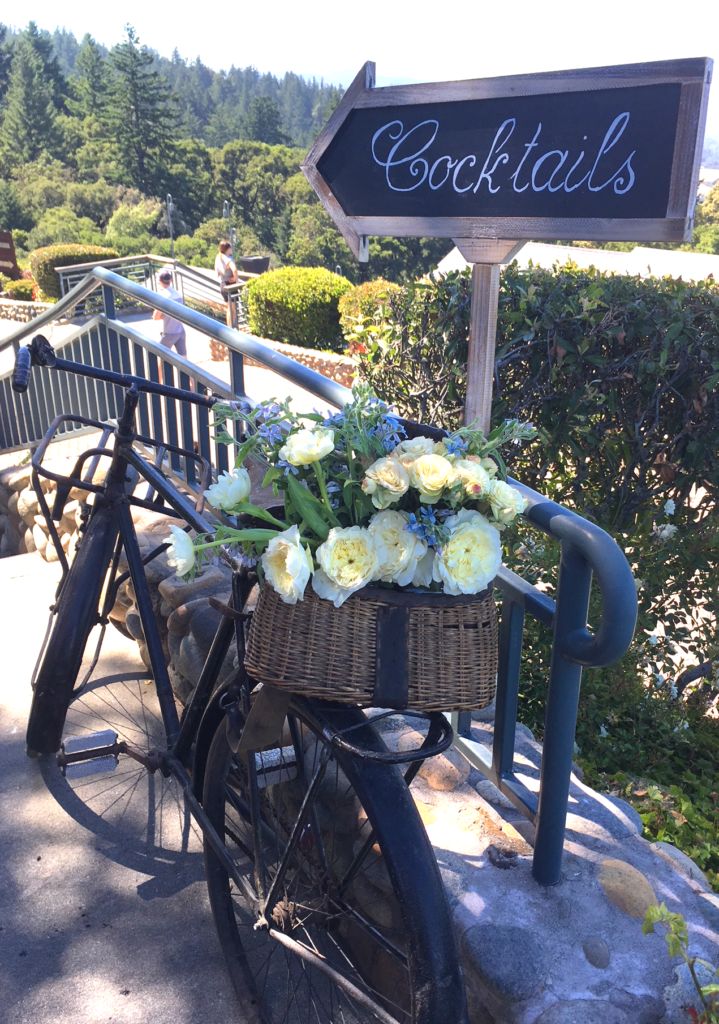 On the open deck, a well-stocked bar and a variety of hors d'oeuvres was waiting for the guests who enjoyed the sunshine and the views from vintage lounge furniture (from One True Love Vintage Rentals). And then there was, of course, Night Owl Photo Booth for added entertainment!
Soon enough, dinner was ready – courtesy of Teri Menchini and her crew at La Bocca Fina, who had incorporated the couple's favorite childhood foods from their home countries (Romania and Ukraine) into the menu.
Guest tables were not numbered, but named after famous algorithms; after all, the two are software engineers!
Then it was time for the couple's Grand Entrance: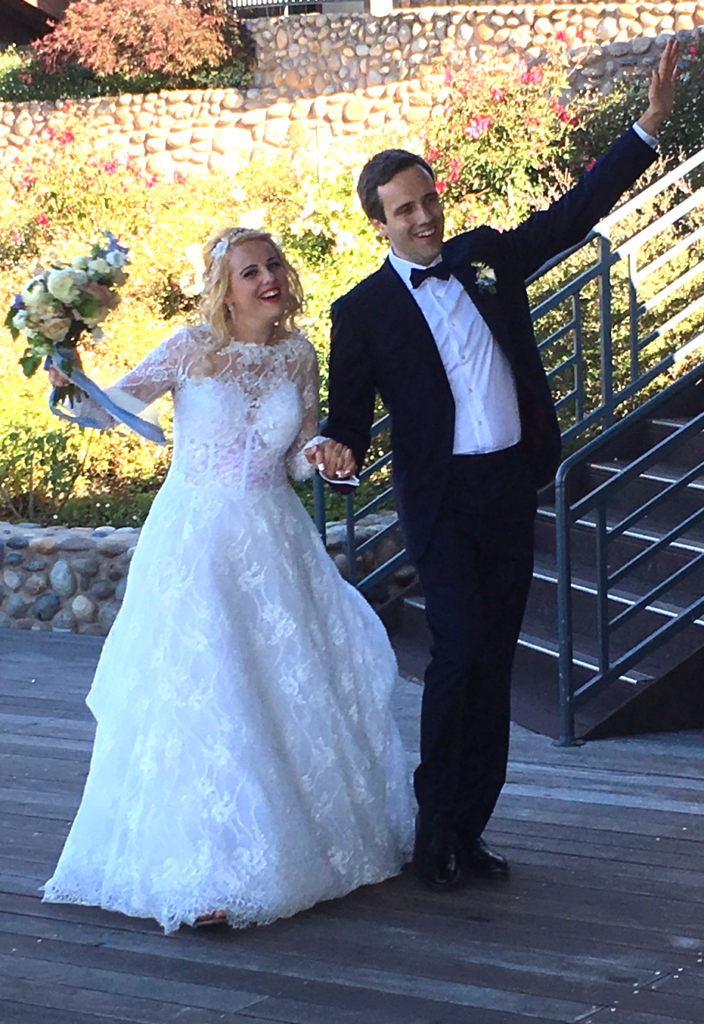 The newlyweds presided over the congregation of their 80+ guests from their elaborately decorated Sweetheart Table…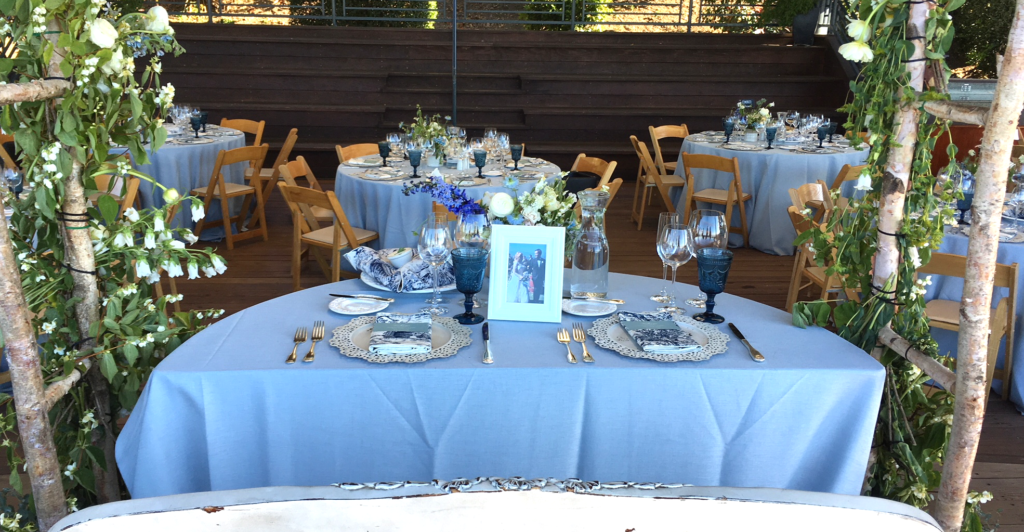 Photographer Maria whisked the newlyweds away for sunset photos – after all, we had a spectacular sunset on Wedding Day!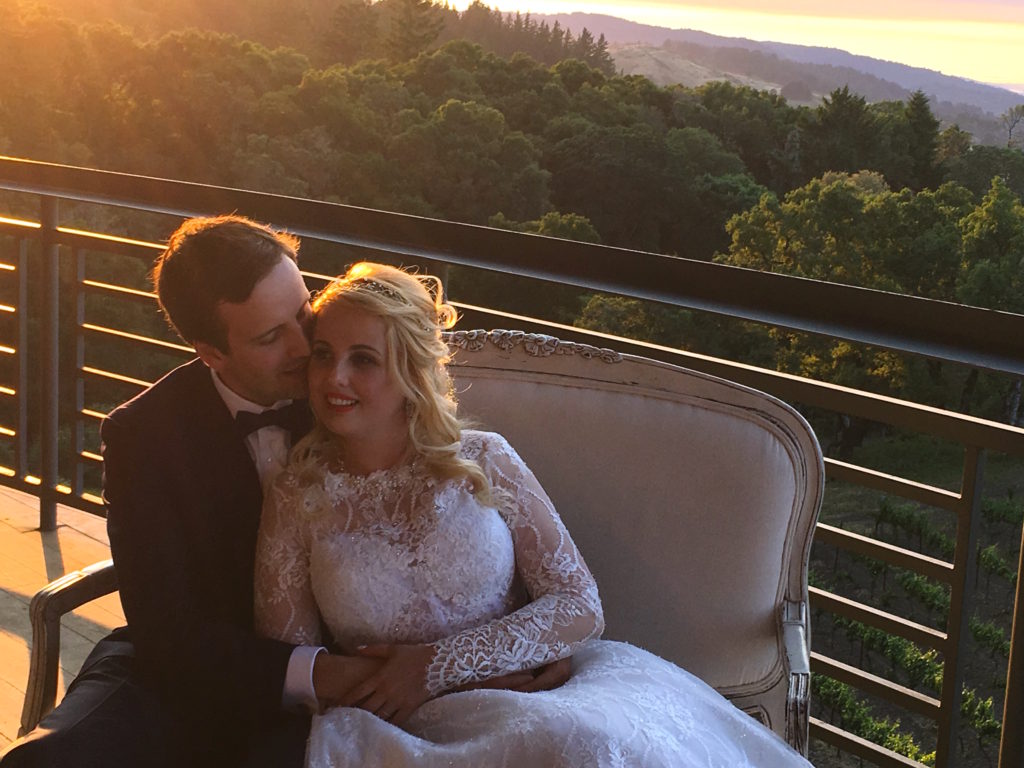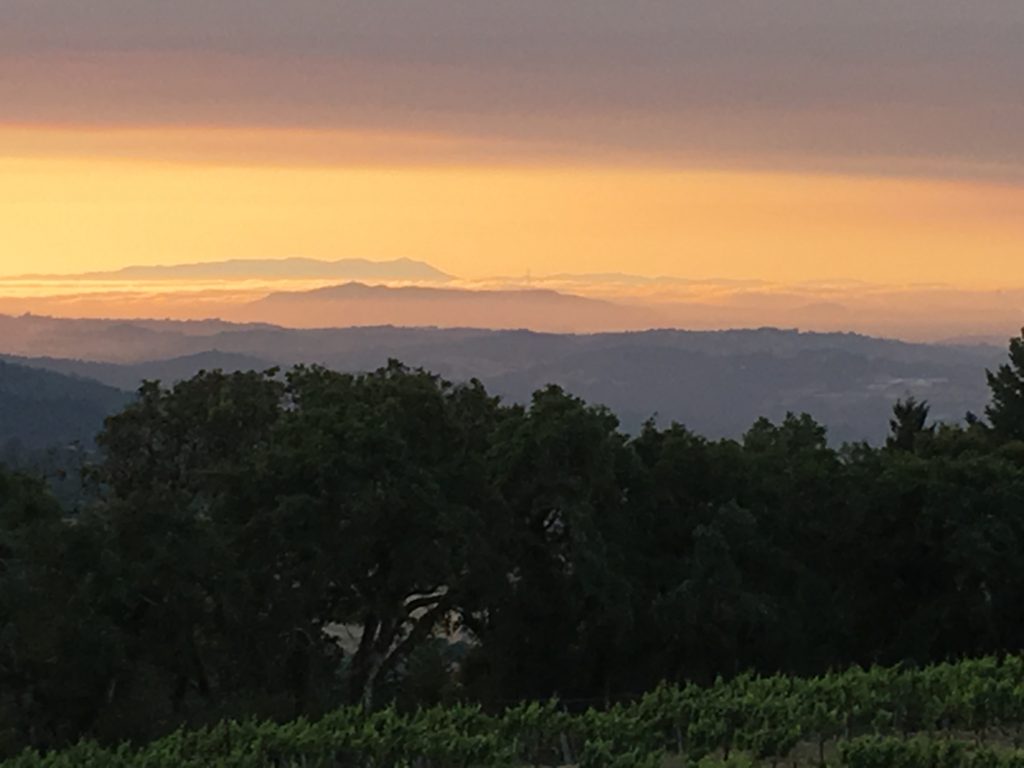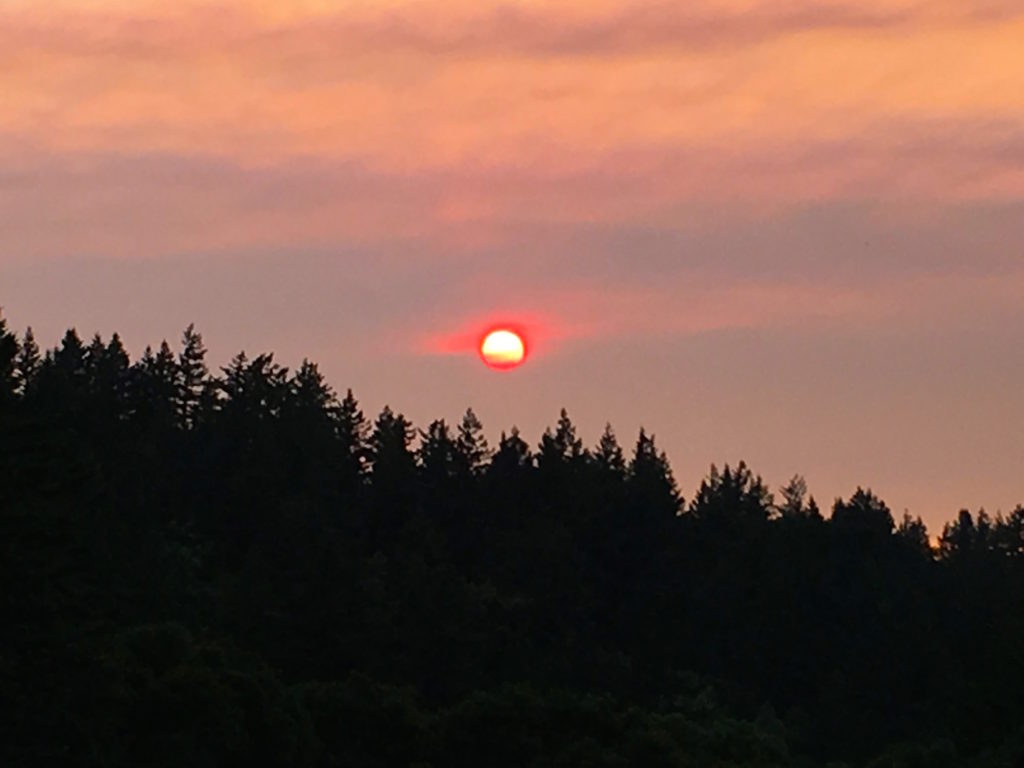 After dinner, guests were invited to the Hill House where Cristina and Dmytro performed their official first task as a married couple: cutting their cake. And that cake was a piece of art as none of the guests (or us vendors, for that matter) had ever seen before! Playing on the couple's love for traveling and for math, patissier Gabrielle Feuersinger of Cake Coquette had made them a cake in the shape of a vintage suitcase, complete with travel stickers of their favorite destinations, topped with a stack of their favorite math books – and all of that so realistic-looking that more than one guest tried to pick up the books and leaf through them!! Needless to say that the cake underneath was super delicious, too…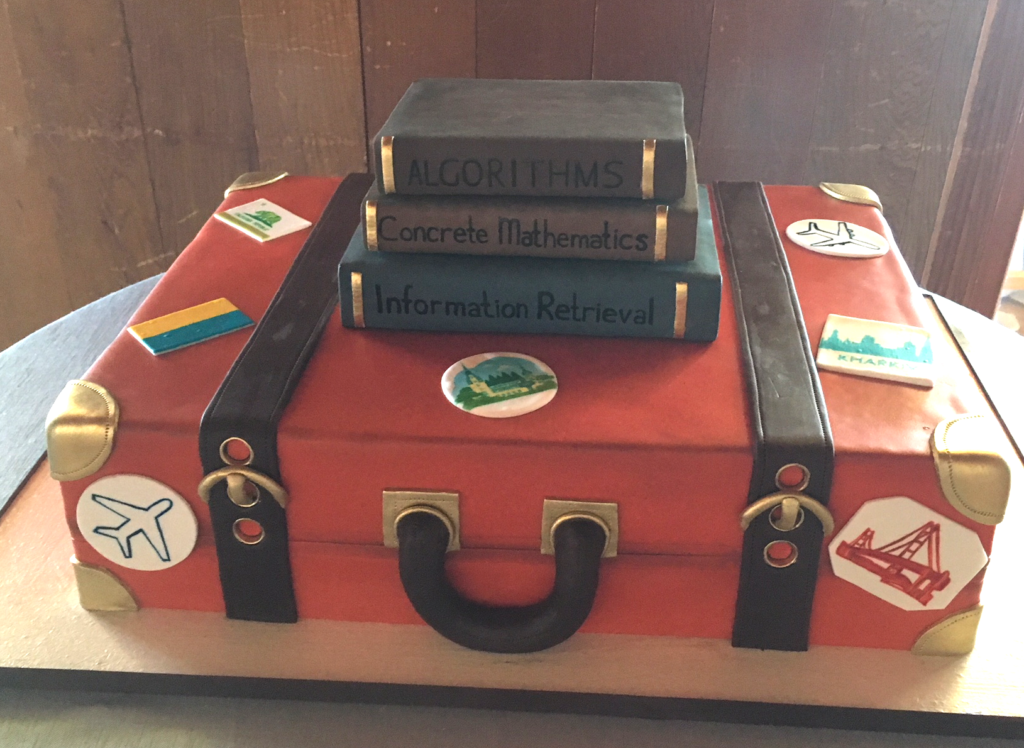 Next stop: dancing!
Cristina and Dmytro presented their guests with an elaborate dance routine in the tradition of Russian ballet, dancing their First Dance to Shostakovich's Valse no. 2 (remember the famous movie Doctor Zhivago? That's when you swooned over that dance for the first time…) – in an expertly abridged version that DJ Woody Miraglia of Big Fun Dic Jockeys had created especially for them.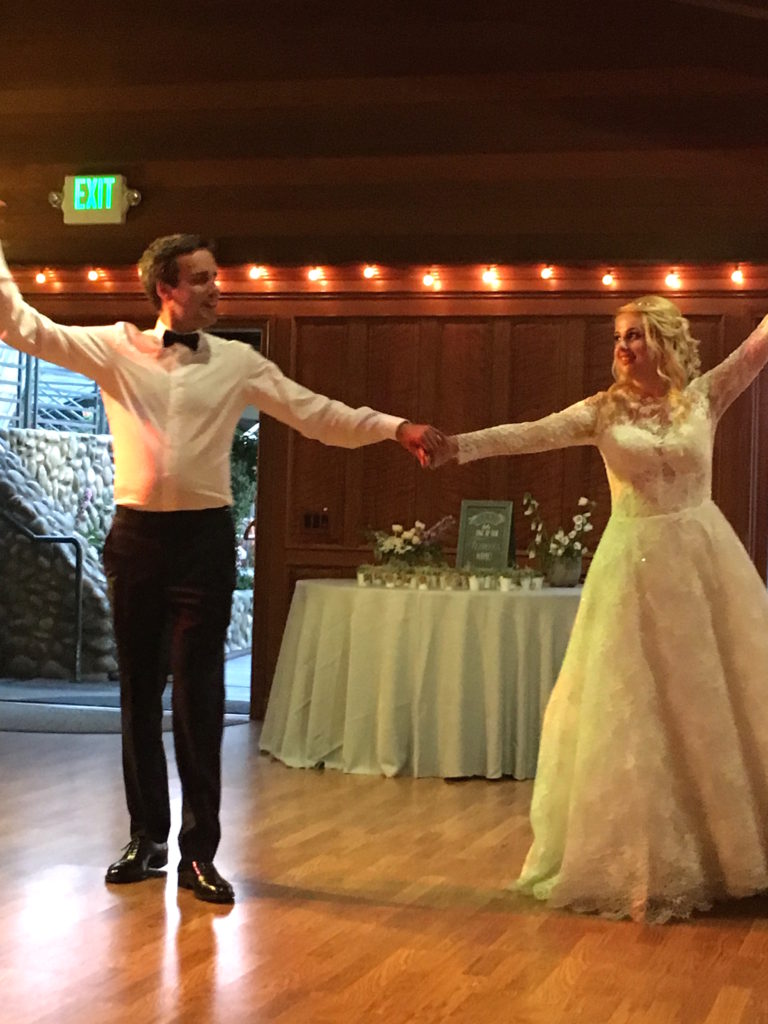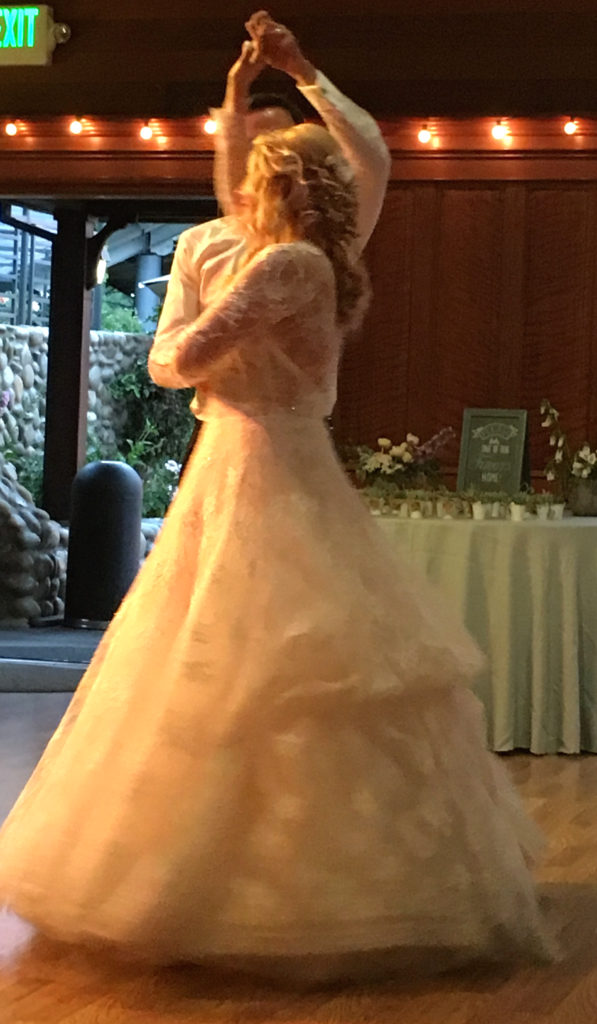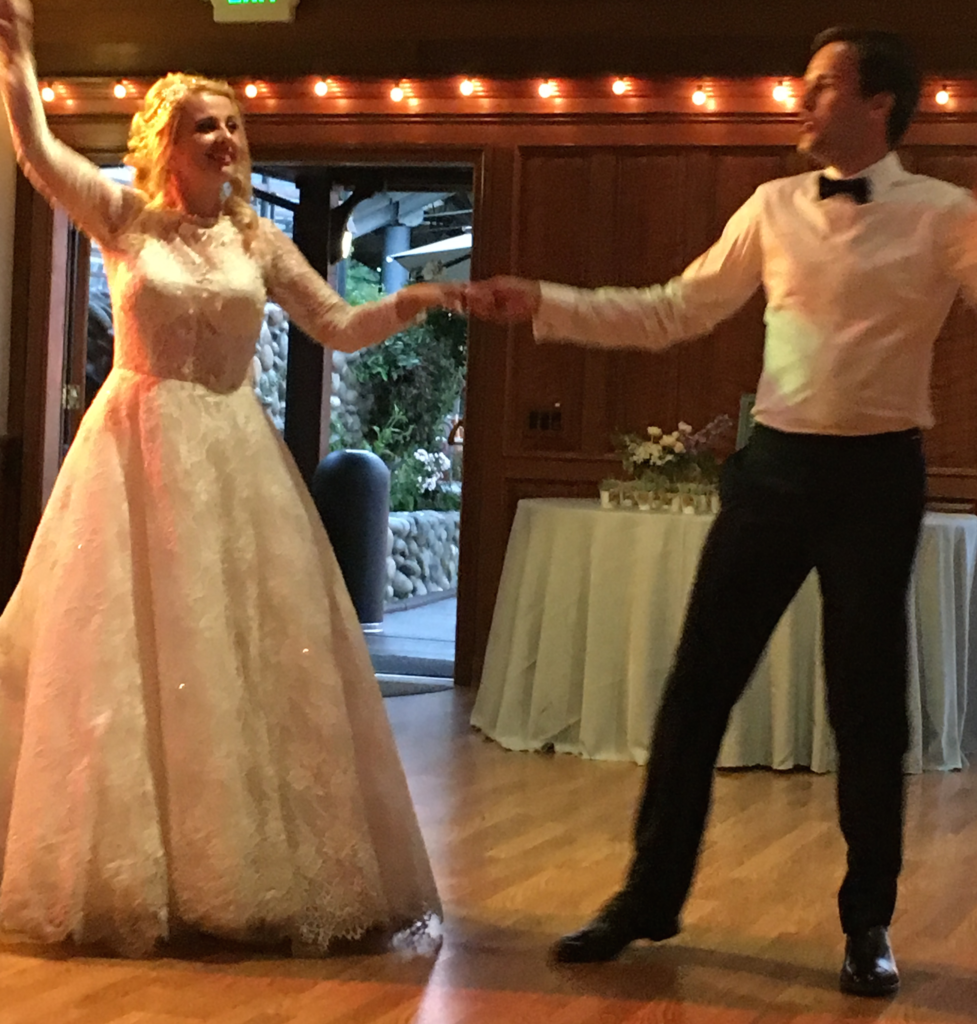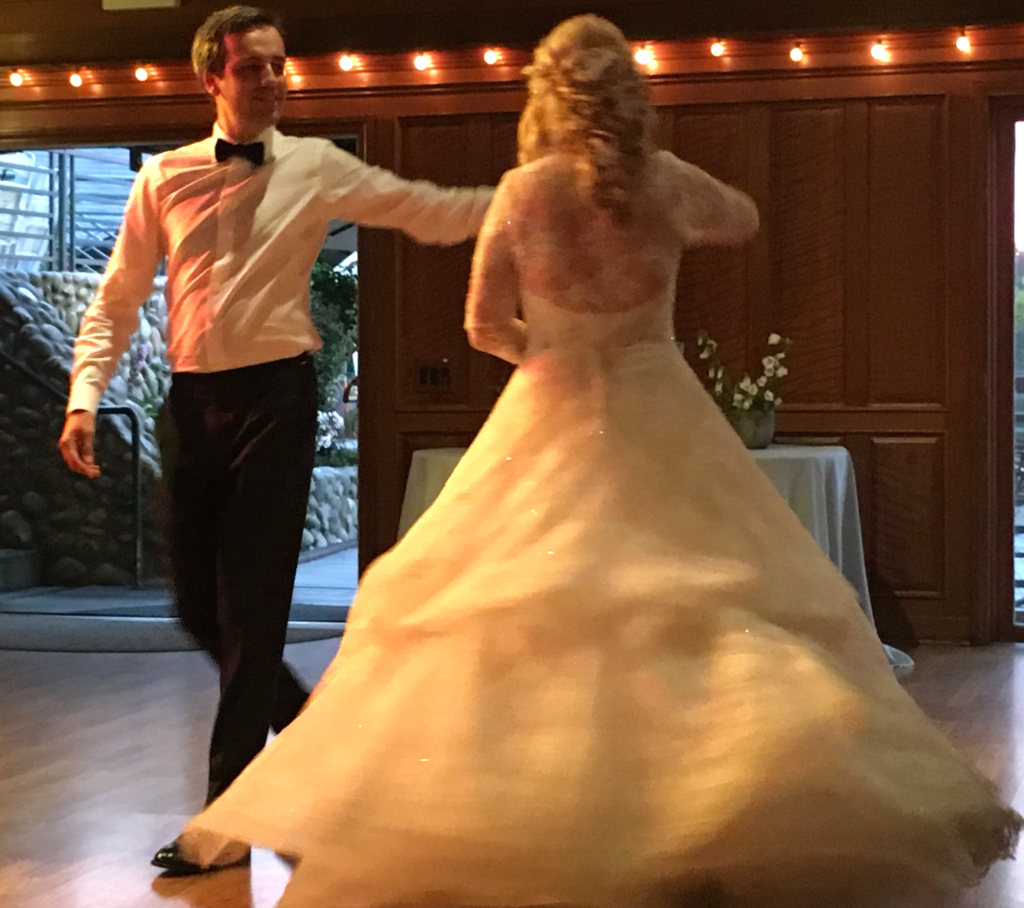 With that, the dance floor was officially opened for everyone, and DJ Woody kept the crowd going – and what a wild dance party that was! But eventually even the best party has to come to a close… and guests took home little succulents as favors…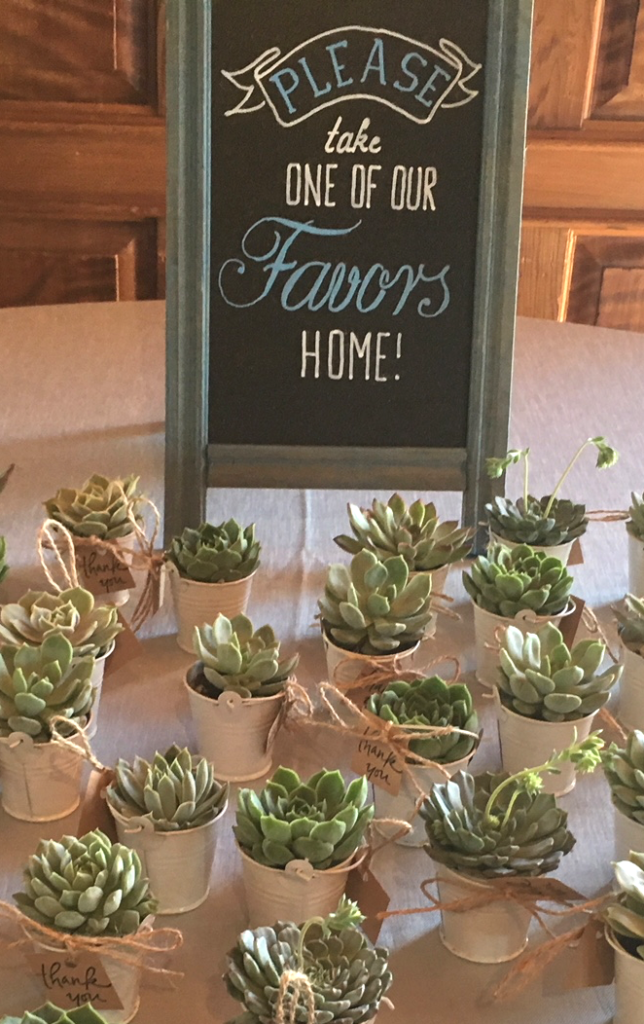 … to see love grow.

Jay of City Express Limousine service chauffeured guests back down the winding mountain road back to their hotels, and George Rose of Elegant Journey Limousines brought his "flagship" – a stunning 1927 Stutz limousine – as Cristina's and Dmytro's getaway car. We sent them off to their married bliss with a sparkler parade – that's what I call an exit in high style!

Keep dancing, traveling and calculating math problems together, Cristina and Dmytro, and stay as crazy happy as you were on your Wedding Day!

<! DL 06/02/12: Added html code for Pinterest Pin It button (appears at the end of each post) > <! DL 06/02/12: Added padding style modifier to the Pinterest html code to align the Pit It button on the page > <! DL 06/02/12: deactivated code by adding two ! in the a and img code lines >