Every couple dreams of a wedding that's one-of-a-kind and a reflection of who they are and what they treasure. Nicole and Isaac, the couple whose wedding I had the pleasure of coordinating yesterday, definitely did a fantastic job in making their celebration all their own.
Where to start? With the venue, perhaps – the historic Trocadero Clubhouse, a charming Victorian in a secluded Redwood Grove, a former officer's club with a slight whiff of all the decadent pleasures of yesteryear still lingering in the brass and dark-red bar…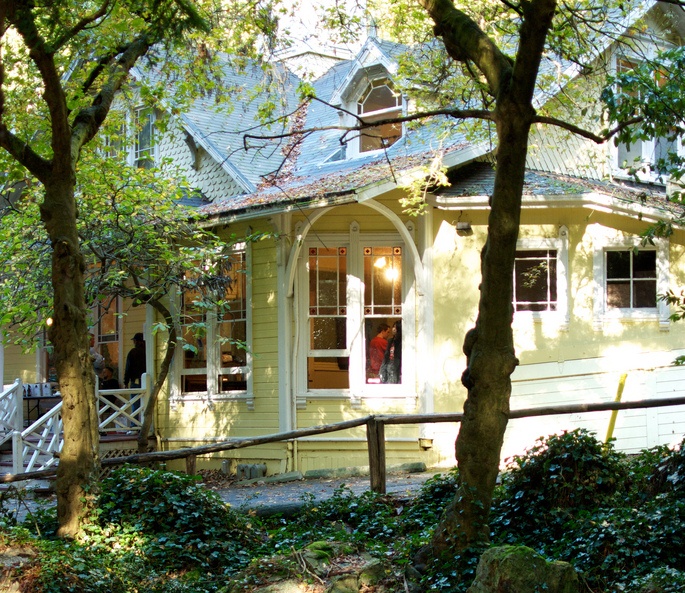 The 100 guests at their wedding were without exception all their personal friends and family; everyone knew everyone else – no introduction needed! And what's more, Nicole's and Isaac's families came together to help them with all the Do-it-Yourself projects for their decorations. They made all the flower arrangements and the bouquets and boutonnieres for the bridal party.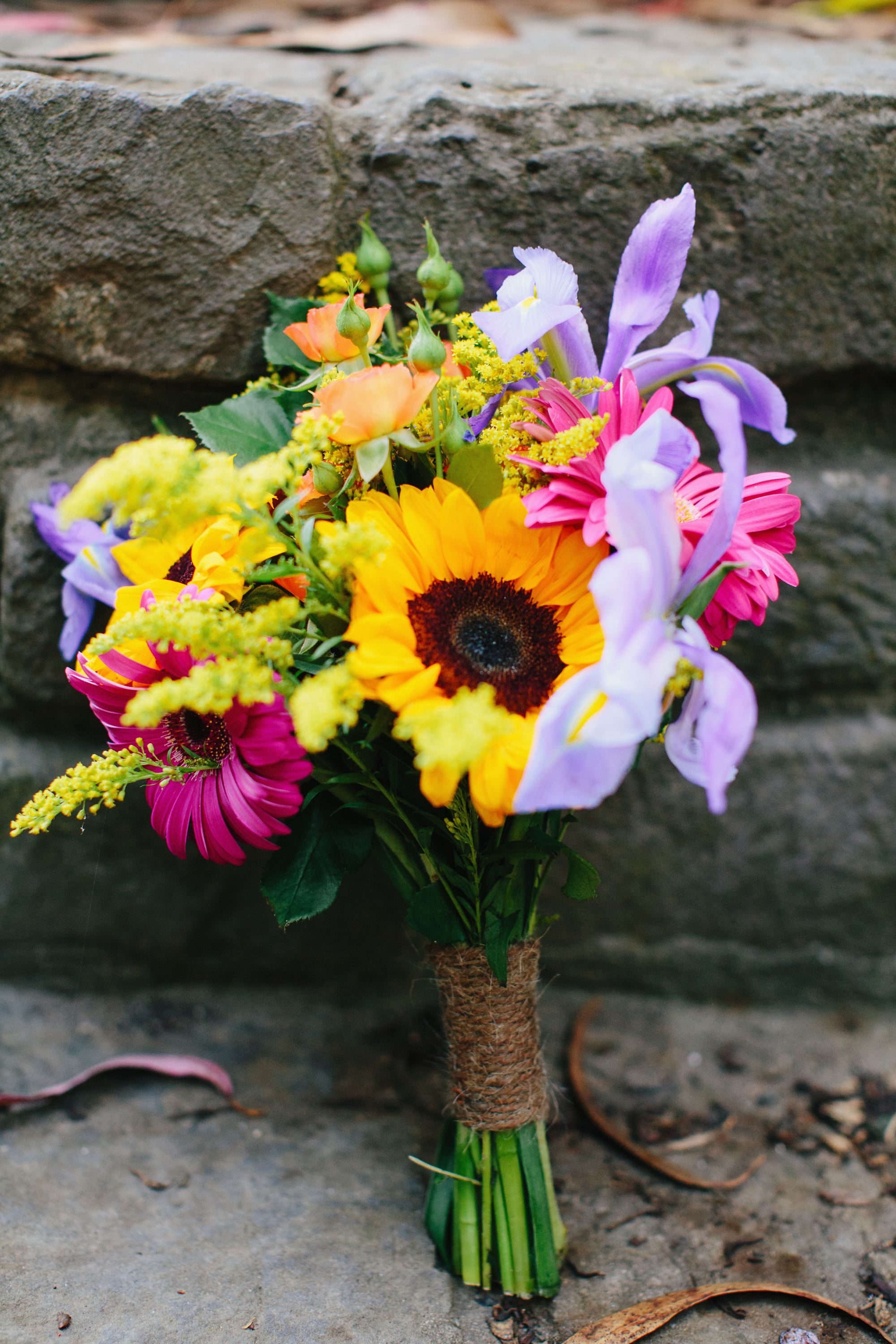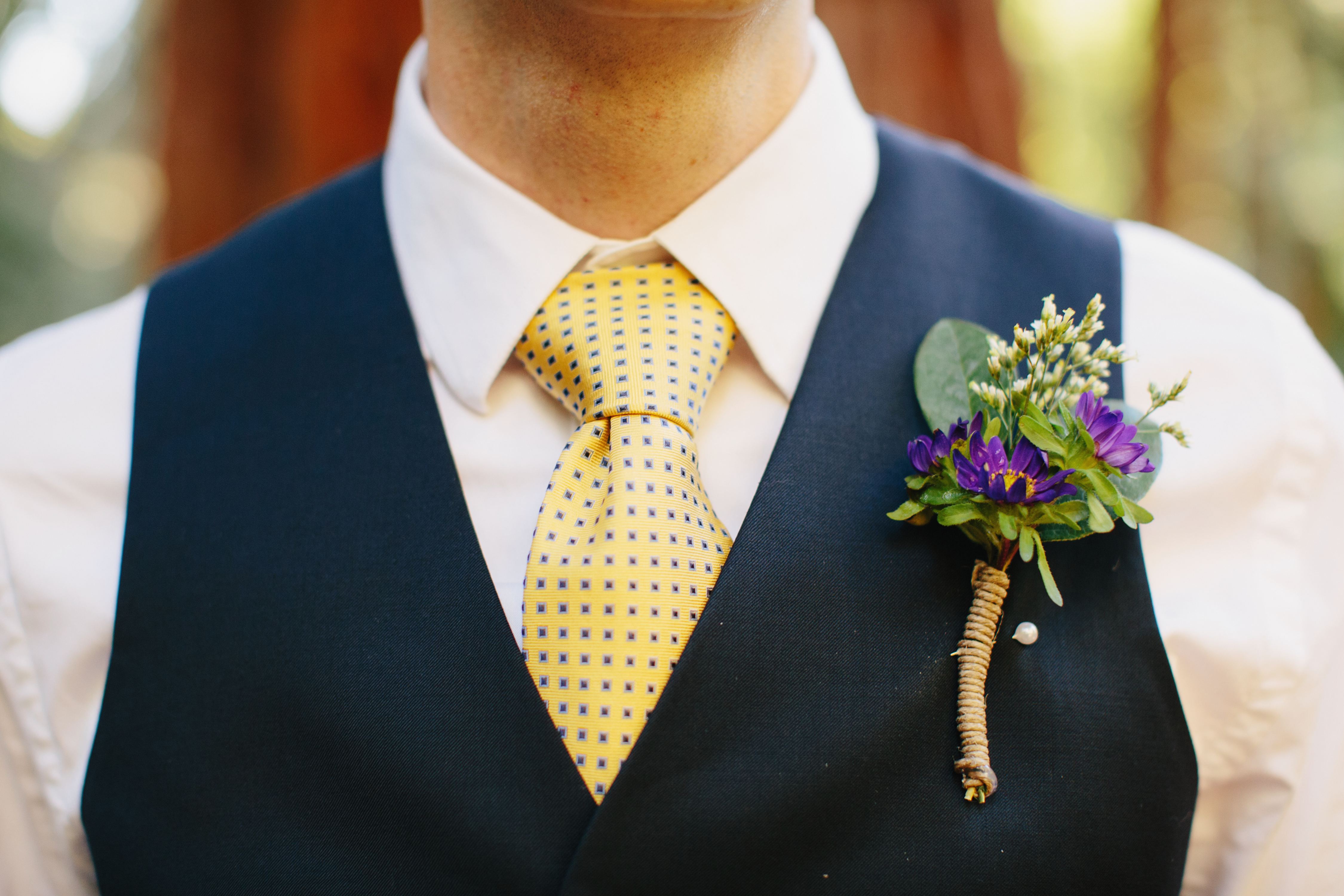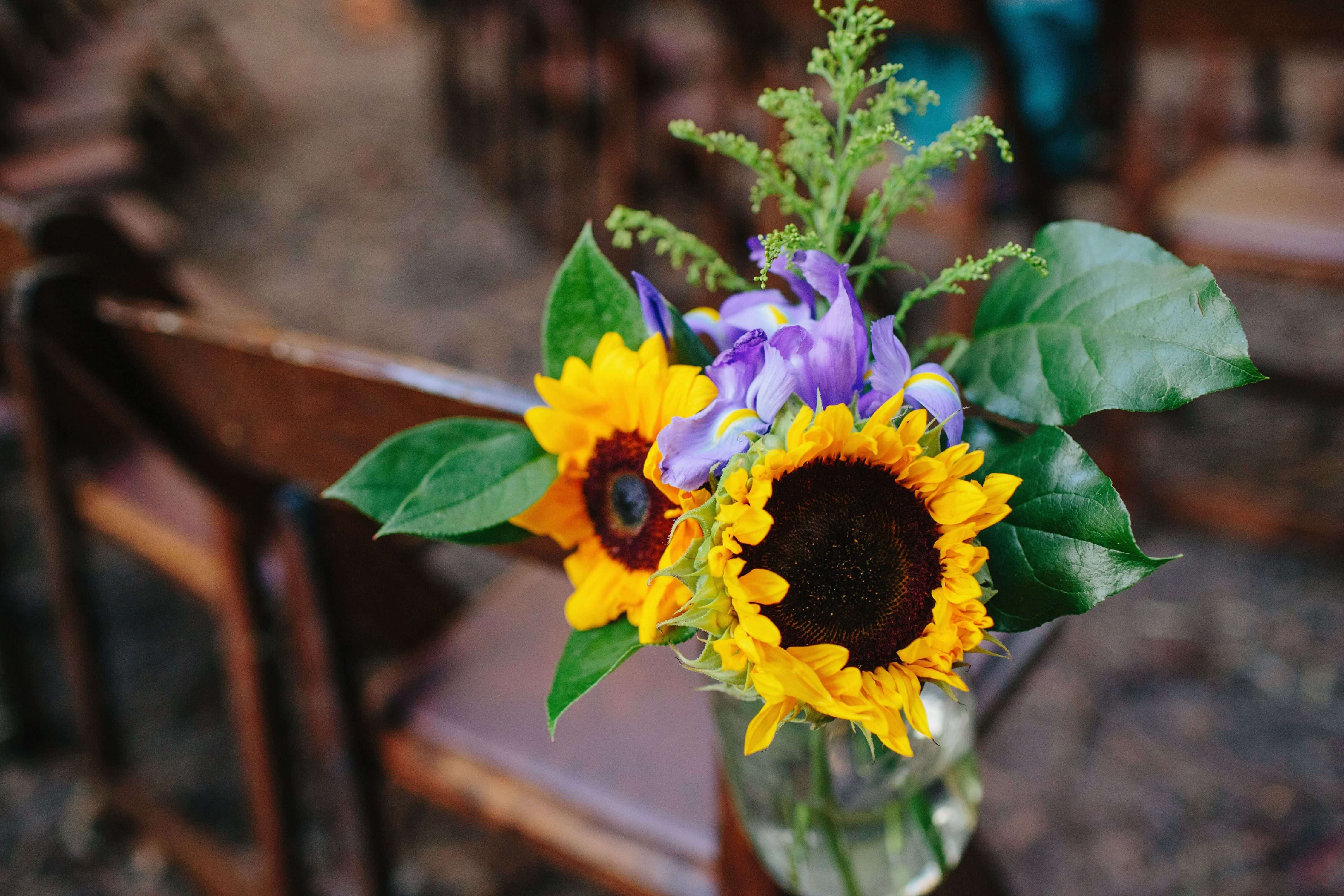 The bride and groom, as a charming nod to their professional lives – they are both teachers – crafted miles and miles of paper chains for decor…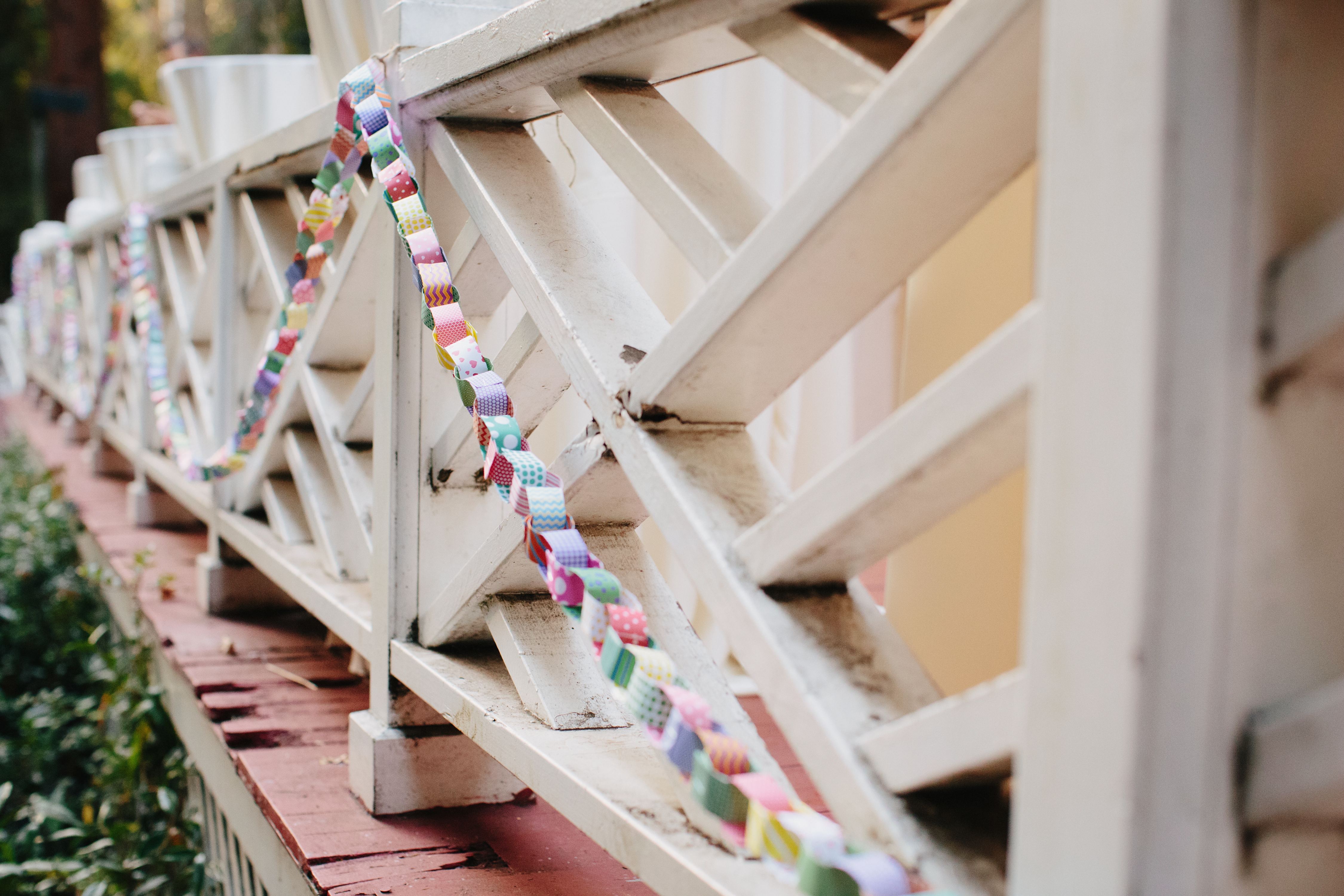 …and they designed, printed and embellished the ceremony programs themselves.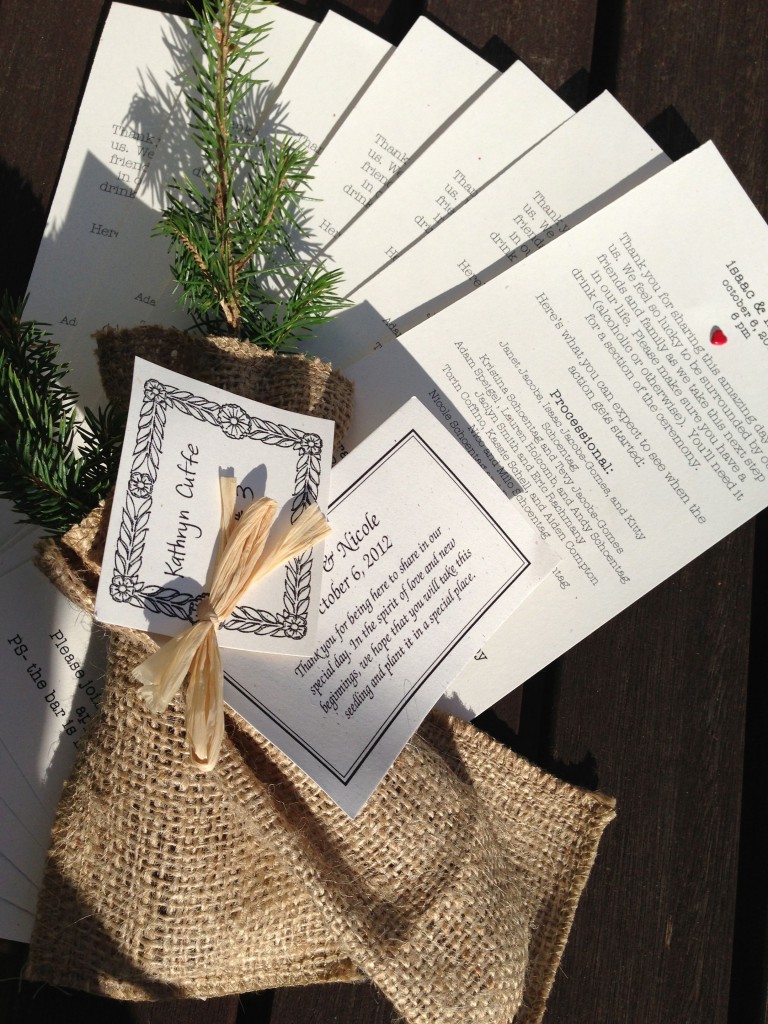 The tiny trees in burlap sacks doubled as escort cards and favors – and will serve guests as a living memory of the beautiful ceremony under the Redwoods for decades to come!
To document their Great Day, the couple enlisted photographer Nima Salimi who from the first portraits and family photos tirelessly captured every moment of the Great Day.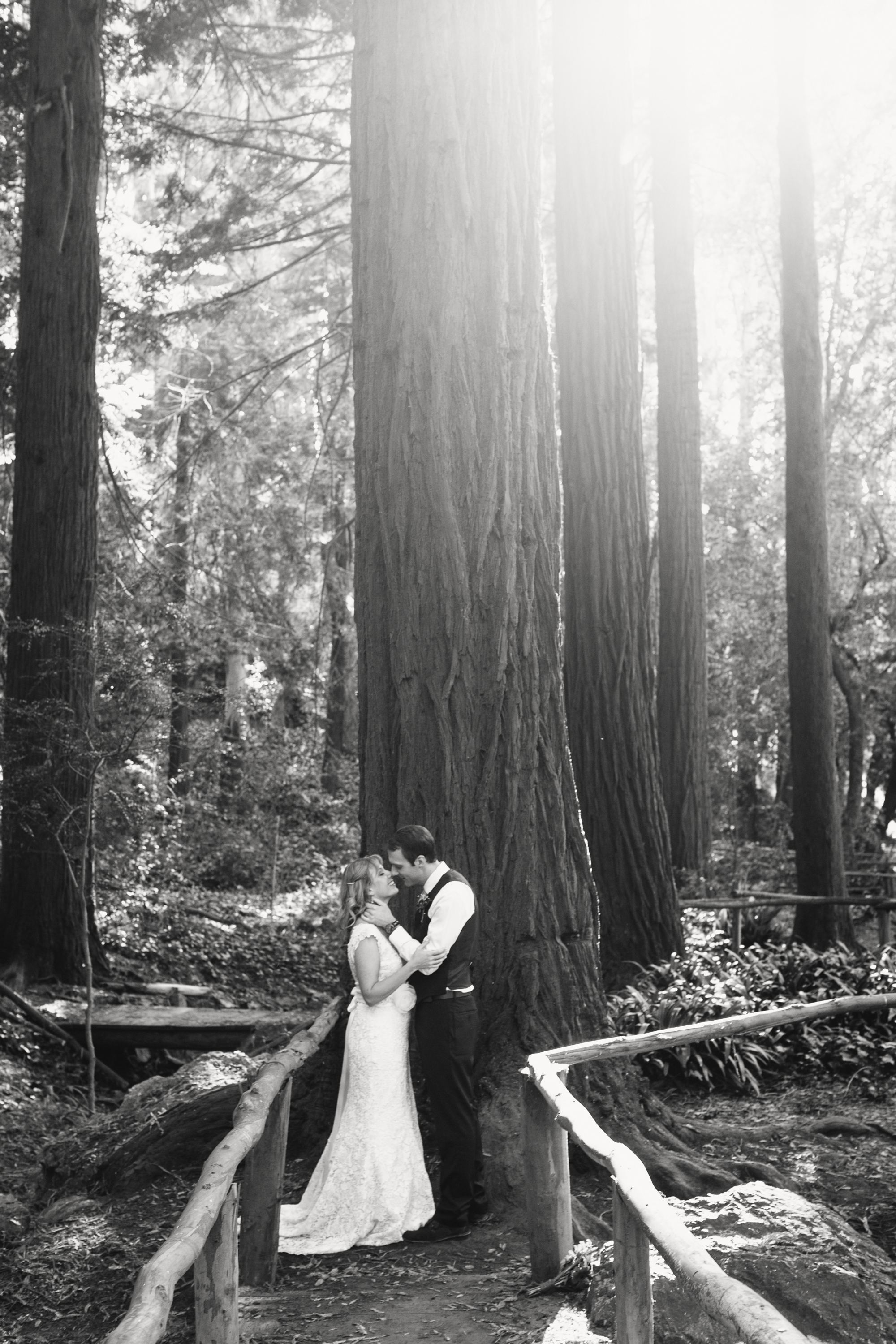 In their ceremony, Nicole and Isaac honored both their close family ties, their Jewish tradition and the bride's German heritage – under a beautiful chuppah handcrafted by the Mother of the Bride, Officiant Zehava Dahan presided over an intensely personal ceremony that included elements of the Jewish faith as well as a reading of a famous German love poem by Rainer Maria Rilke, "Wie Soll Ich Meine Seele Halten…" – read by Nicole's beloved Grandmother.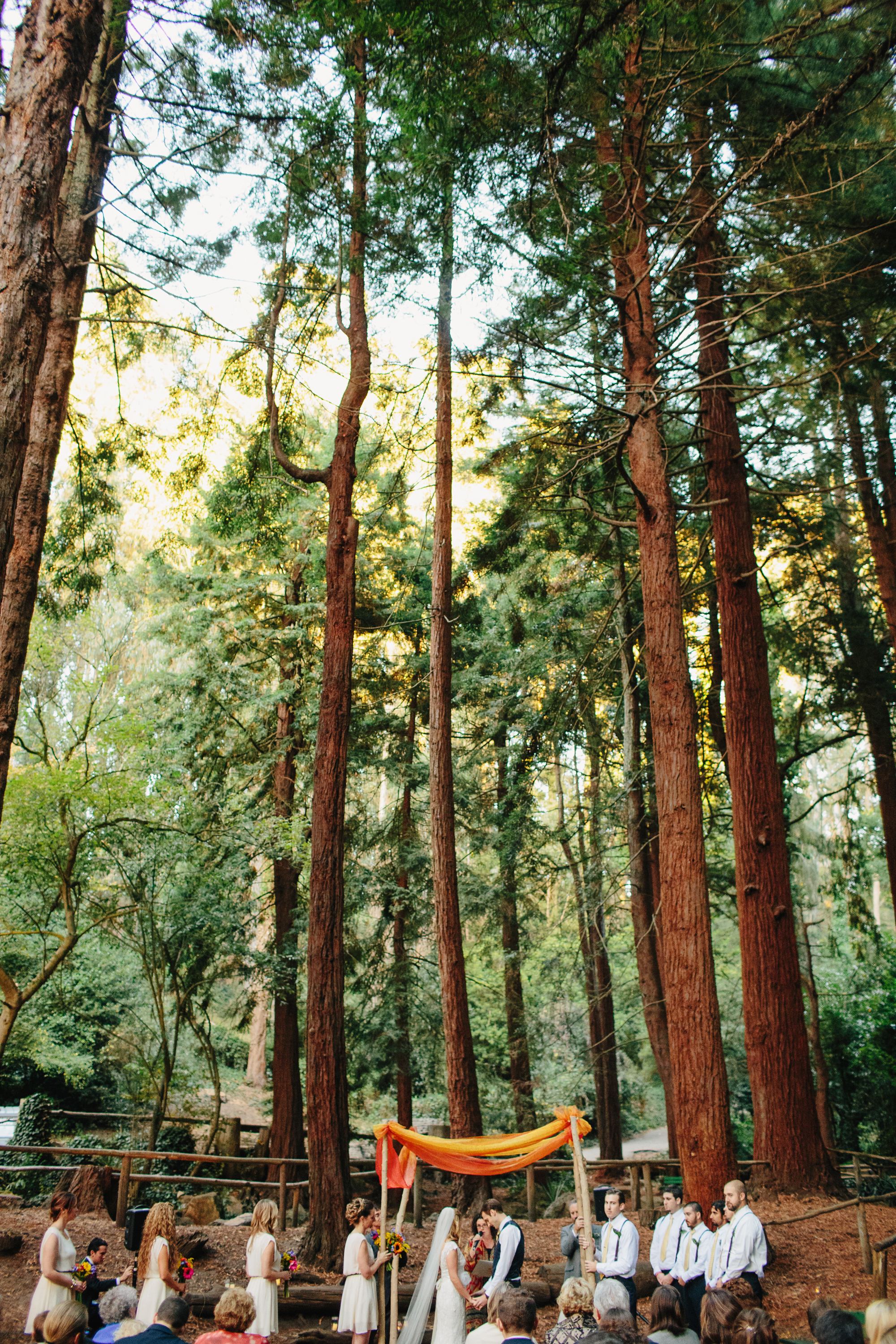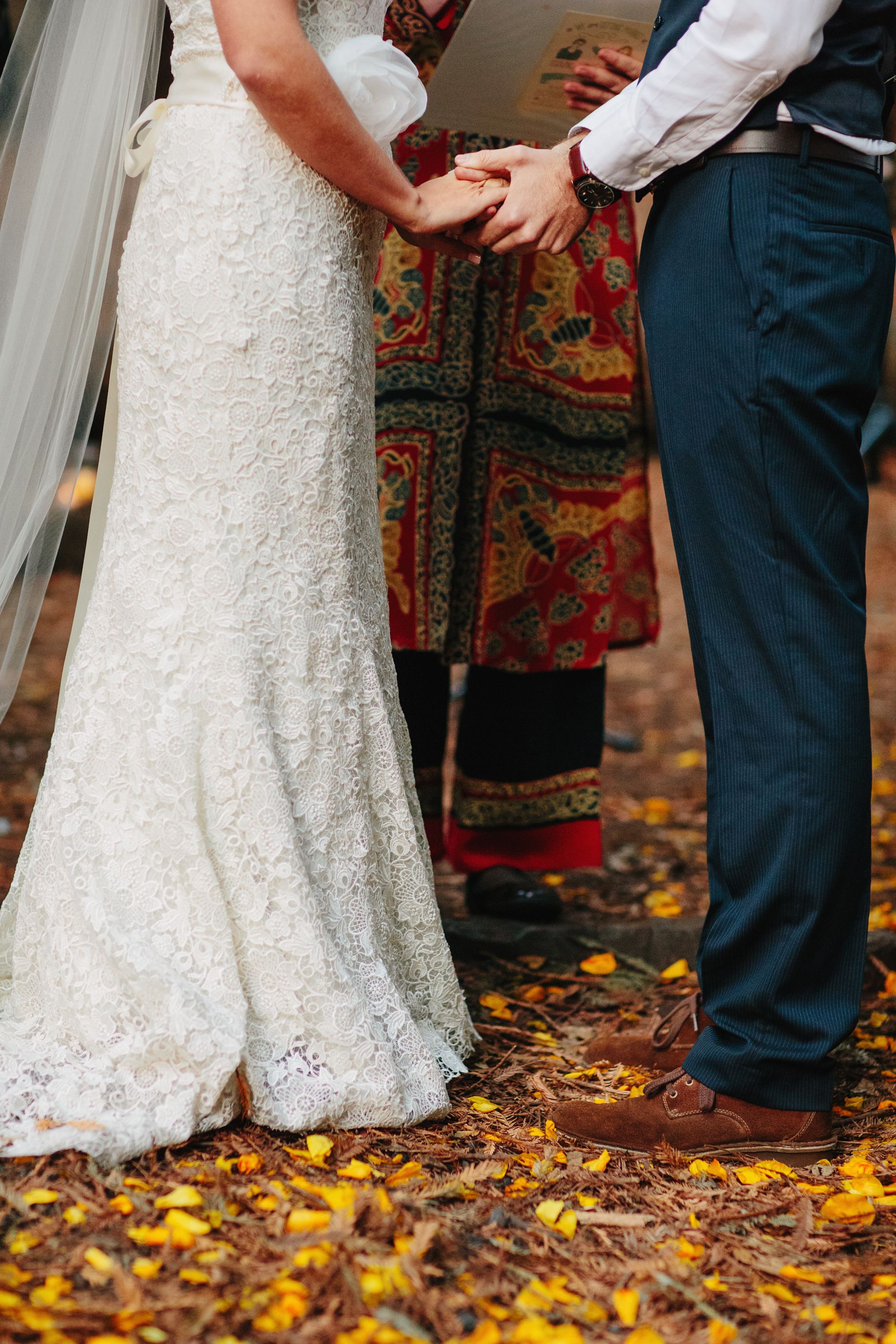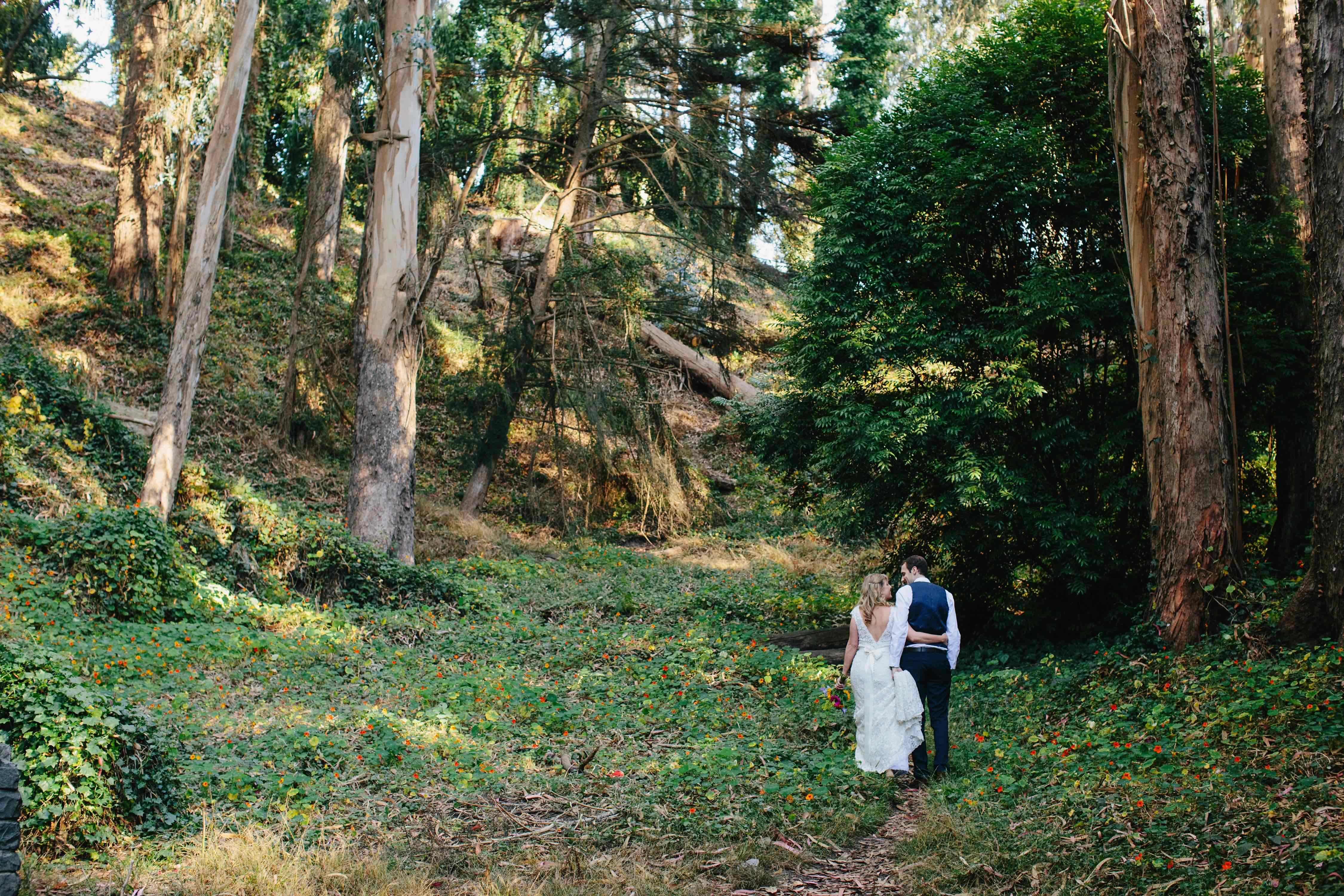 Following the ceremony, the newlyweds joined their guests for cocktails on the loggia of the Clubhouse as dusk fell and the setting turned truly magical: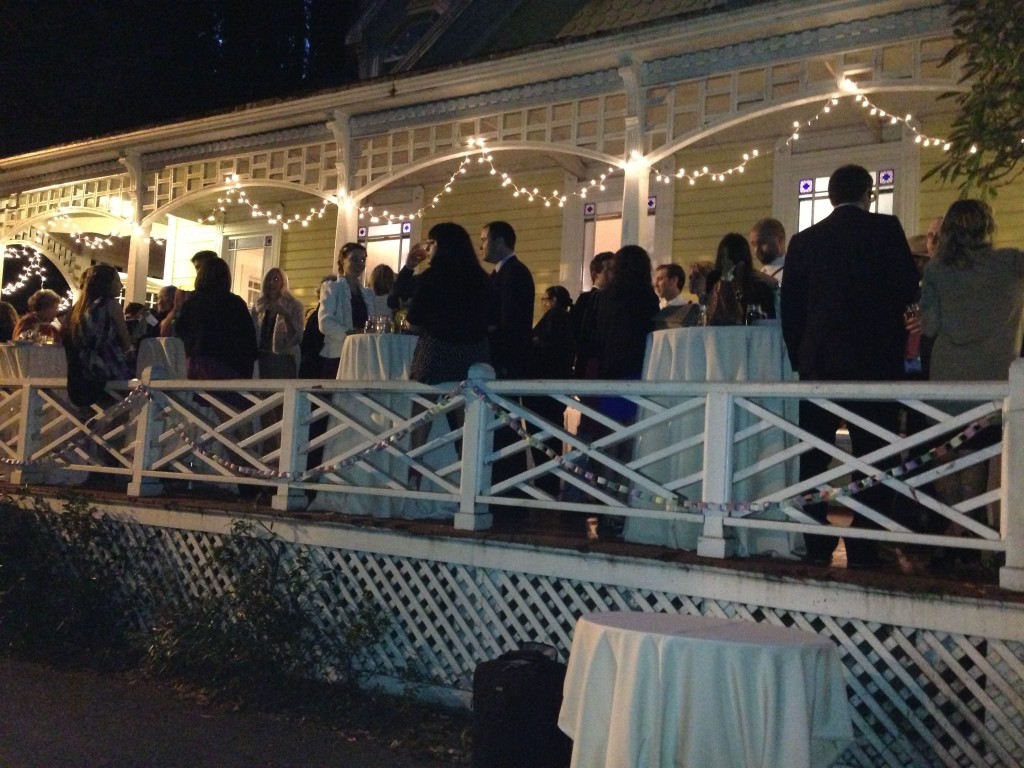 Guests were treated to delicious organic food – appetizers to accompany the cocktails, followed by dinner in a truly joyous and colorful setting: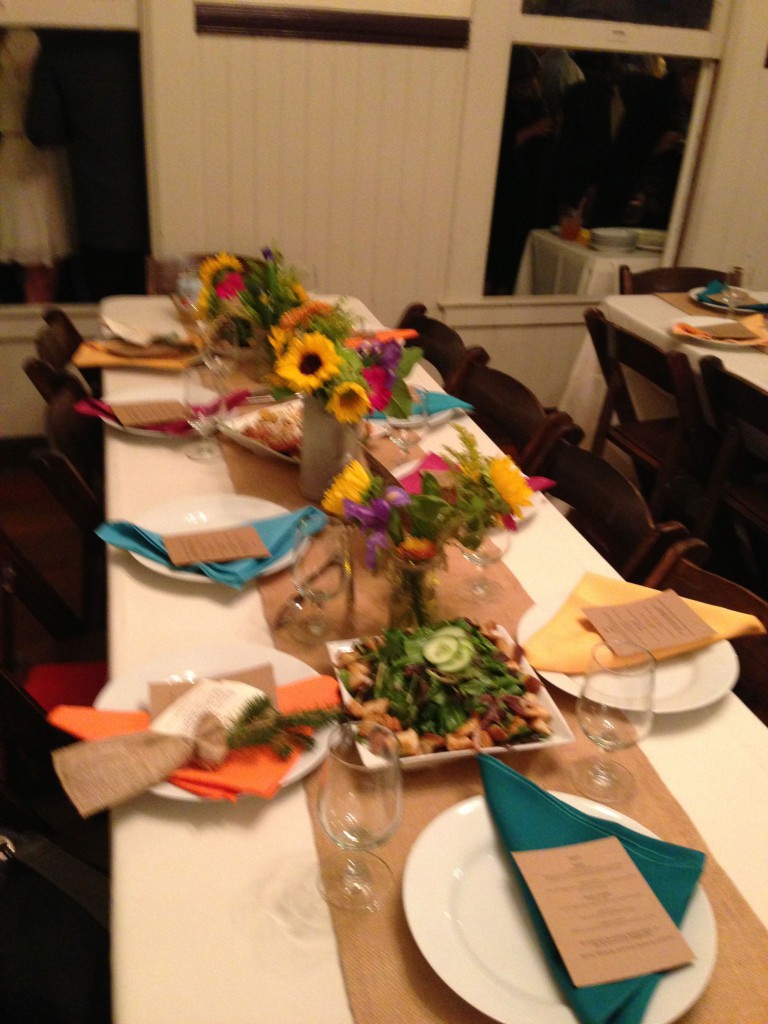 (Note: in keeping with the "German" inspiration, the table flowers were arranged in historic beer steins from the Mother of the Bride's extensive collection!)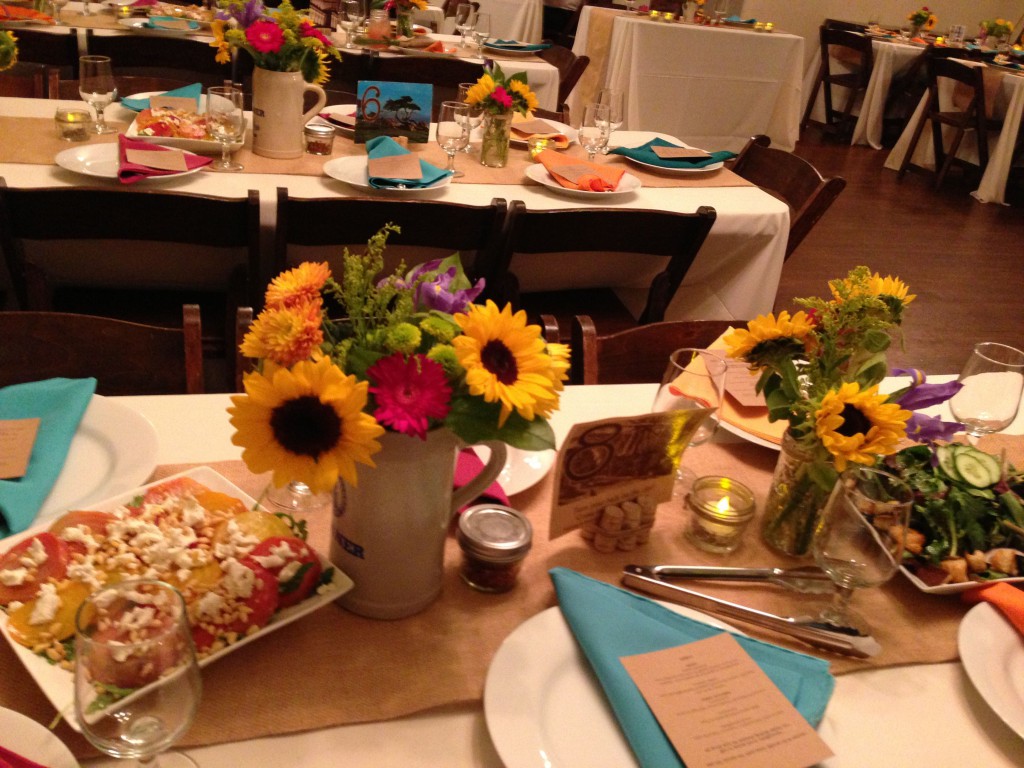 After getting started on organic heirloom tomato salad (see above), guests literally devoured the delicious authentic Italian pizza and lasagna prepared by Kristin Houk of All Good Pizza (she learned her trade in Sienna, Italy, and it shows, or – rather – tastes!) While guests were dining, DJ Aaron "Goldmyne" entertained the crowd with music from his collection of original '45 vinyls – and the rousing favorite was the repeated Bavarian drink song "Ein Prosit der Gemuetlichkeit!" (as far as that can be translated into American culture: "Cheers to – everything like good times, camaraderie, and coziness…"), and that definitely captured the exuberant mood of the evening.
Nicole's and Isaac's First Dance…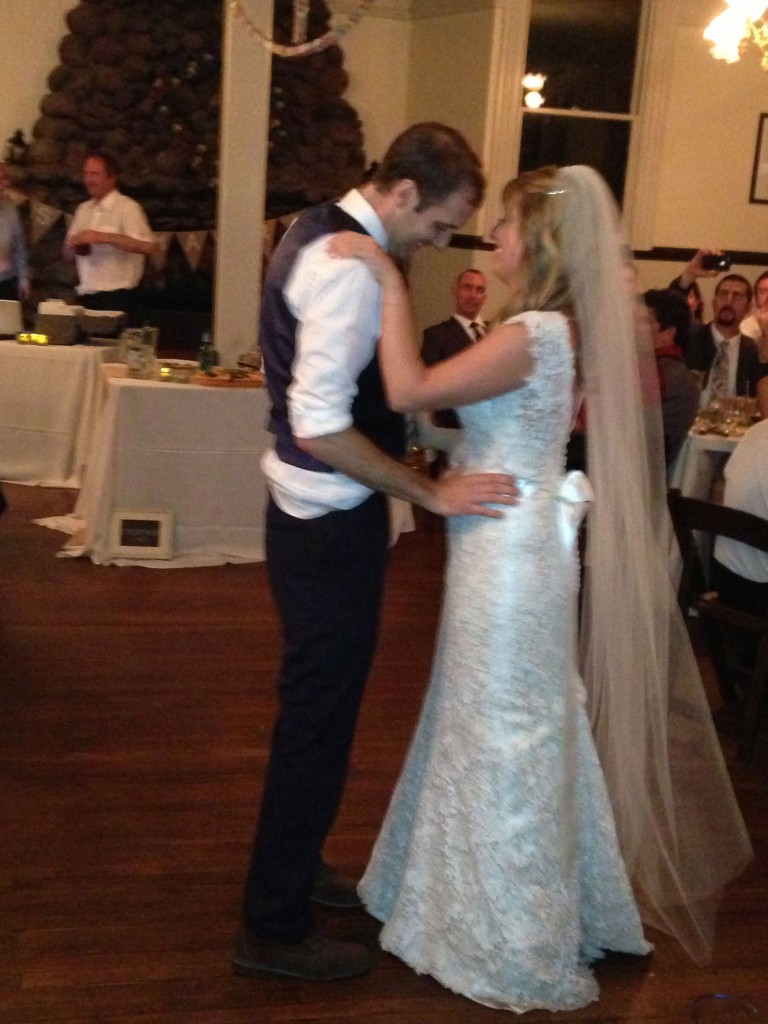 … was just the beginning of a huge dance party where really everyone joined in, with breaks only for a quick visit to the bar…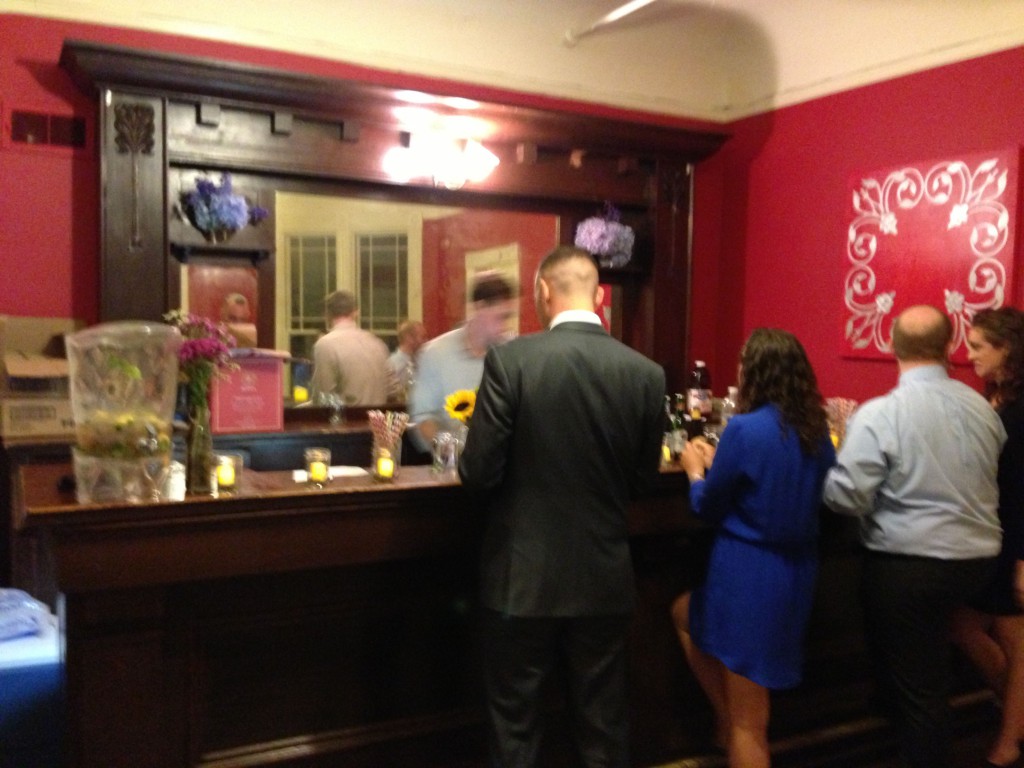 … and to grab one of the delicious cupcakes by Elspeth Peliccica- the vanilla ones were my personal favorite – soft, airy cake topped by a luscious, creamy frosting with an intense and really satisfying vanilla flavor, not too sweet – a perfect balance!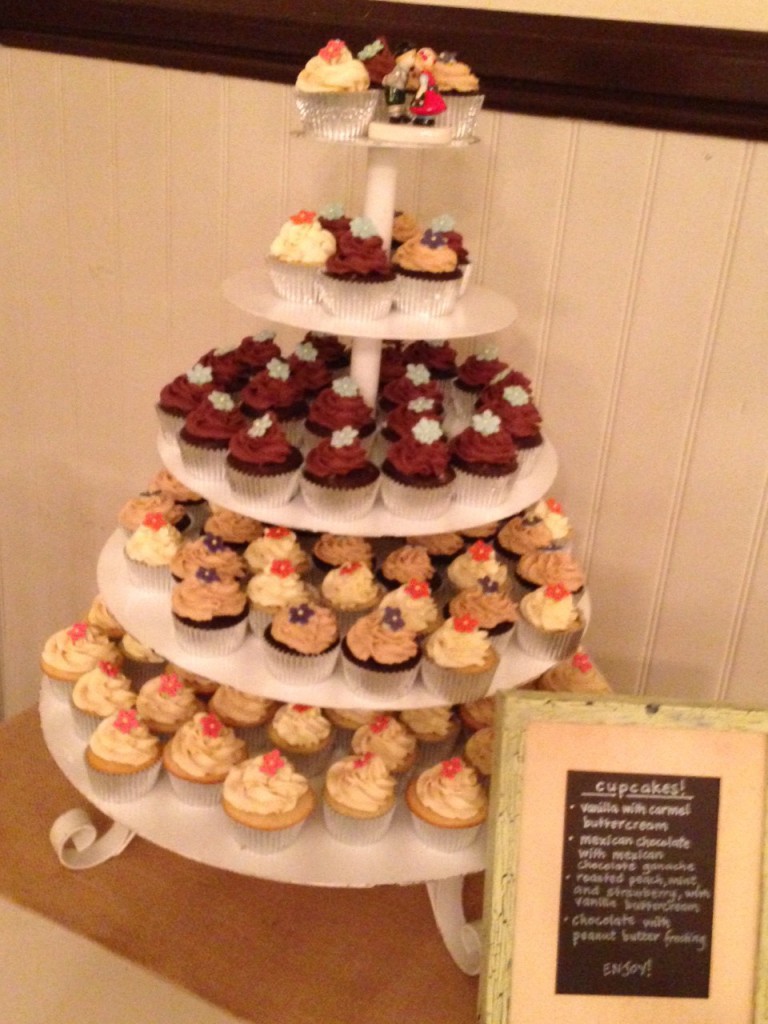 The party was so beautiful that guests stayed on until the very last minute…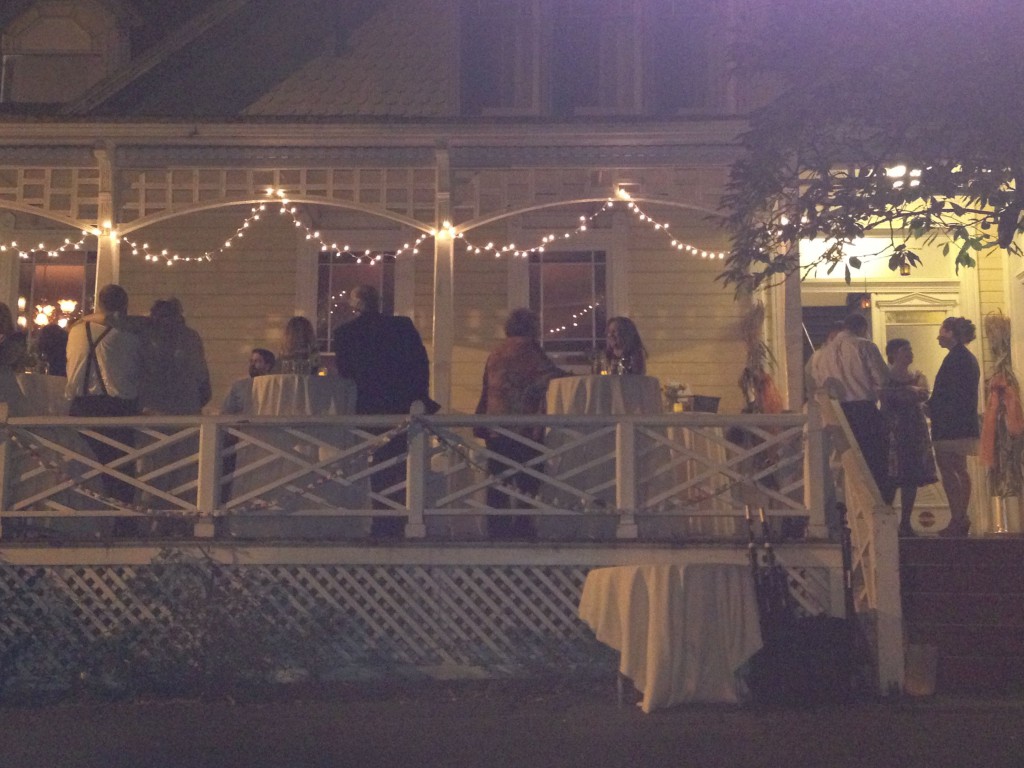 … to wave the newlyweds goodbye, taking off to their mini-Honeymoon.
Congratulations, Nicole and Isaac, to a wonderful wedding, a fabulous party – and our very best wishes on the way for the two of you!
Wedding Coordination and Design Consultation: A Day Like No Other www.daylikenoother.com
Thanks to my Dream Team of the day:
Venue:  Trocadero Clubhouse, Stern Grove, San Francisco
Officiant: Zehava Dahan, Life Cycle Events, [email protected]
Caterer: All Good Pizza, www.allgoodpizza.com
Dessert: Elspeth Peliccica, [email protected]
Photographer: Nima Salimi, [email protected]
Florals and Decor: DIY – bride, groom, and families
Entertainment: DJ Goldmyne, [email protected]
Rentals: Classic Party Rentals, www.classicpartyrentals.com
.


……………………………………………………………………………………………………………………………………………………