When Nancy and James – partners in life and in profession – were ready to tie the knot, they were, as usual, in agreement about pretty much everything.
They would get married in Church. They would have a very elegant reception. They would have lots of guests. It would be in Fall, with early dusk and lots of candlelight. They would be dancing the night away. And so it was – but so much more!
The two engaged my company, A Day Like No Other, early in 2015, giving us a good nine months until Wedding Day in November. And as it turned out, we needed that time – because Nancy's imagination took flight in the most beautiful way… Starting from "Old San Francisco glamour" at the famous Intercontinental Mark Hopkins hotel (a historic landmark originating from the opulent private residence of one of the infamous railroad barons), we kept adding more and more personal touches, and come Wedding Day, Nancy's and James' celebration had become unique, quirky and unmistakably "them."
Elegant invitations from Hyegraph set the tone for what was to come:
The day began with an extensive "beauty session" (by Wowpretty Salon) for Nancy, her bridesmaids and the mothers, all at a suite high up in the Mark Hopkins tower.
Here Nancy's wedding shoes take center stage…
… and here is her elegant bridal bouquet, handmade by her Aunt… a long-standing family tradition.
Bridesmaids were treated to some bubbly that morning, and that got everyone in a festive mood right away!
And here is our radiant bride in all her finery (dress by Novella Bridal), ready to meet her groom:
Following another time-honored tradition, bride and groom decided NOT to see one another before the Church ceremony; and so they both traveled the couple of blocks from the Mark Hopkins to Old St. Mary's Church (one of the oldest ones in San Francisco) separately via Cable Car trolley.
The Church itself is very impressive…
… and it had been adorned with large altar arrangements and ivory bouquets along the aisle.
And here they are: just married!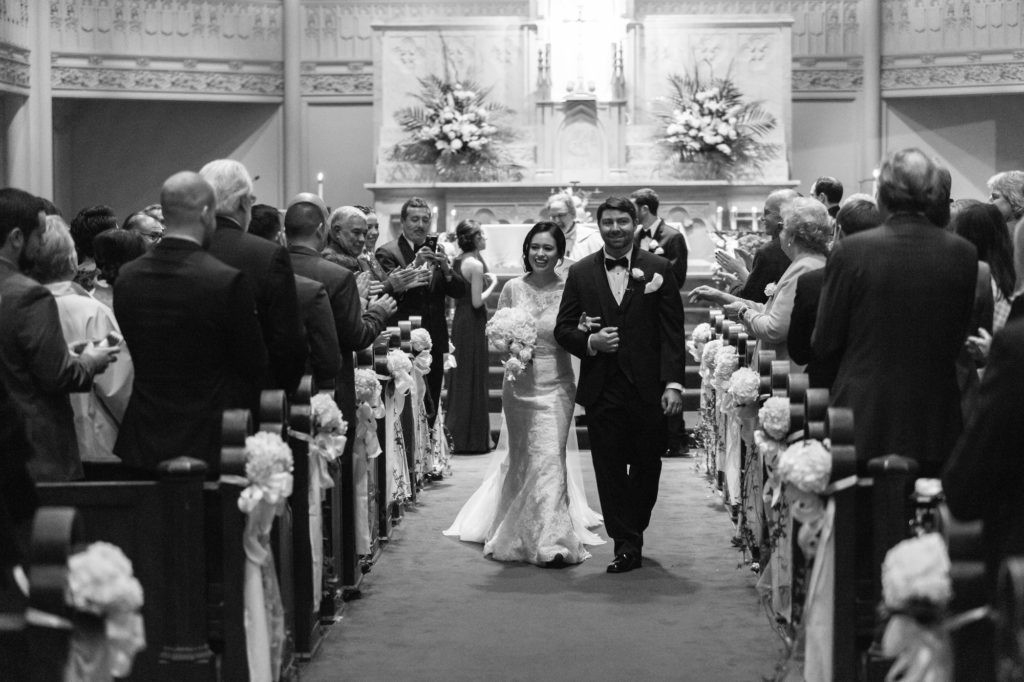 Time for photos… a lot of them! JC Page was tireless… and look what beautiful photos we got here! Cecil Bonifacio served as our videographer, and we can't wait to see what he'll create for us.
Once back, the couple joined their many guests for an elegant reception in the Peacock Ballroom with gorgeous florals by Green Petal Designs and Lighting by Just DeLights..
In lieu of a traditional guest book, the couple went for Hollywood glamour and had their guests sign magnum bottles of their favorite Pinot Noir instead:
The first dance of the newlyweds…
… kicked off a wild dance party with Mariachi…
… a twirling flower girl…
… glowsticks, purple lighting – and lots of fun for everyone…
… with the bride serving as the DJ (at least for a little while – a longtime secret wish of hers came true on her wedding day!)
More personal details? Popcorn snacks and cotton candy in "grown-up" flavors from Sweet Puff Candy!
True to the bride's Mexican heritage, each guest received a very personal favor: a package of coffee handpicked by the new "Mrs."
It was, just simply – unforgettable! Many happy years together, Nancy and James!