Erin and Gabe are super-busy young professionals – both physicians, working long hours. When they embarked on their wedding planning, they realized immediately that they would need support for all the details, the logistics, the design; in short, pretty much everything. I was honored that they chose my company, A Day Like No Other, to organize their preparations every step of the way.
We started with their exceptional venue, Allied Arts Guild in Menlo Park, a historic Spanish-Mediterranean compound surrounded by a beautiful, park-like garden. On Wedding Day, all the lush plantings were in full bloom, and despite a serious threat of rain in the weather forecast, we got incredibly lucky with sunshine and blue skies and were able to hold ceremony, Cocktail Hour and dinner outside, as planned.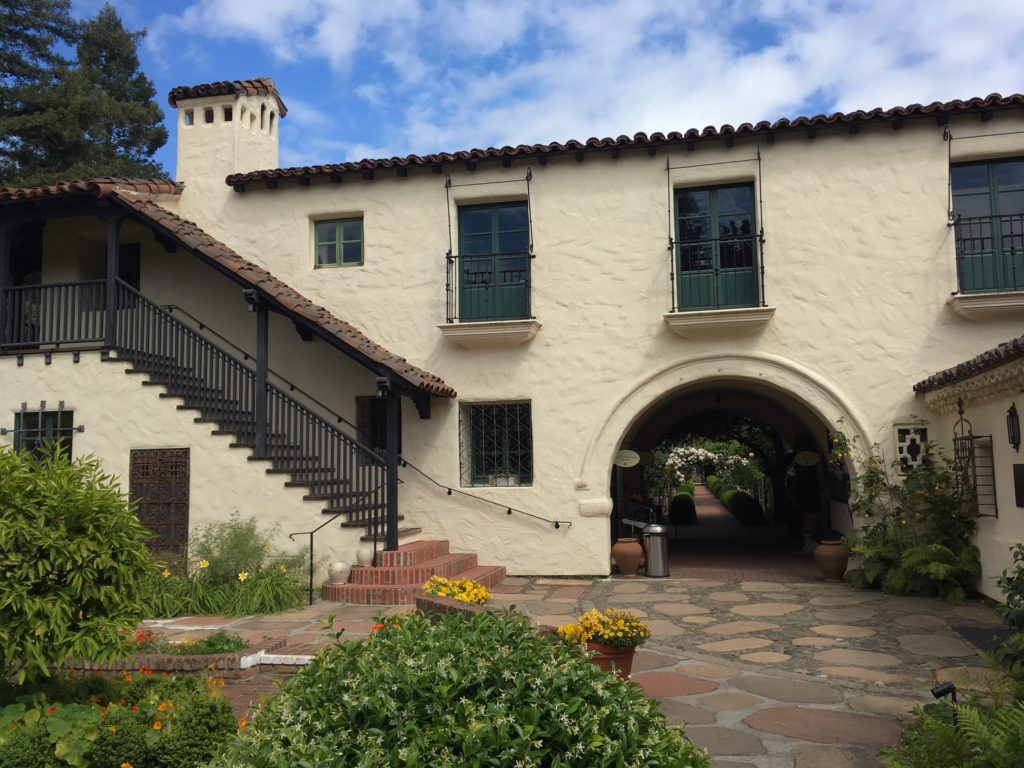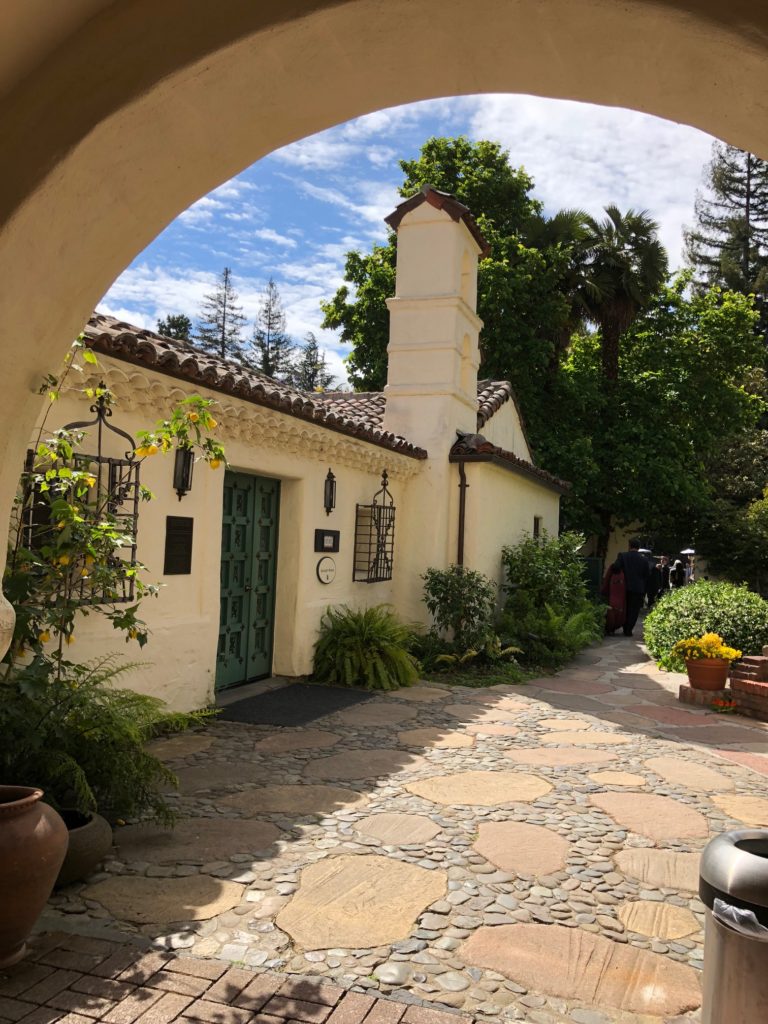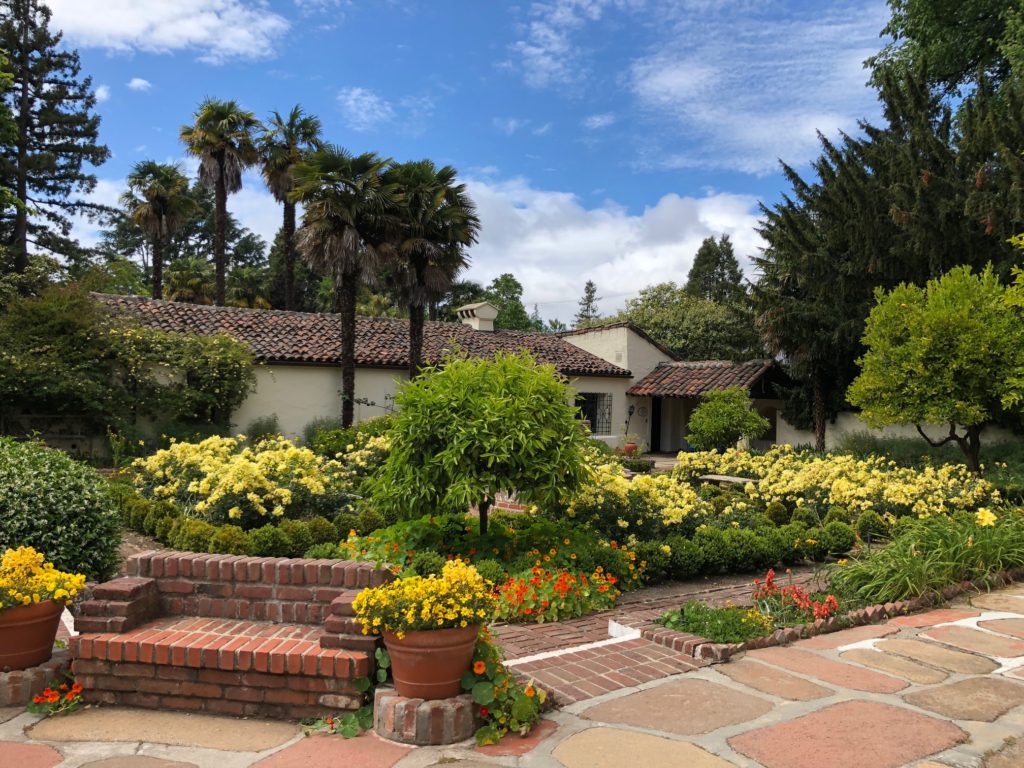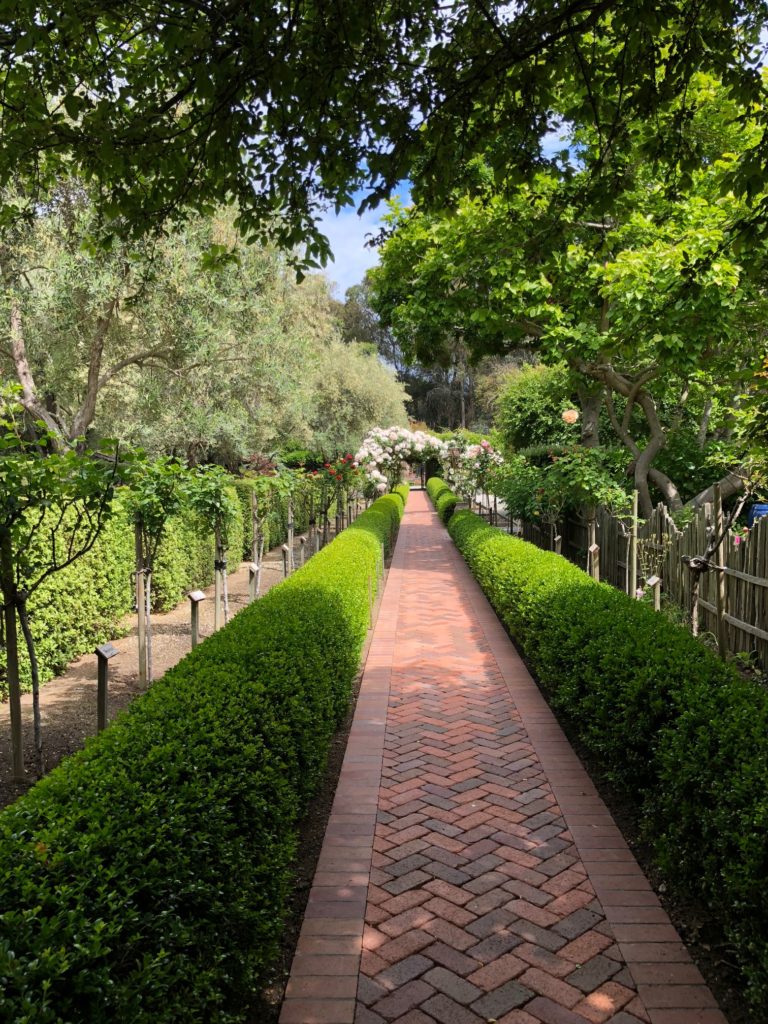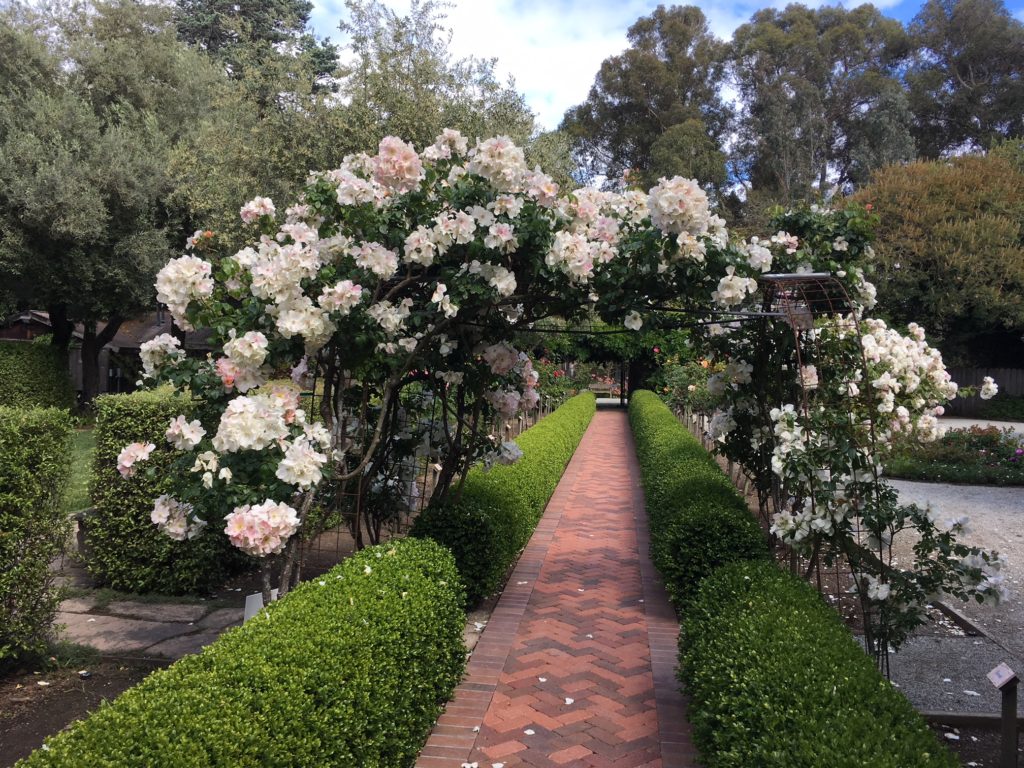 Hard to believe that this hidden gem is nestled into a quiet residential neighborhood right in the heart of Silicon Valley!
Erin and Gabe and their bridesmaids and groomsmen all got ready at the nearby Garden Court Hotel…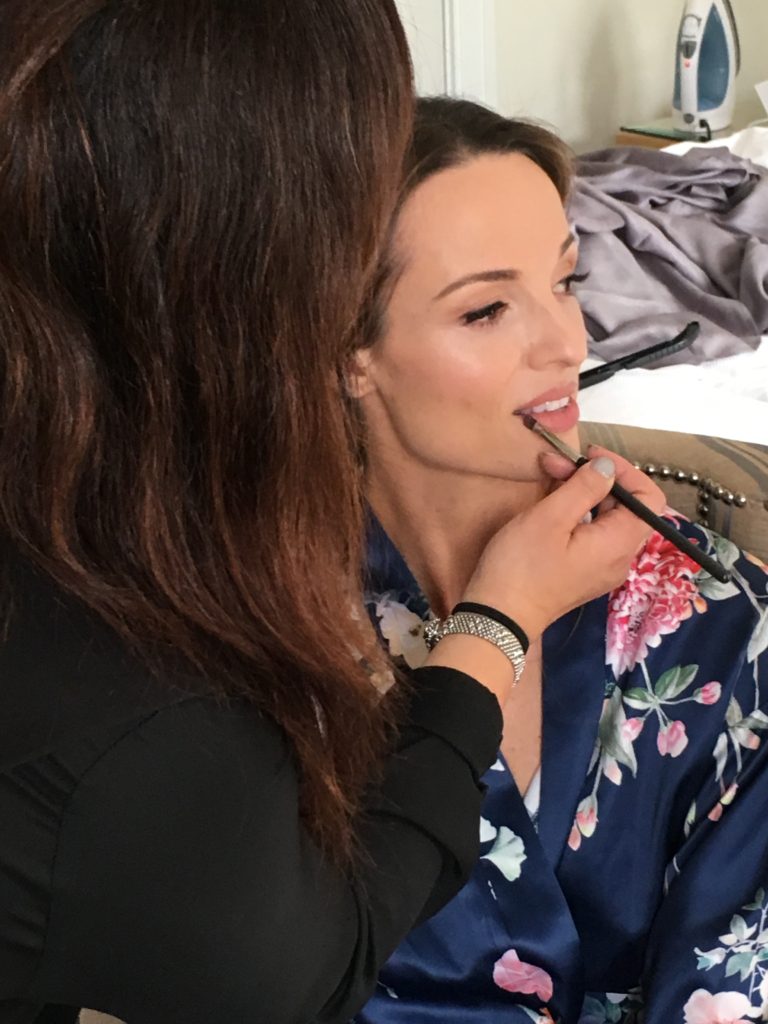 … with hair and makeup services for the ladies by Fiona and Joey of Urban Beauty Loft.
The bride had chosen a beautiful ivory wedding dress with a lace top and flowing skirt – so young and elegant in its simplicity…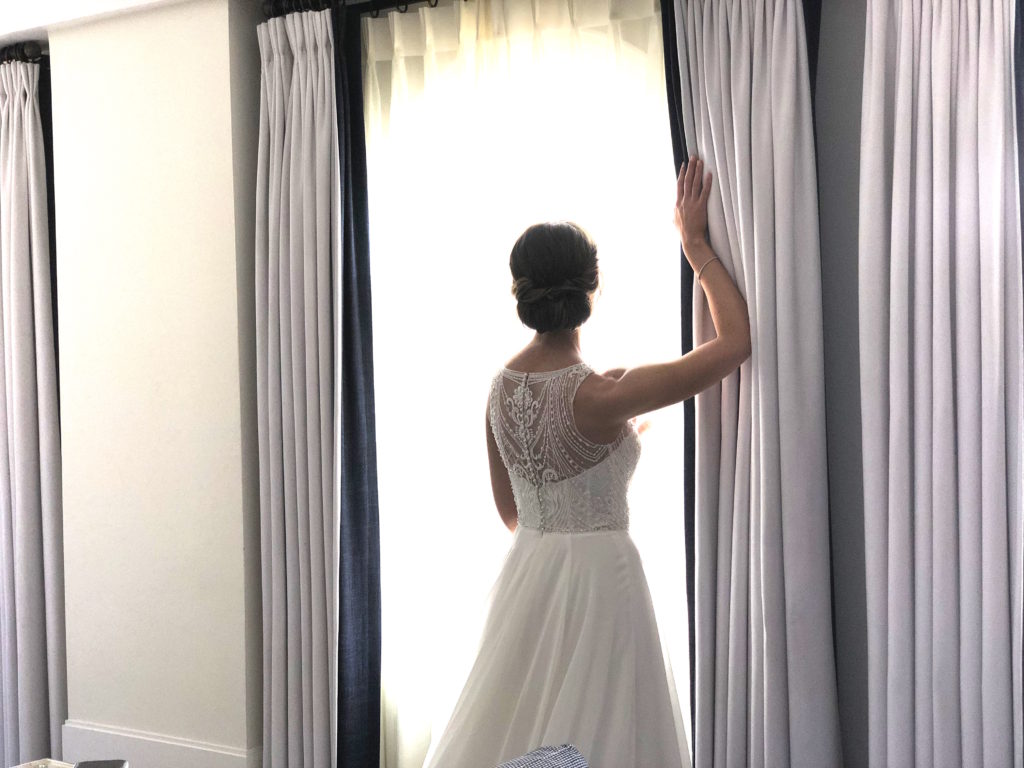 … Helping the bride into her dress is always a true mother-daughter moment…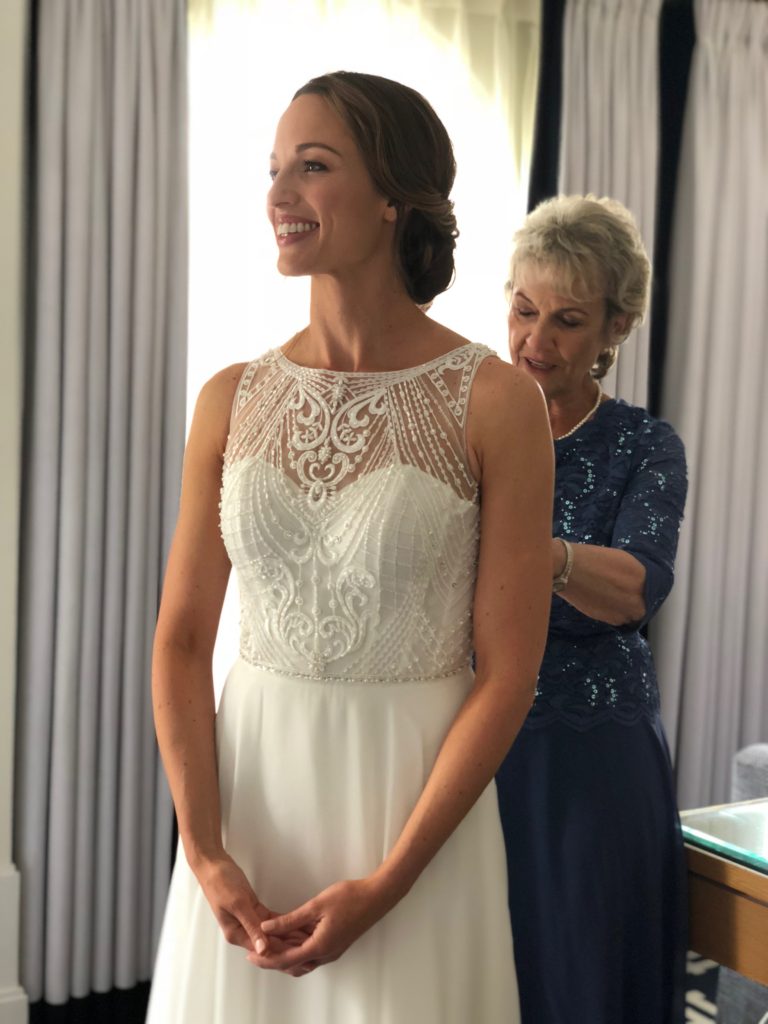 Florist Janelle Jacky-Litt of Green Petal Designs brought the bridal and bridesmaids' bouquets – and they looked exactly like Erin had envisioned them! Not an easy feat as Erin's favorite flowers are red Bougainvilleas which are notoriously fragile and do not last in bouquets and centerpieces. Not one to ever give up easily, Janelle came up with a master plan to cut these prized blooms onsite from living plants she brought in, only hours before the ceremony… and Erin got her dream bouquet! Here it is…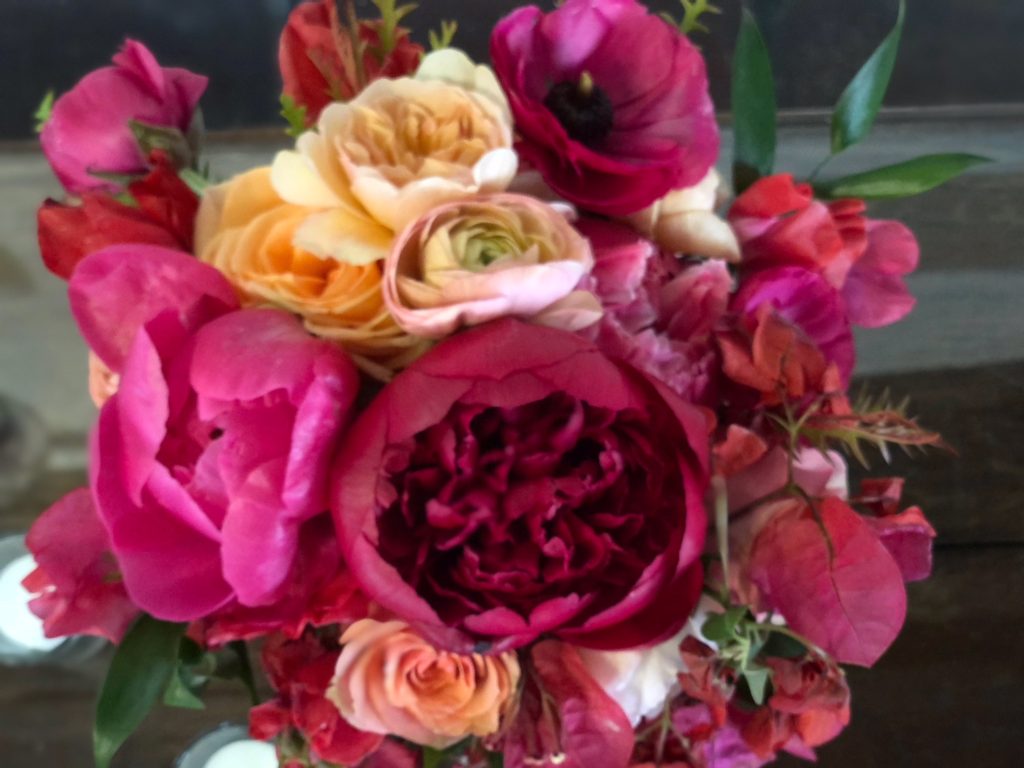 … accompanied, of course, by matching boutonnieres for the gentlemen.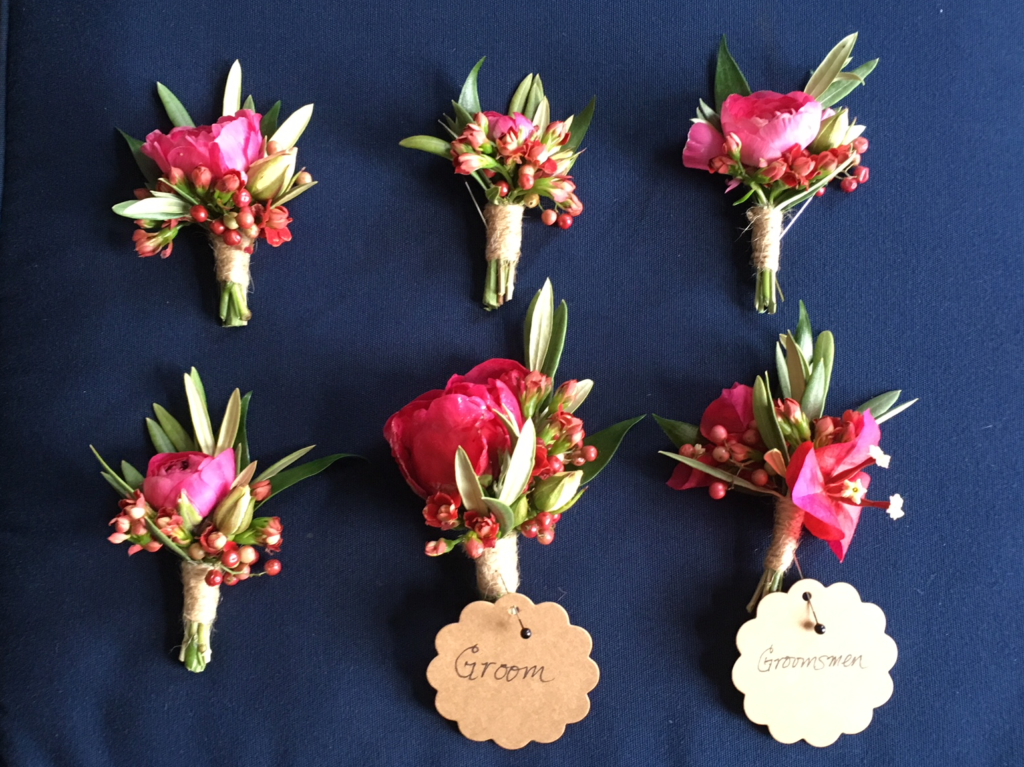 Ready for "First Look!" Photographer extraordinaire Vicens Forns and his second shooter Ana Silva captured every precious moment – just wait until you see THEIR photos! (For the time being, all we have are snapshots by the wedding planner crew!)
Bride and groom exchanged gifts right then and there – a wristwatch for the groom and stunning pearl-and-diamond earrings for the bride.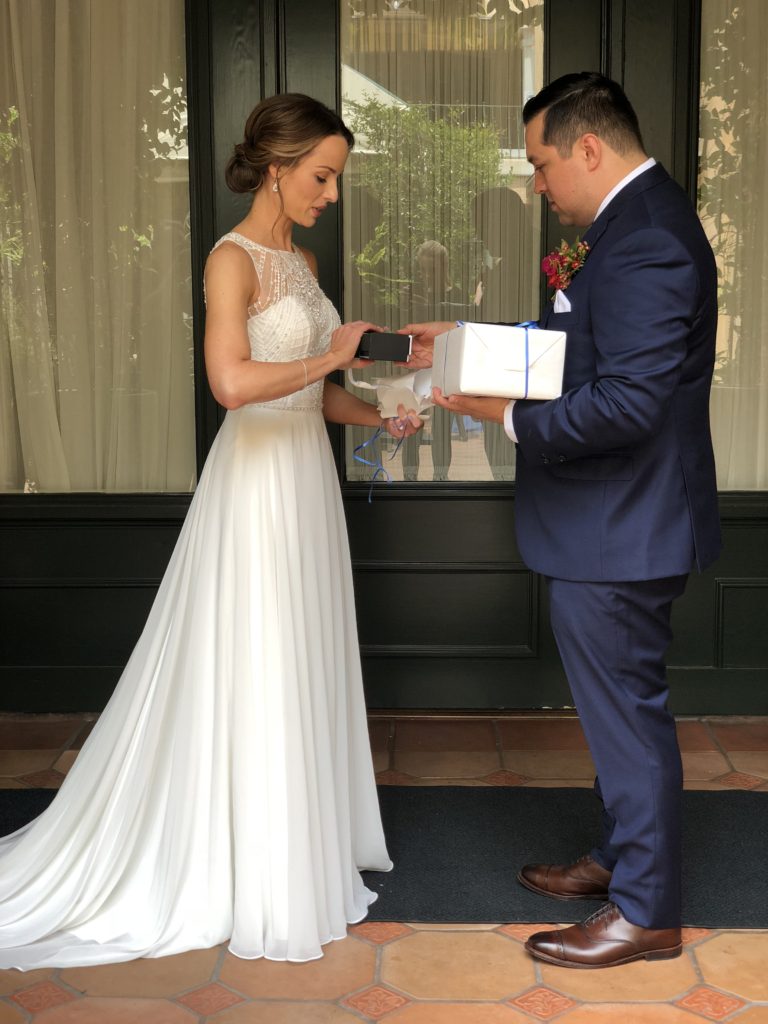 Time for many, many photos, with the bridal party….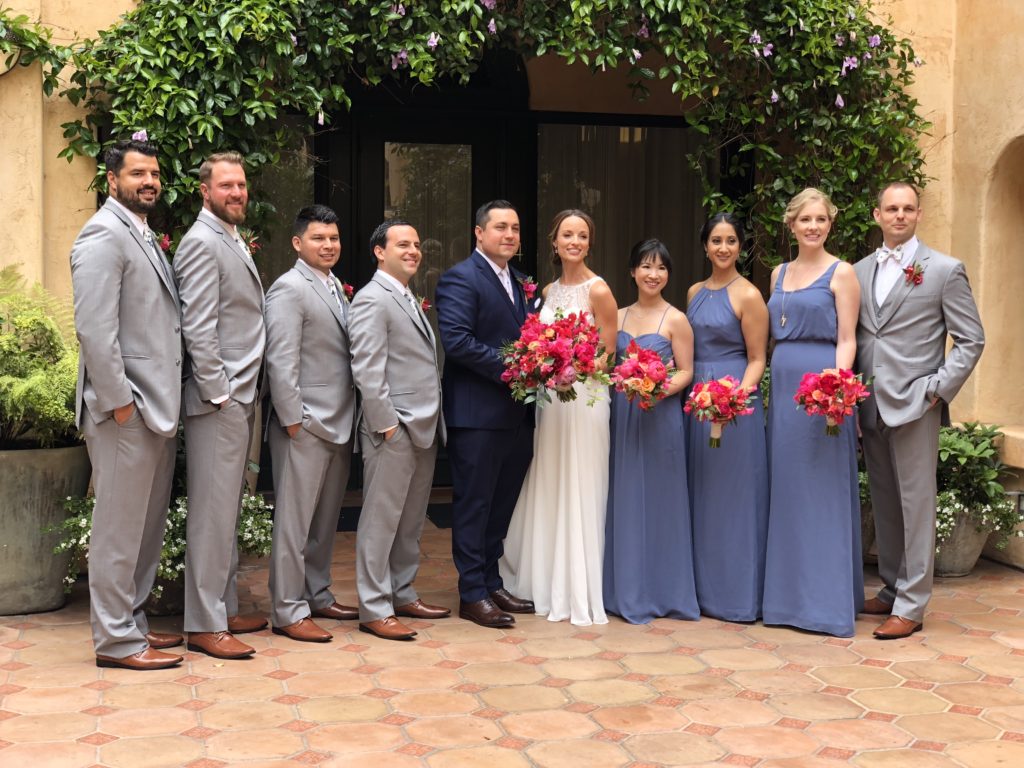 … and without!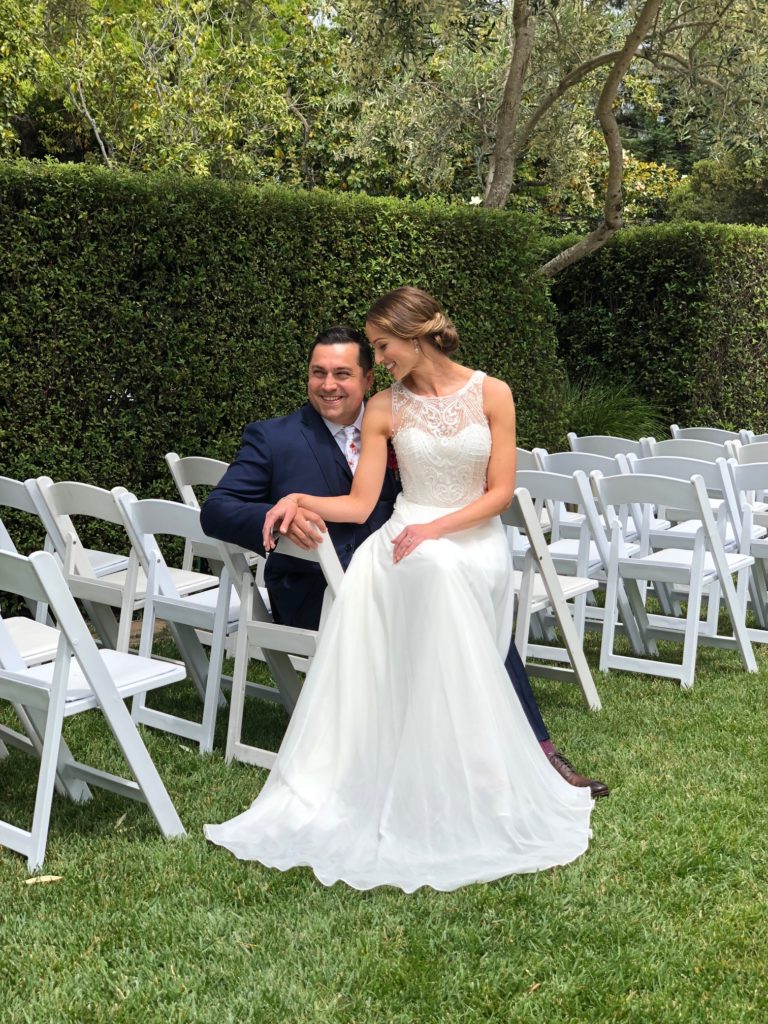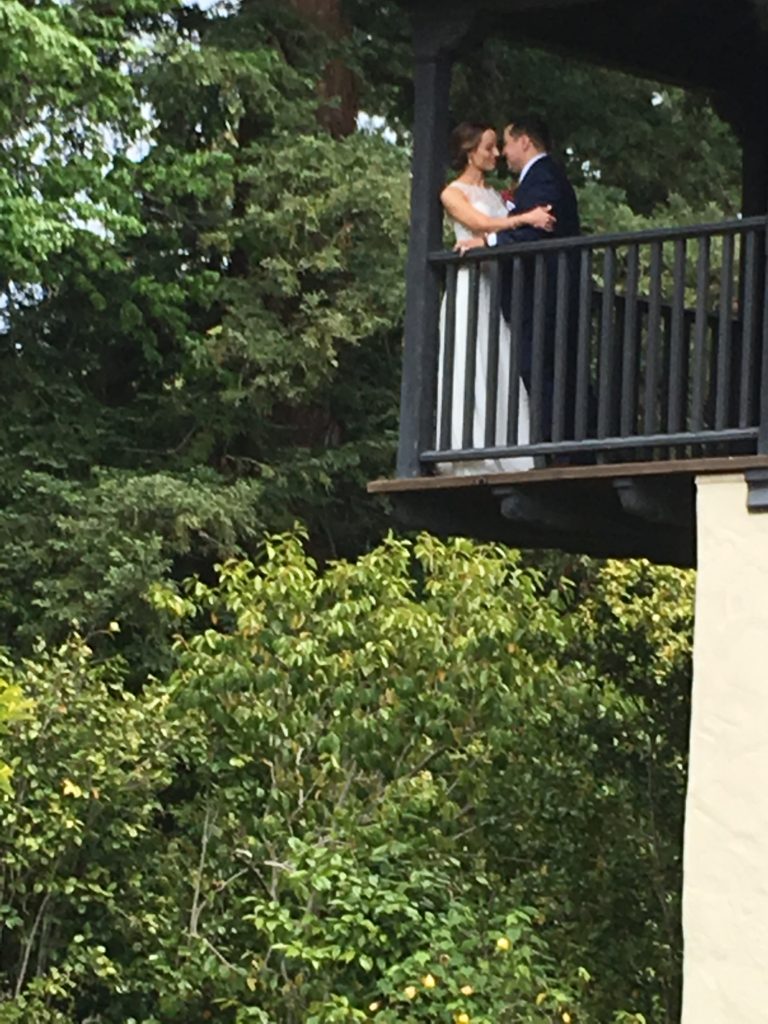 All the while, the Day Like No Other team – assistants Lisa, Alexandra, and myself – was working frantically to get everything set up in time for the big celebration!
The ceremony was officiated by a close friend of the couple's and accompanied by live music by the Hit Waves Unplugged duo – "Can't Help Falling in Love With You" for the processional. It doesn't get much more romantic than that! The bride was walked in by her Dad, as tradition prescribes…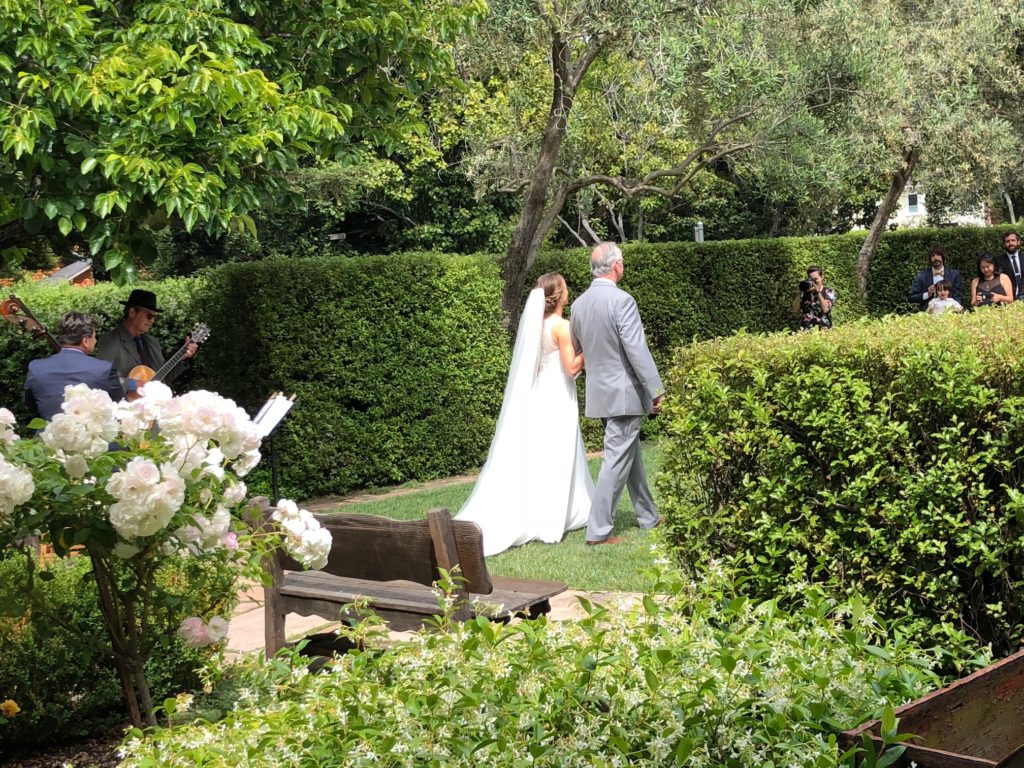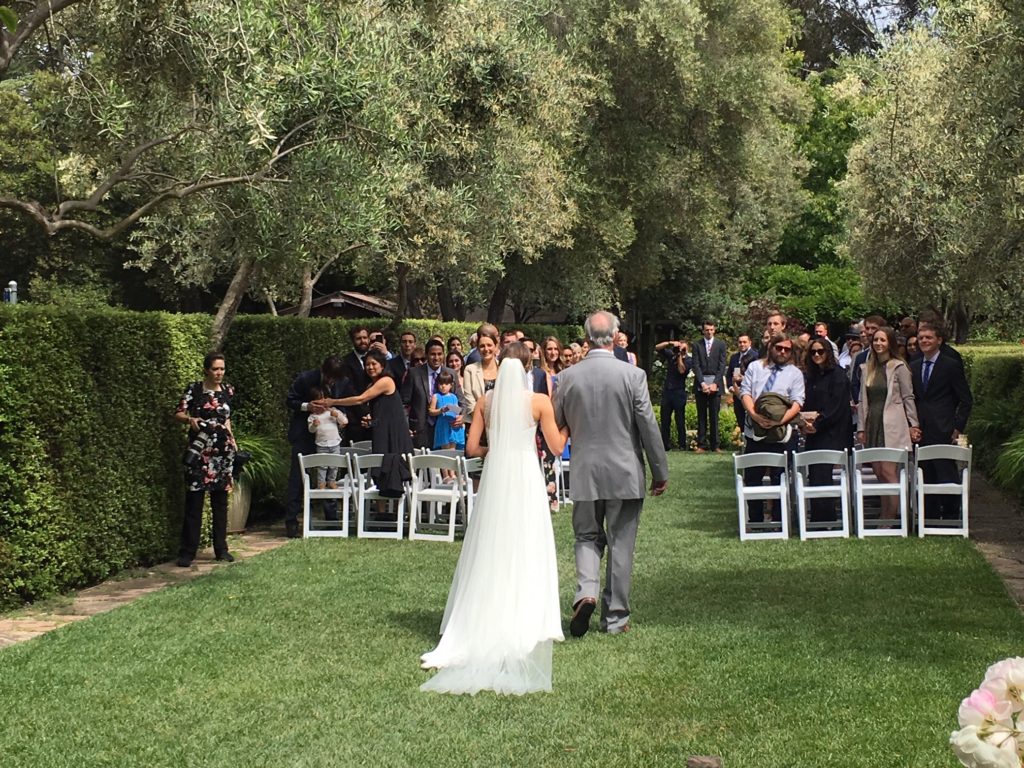 During the very personal ceremony with several readings, guests helped to fill a "time capsule" for the couple, to be opened on their fifth wedding anniversary. And here they are, JUST MARRIED!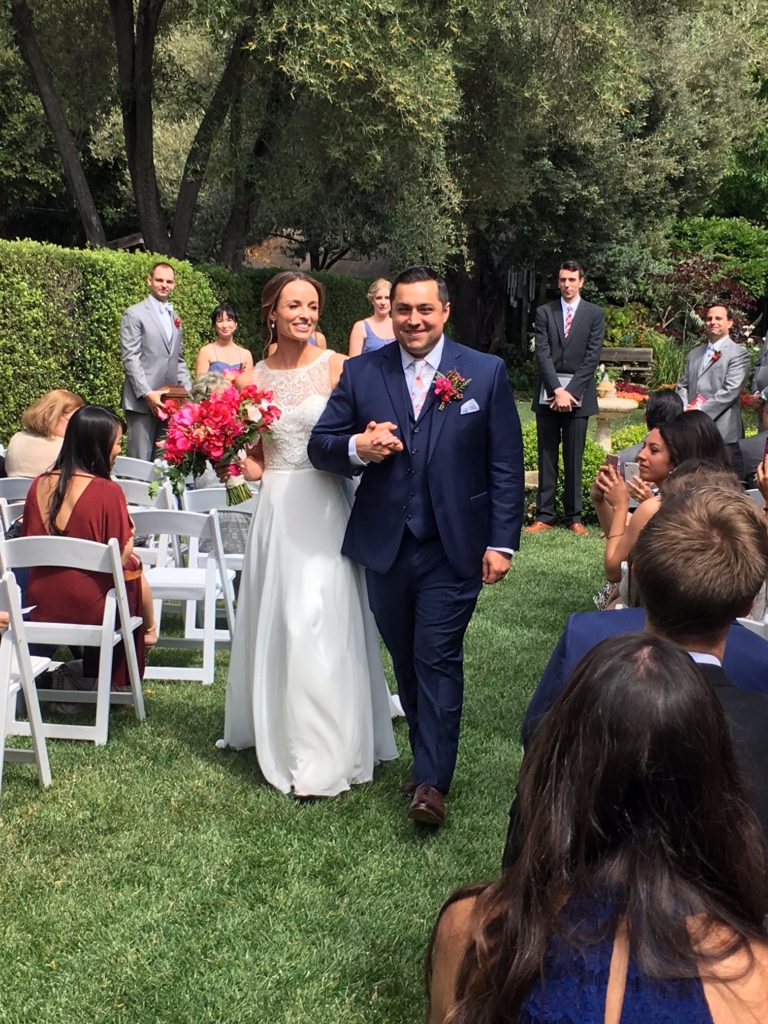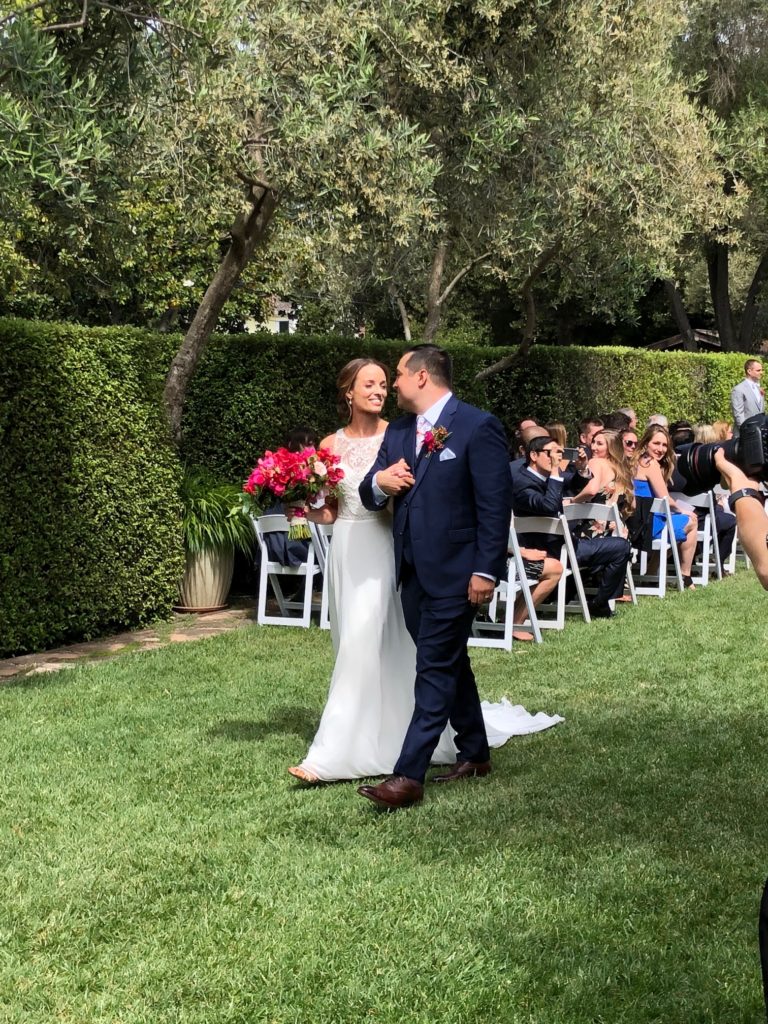 Guests were treated to cocktails on the adjacent patio – with a whole menu to choose from: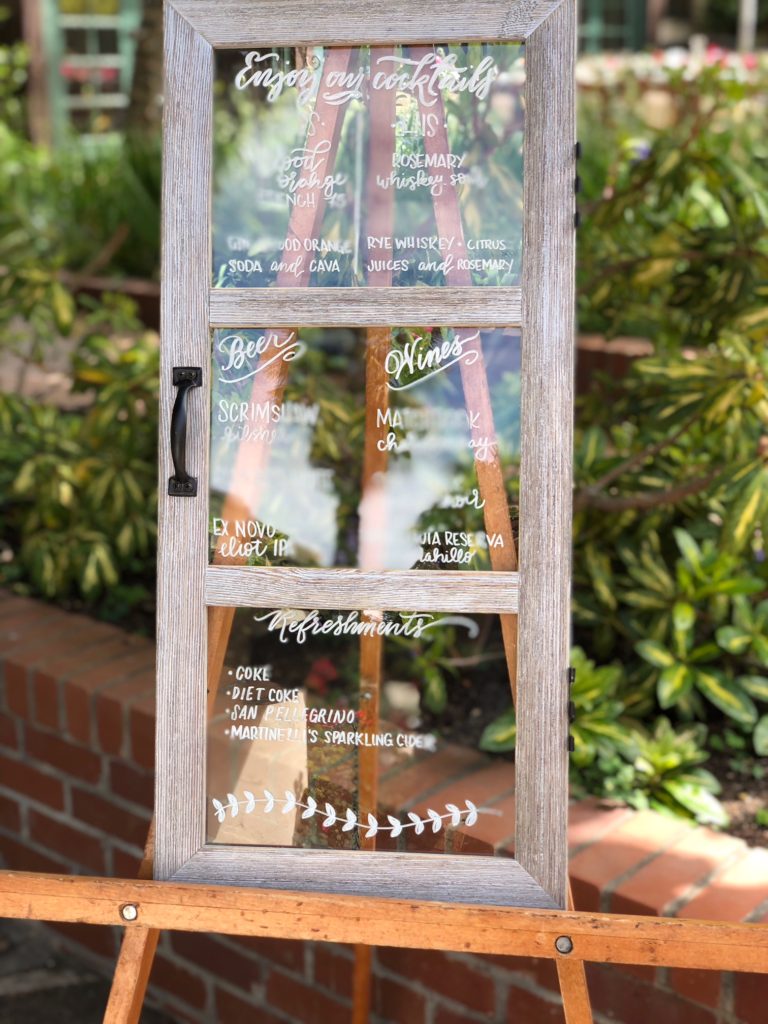 … with the pretty signage provided by the bride's talented friend Jess. Of course, there was more fun waiting for the guests: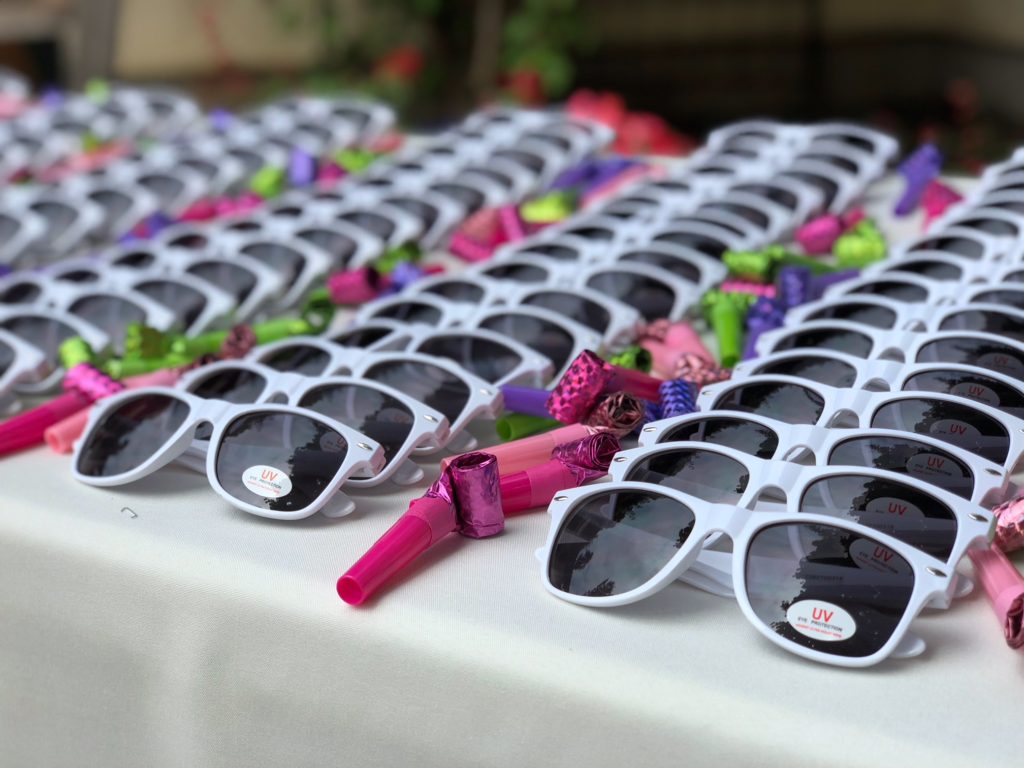 … and not only that: guests were also invited to watch dinner preparations: Two spectacular paellas (by Nora's Spanish Catering) were cooking in the courtyard…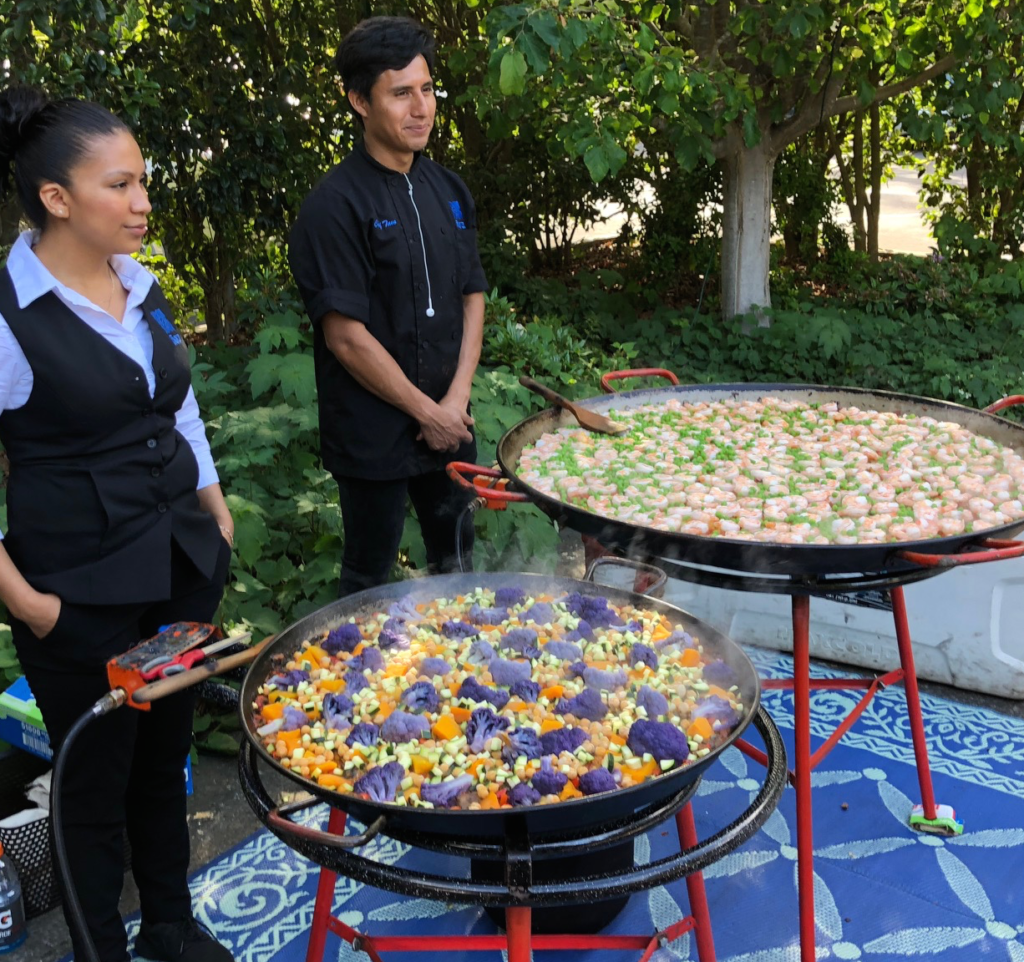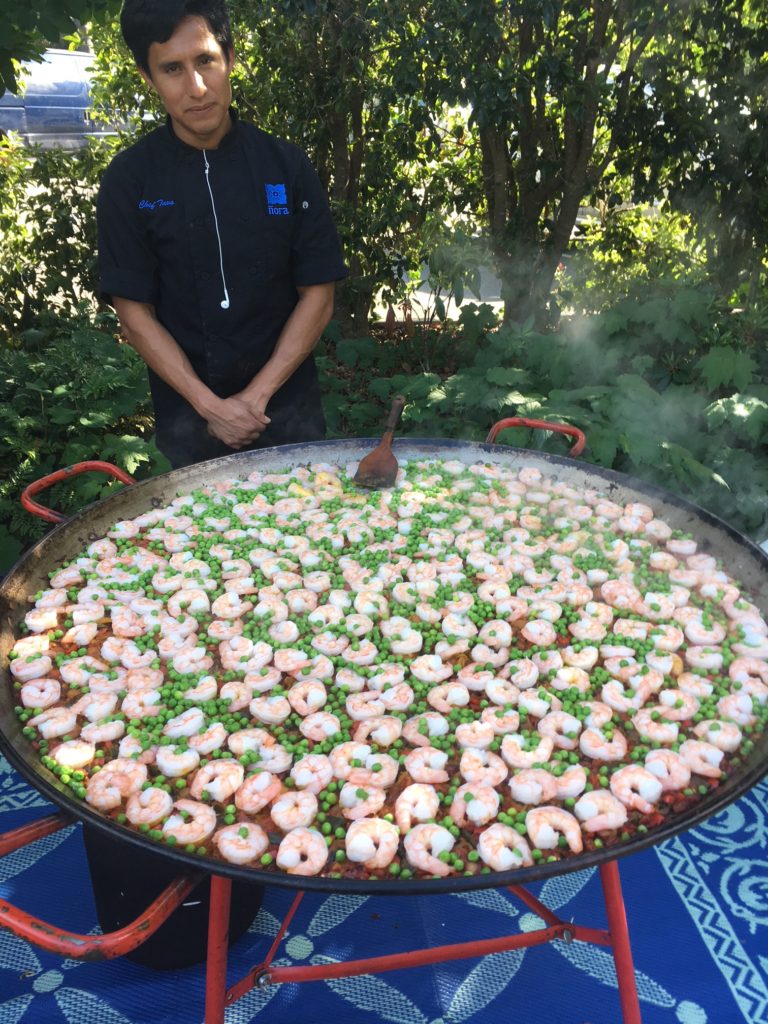 … and long rows of bare wooden tables (from Stuart Event Rentals) decked out with garlands and blooms in fiery reds and oranges (all by Green Petal Designs) were waiting for the guests.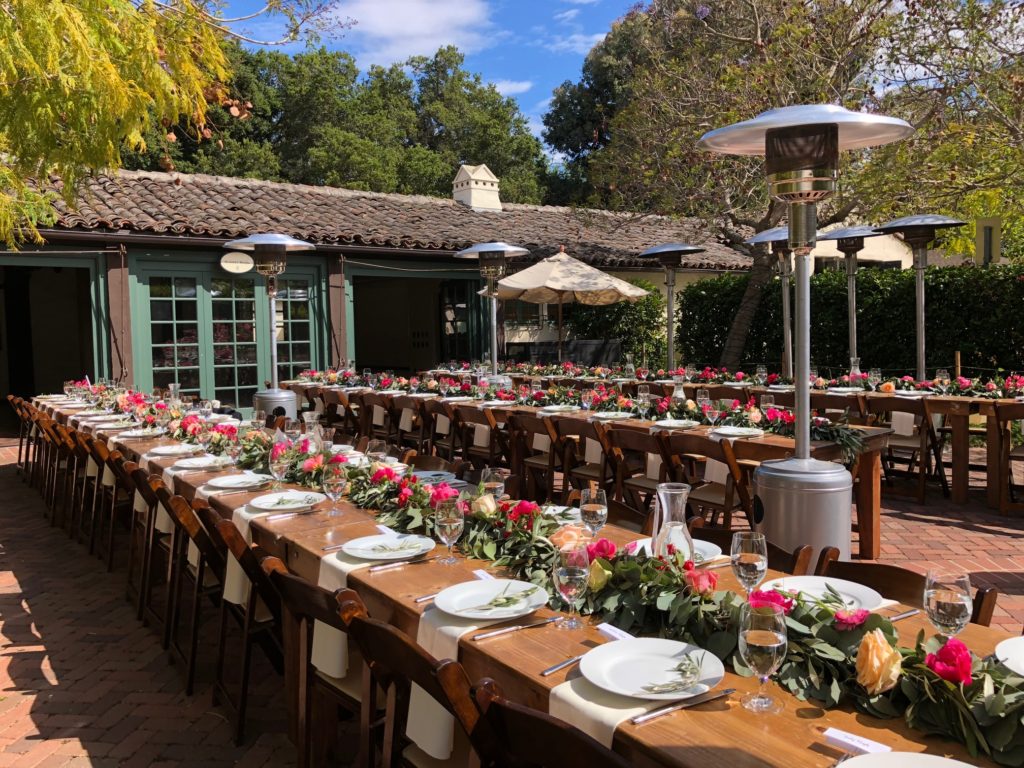 Whimsical "escort cards" showed guests their table assignments: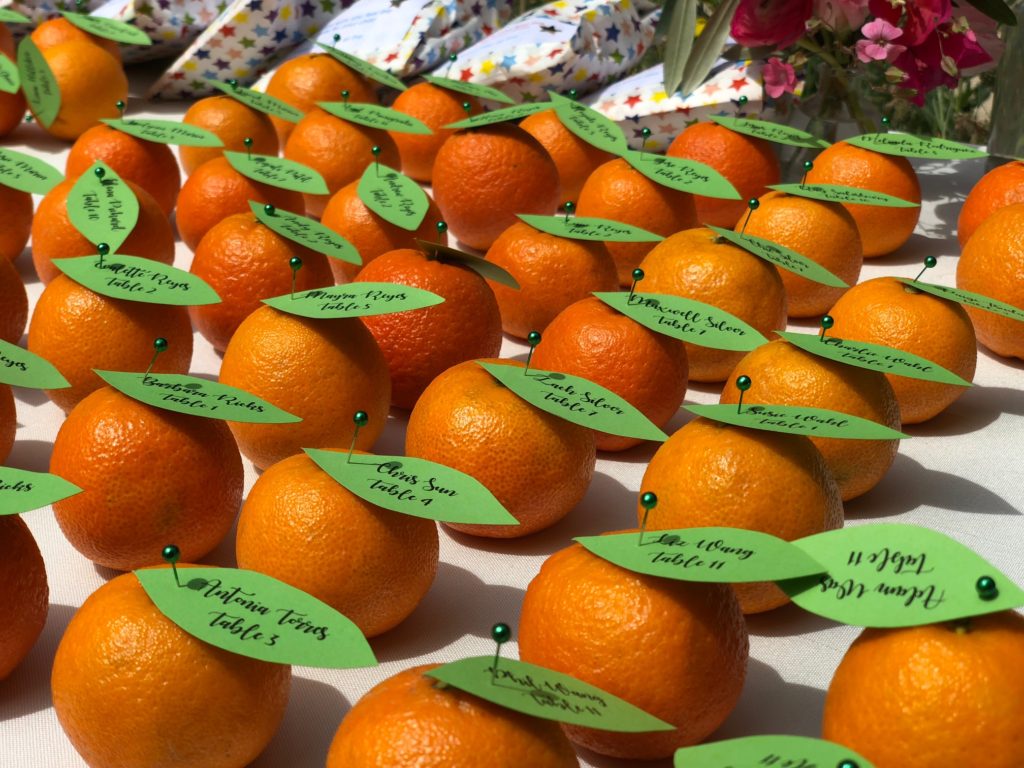 Everyone was raving about the paella! With background music by DJ Sami Funk of Heart of Gold DJs, lively conversation and free-flowing Spanish wine, everyone was having a great time.
Next up: cake cutting! A pretty lemon-buttercream cake (from Cake Coquette) with more Bougainvilleas for decor was set up inside the "Sunset Room" on an antique table, alongside chocolates, cookies, and freshly baked churros with chocolate sauce.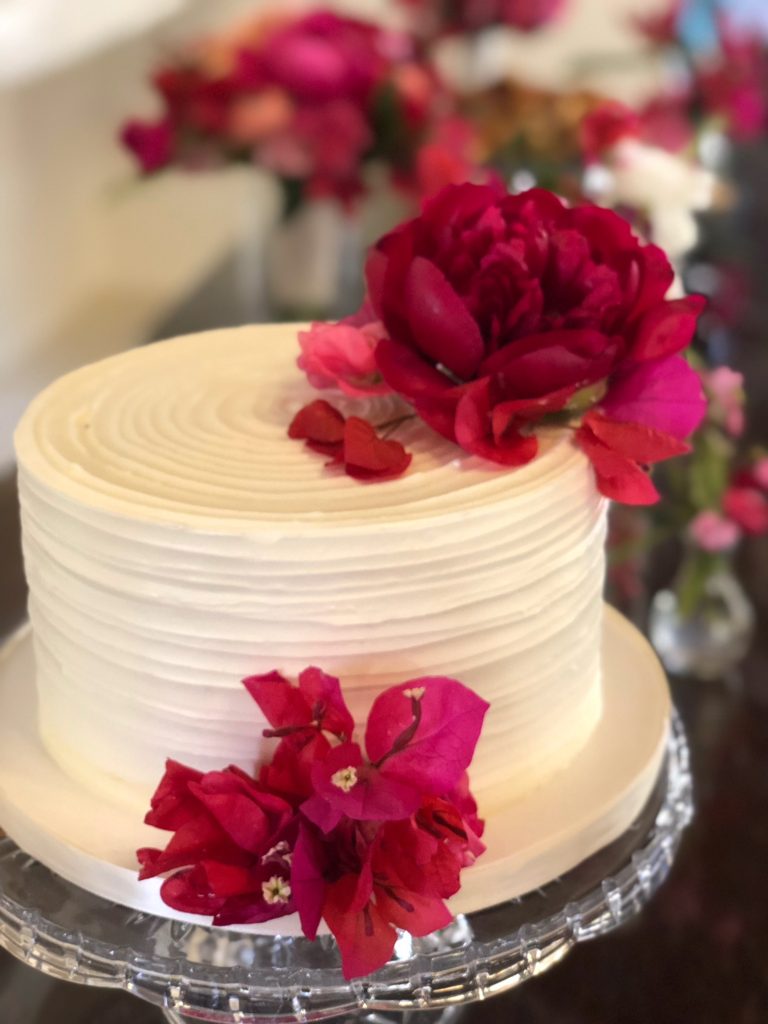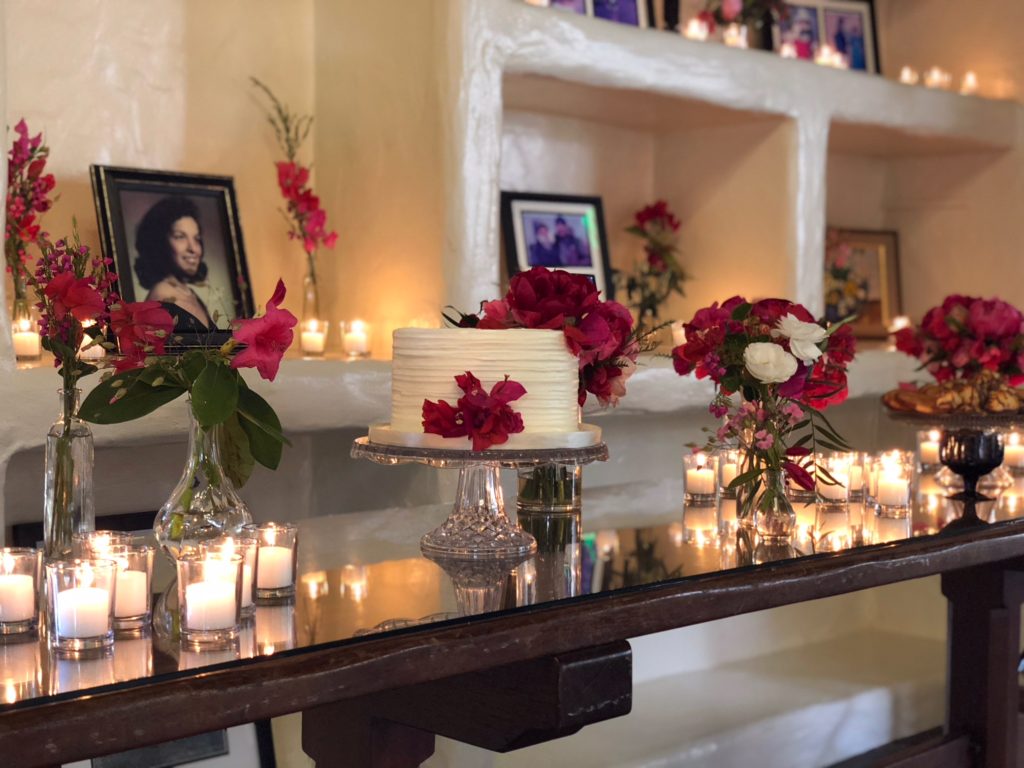 The back wall had been decorated with family heirlooms and photos, and surrounded by all these sweet memories and lots and lots of candlelight, the newlyweds performed their official first joint task as husband and wife – cutting the cake.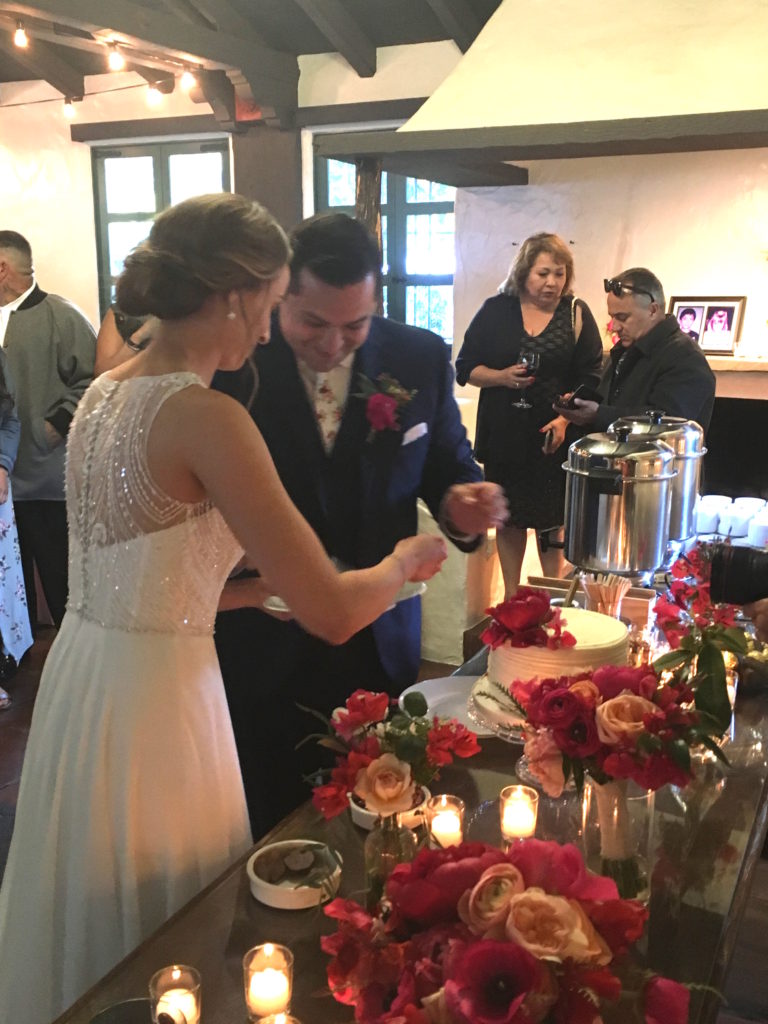 What now? First Dance, of course!
Following that, there was no holding back – everyone hit the dance floor to the tunes of DJ Sami, under twinkling string lights from Stuart Event Rentals.
When this party did come to an end – it was on another high note: a sparkler exit to the most beautiful car imaginable, to take Erin and Gabe off to their married bliss: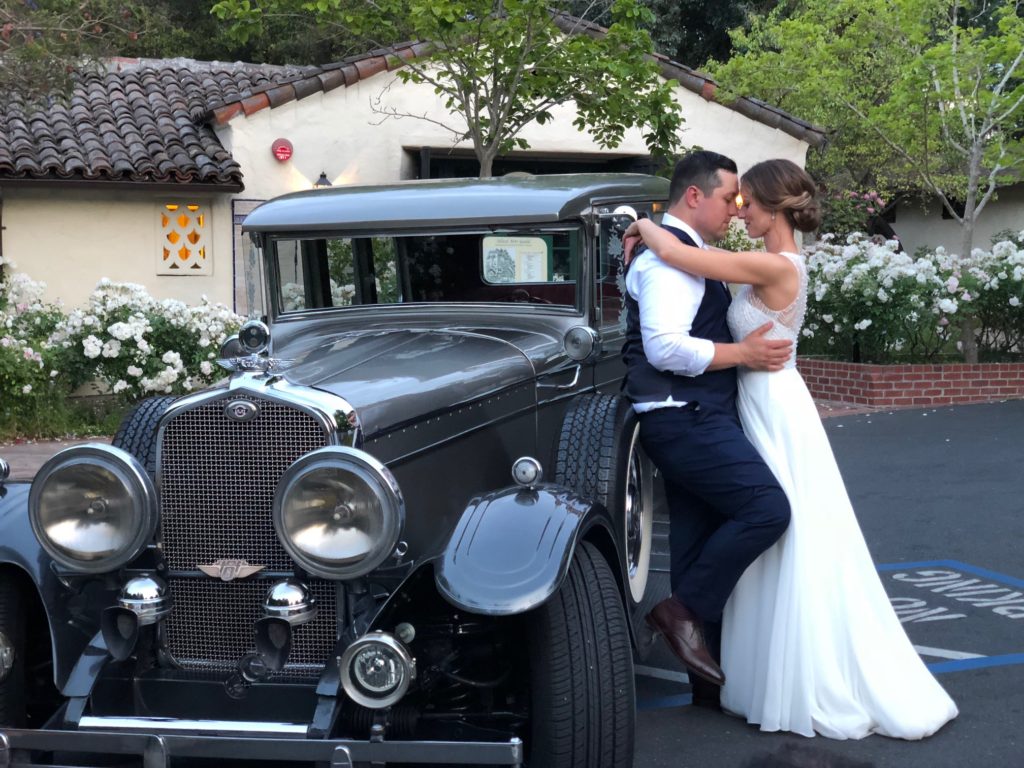 A 1927 Stutz chauffeured by owner George Rose of Elegant Journey Limousines…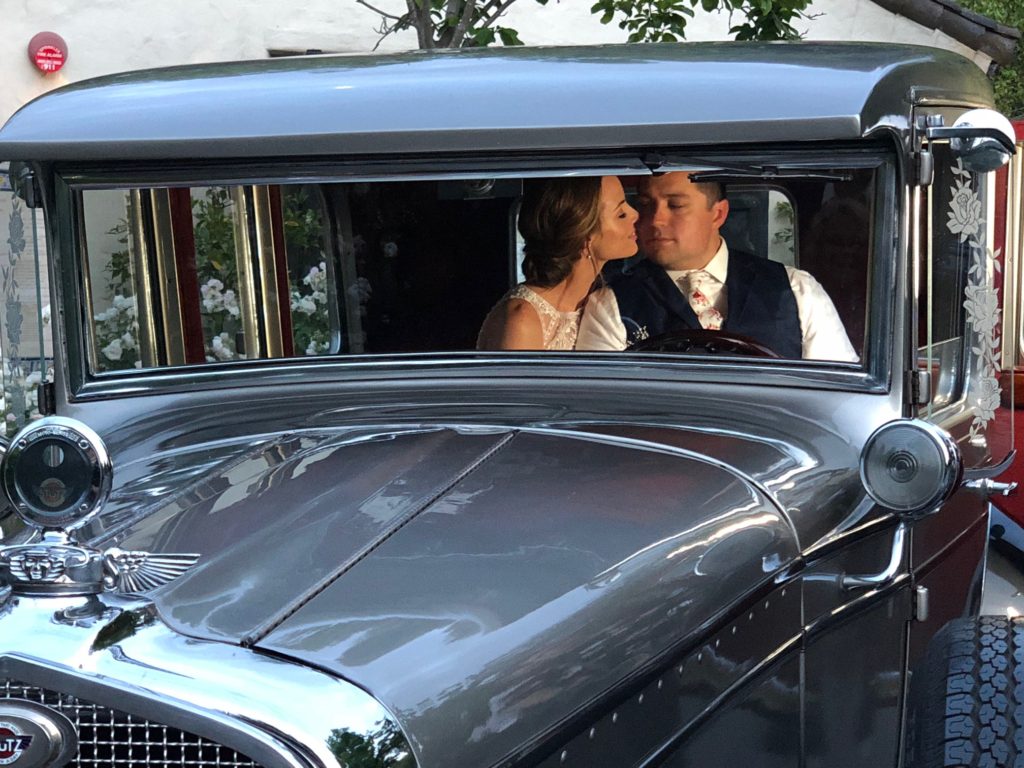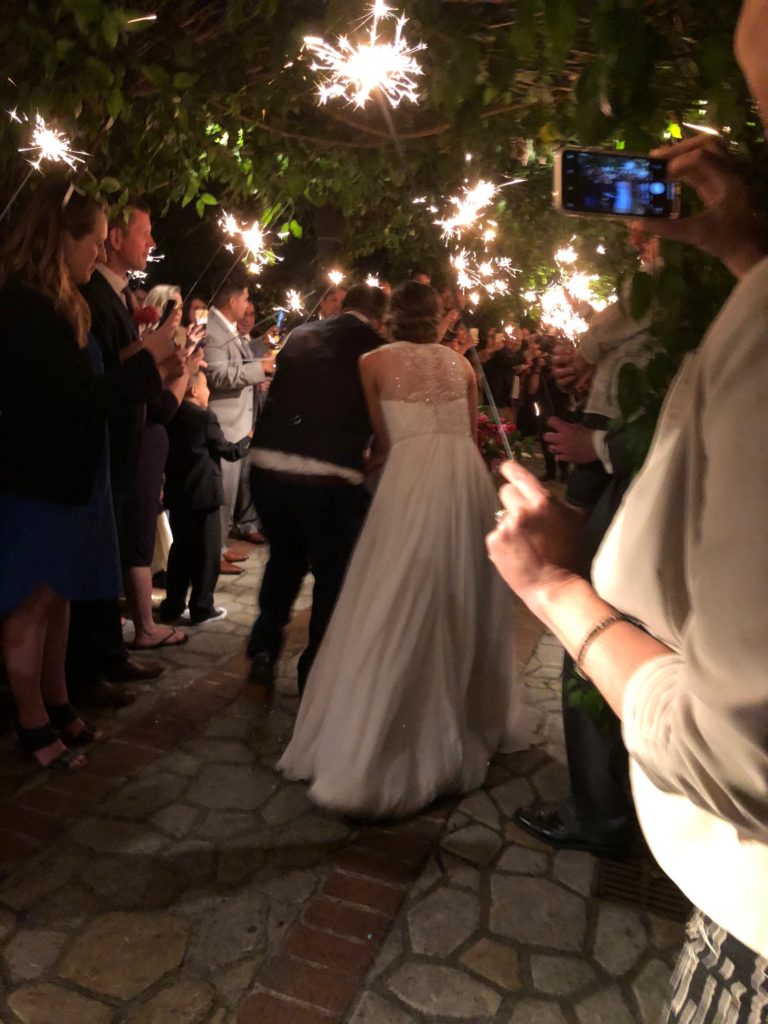 With our best wishes on your lifelong journey together, Erin and Gabe, and may all your days be as happy as this one!
<! DL 06/02/12: Added html code for Pinterest Pin It button (appears at the end of each post) > <! DL 06/02/12: Added padding style modifier to the Pinterest html code to align the Pit It button on the page > <! DL 06/02/12: deactivated code by adding two ! in the a and img code lines >