Olivia and Jake love their city. They are living in a historic neighborhood, they are exploring the city via bike, they are fully immersed. Small wonder then that for their wedding day, they chose iconic locations to make it truly meaningful to them and to their loved ones – some of whom (the bride's parents, to start with) had come as far as from Taiwan.
When Olivia approached my company, A Day Like No Other, for help in her wedding planning, I realized very quickly that this would not be a "run-of-the-mill" affair. It would be very personal, very intimate, and very "San Francisco."
And finally, last Saturday, it all came together beautifully on a glorious autumn day under a blue sky and a light breeze – San Francisco at its very best!
For Olivia and her Matron of Honor, the day began with hair and makeup services by Chau of A-List Hair and Makeup. She transformed two pretty young women into drop-dead gorgeous red-carpet stars! Olivia had chosen a classic ivory  lace dress and a bouquet from Le Bouquet Flower Shop in elegant dark reds, blush pink and eucalyptus greens: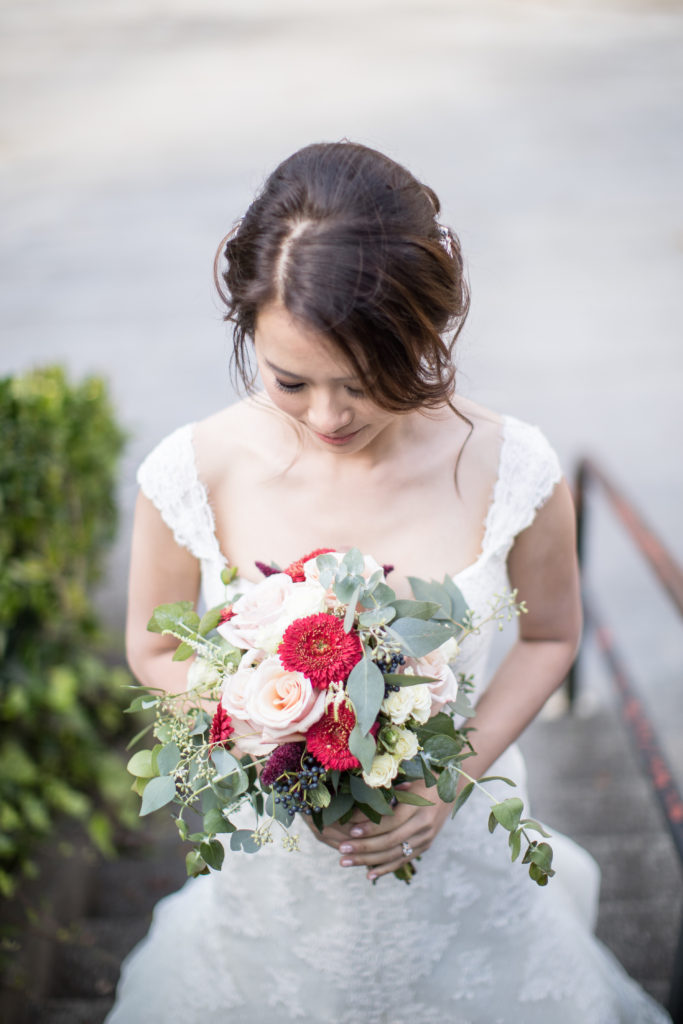 Ready to present herself to her fiance with a First Look! Adam of City Express Limousine chauffeured her to the Legion of Honor Museum – one of San Francisco's most iconic institutions, with one of the largest collections of Rodin sculptures worldwide: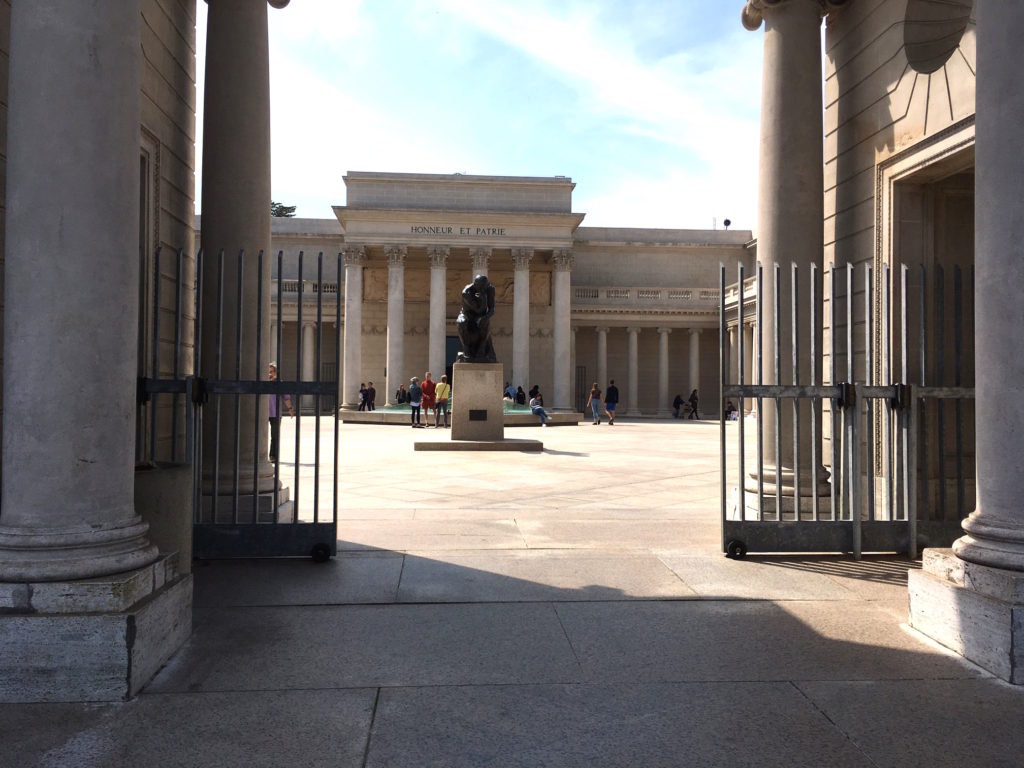 What better spot for their First Look but the classic colonnades of the courtyard…
Photographer Frank Lee with assistant and the video team of Amor in Motion captured every moment, as Olivia gently tapped Jake on the shoulder…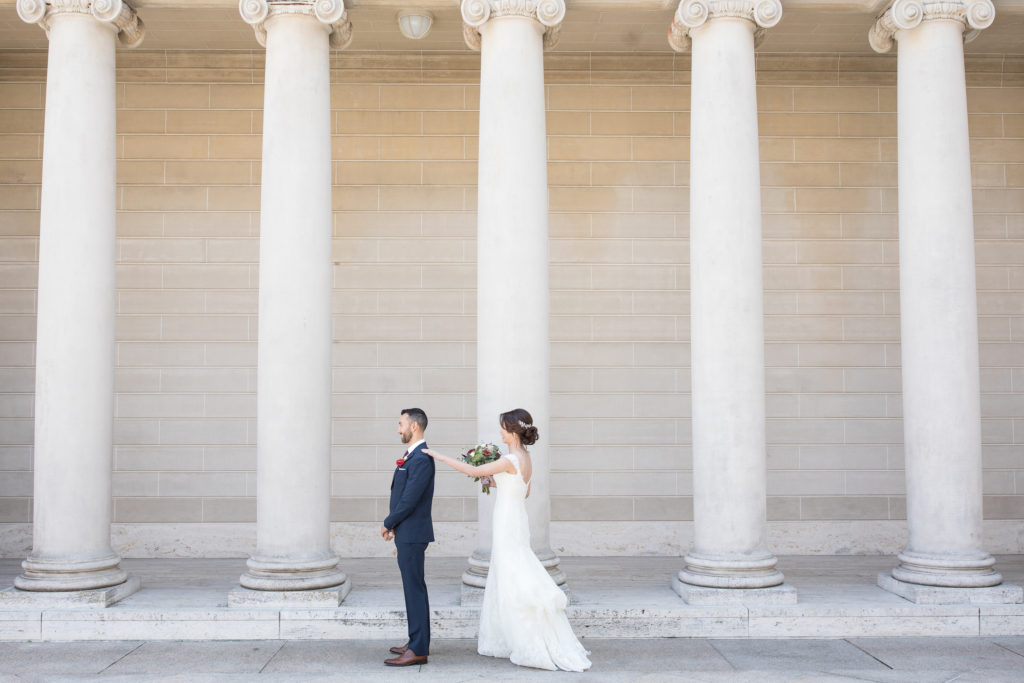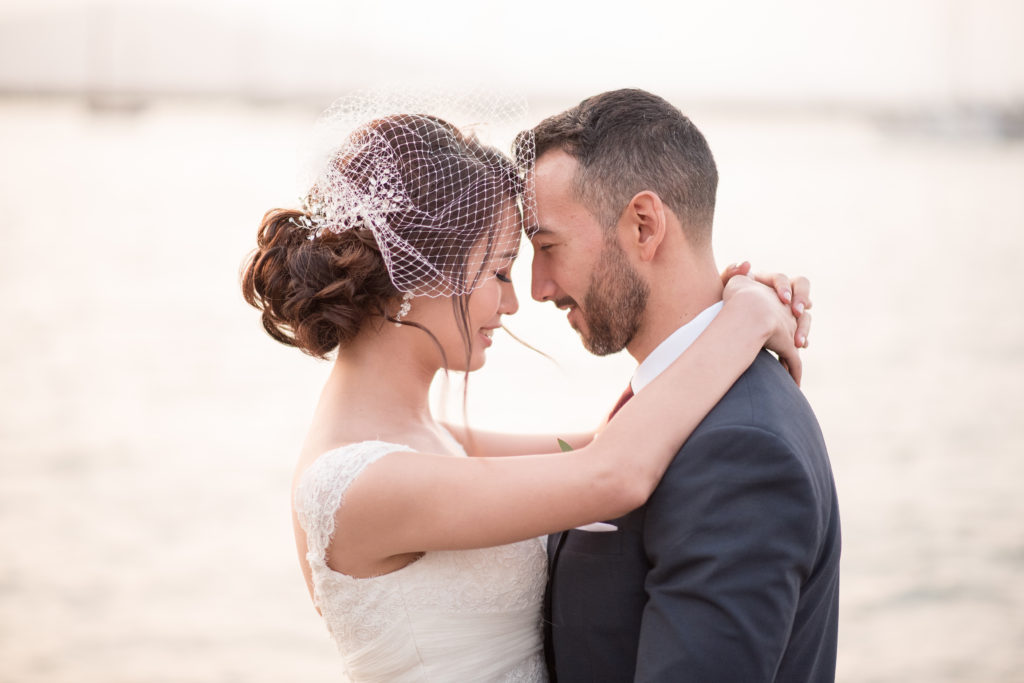 And here they are!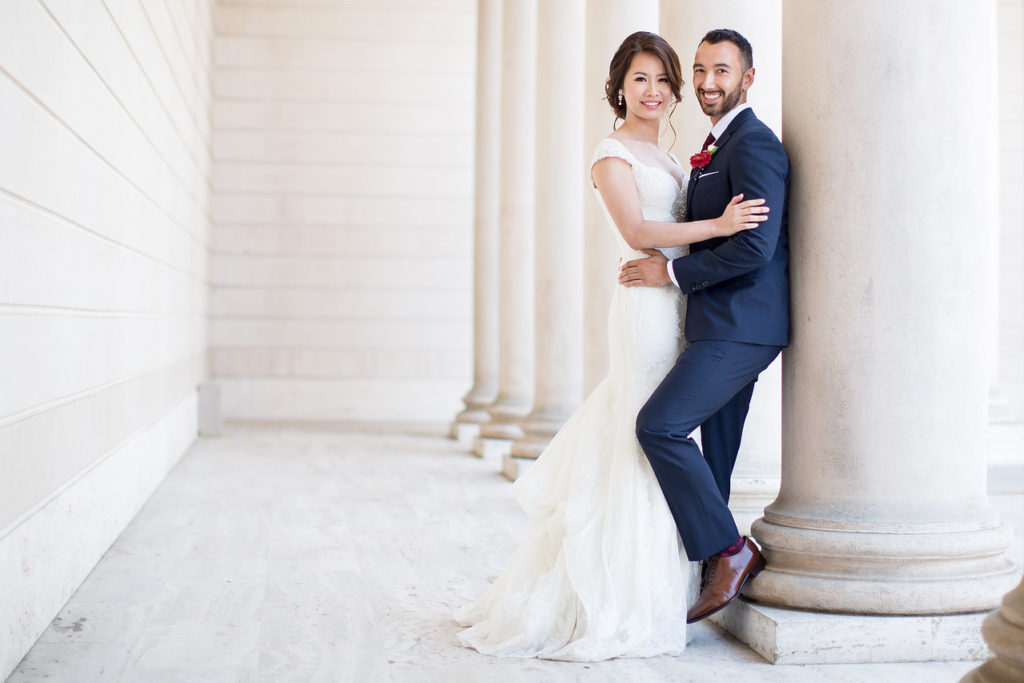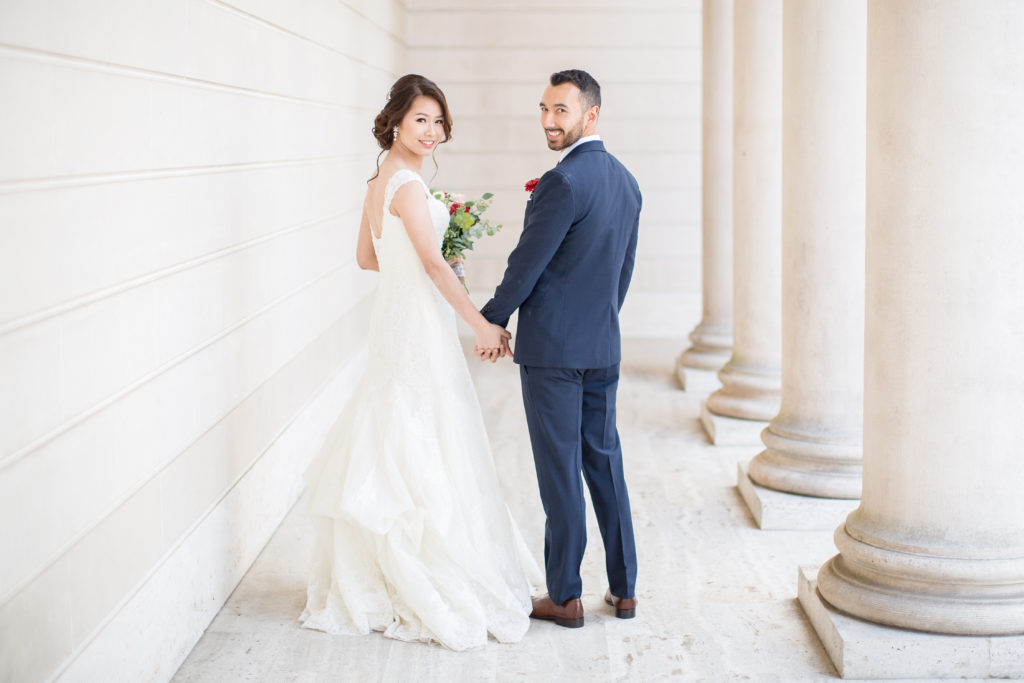 Off to many more photos and video footage – to Fort Point (at the Golden Gate Bridge) and the Lyon Street Steps (with breathtaking views of the Bay) – a whole picture book of San Francisco scenery!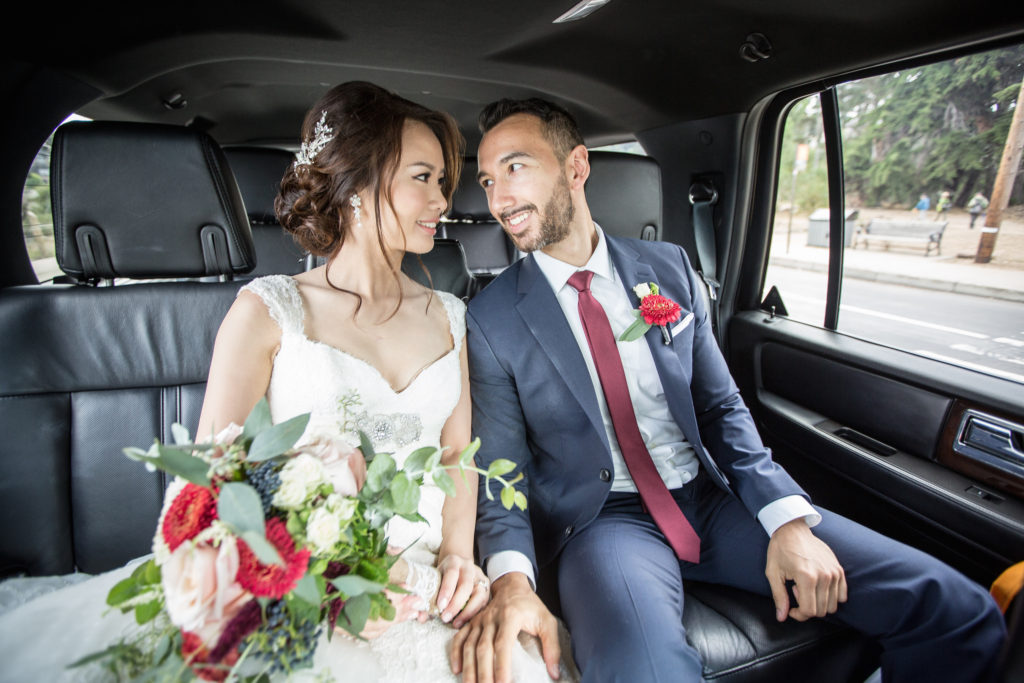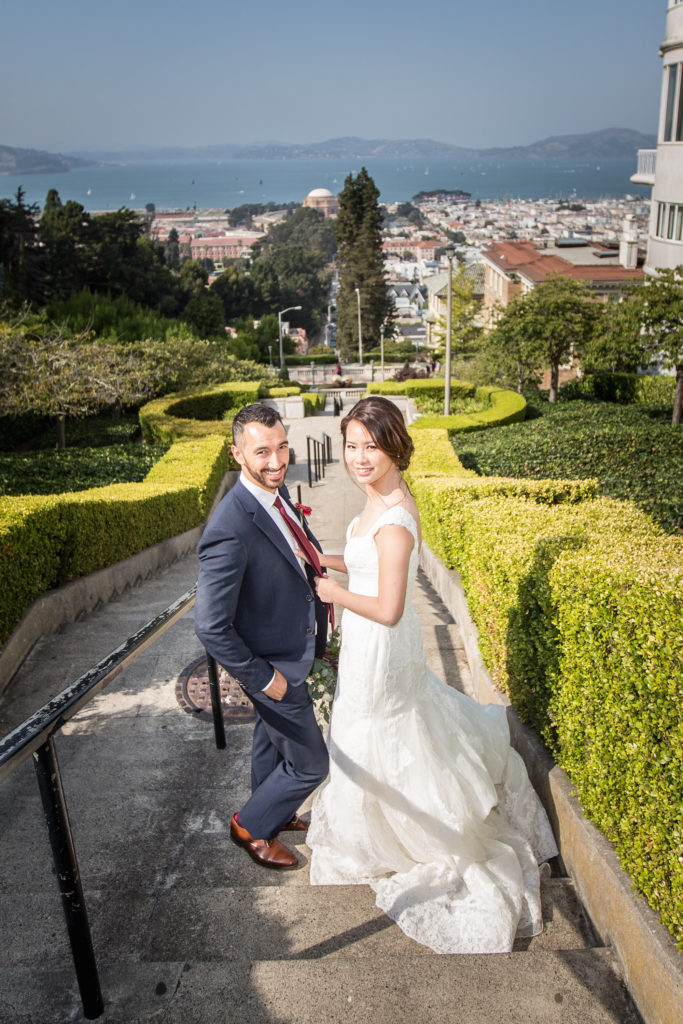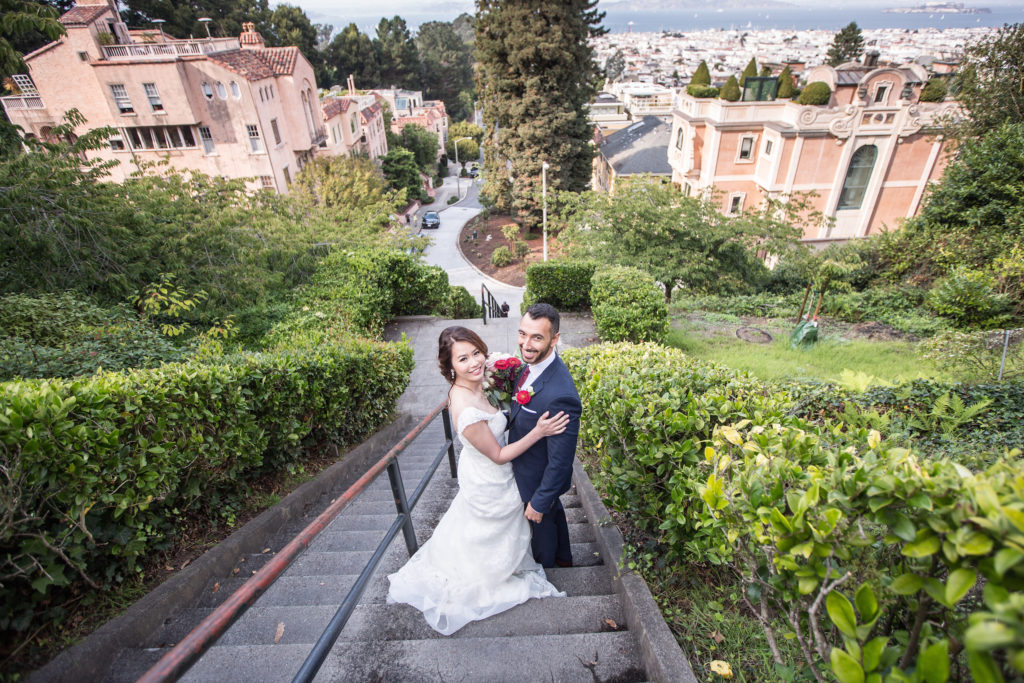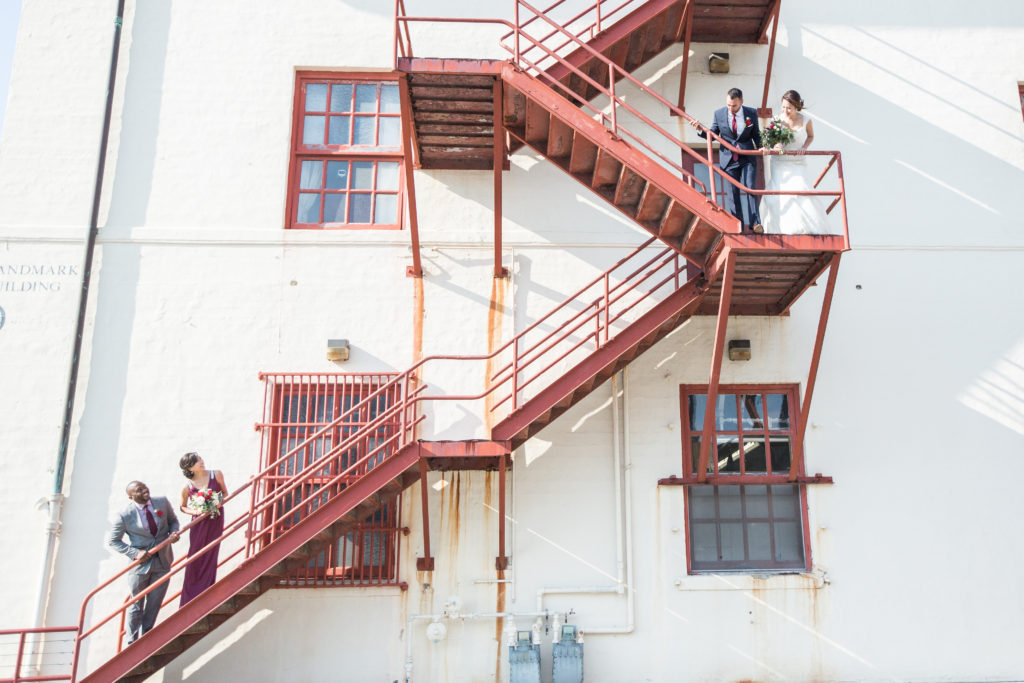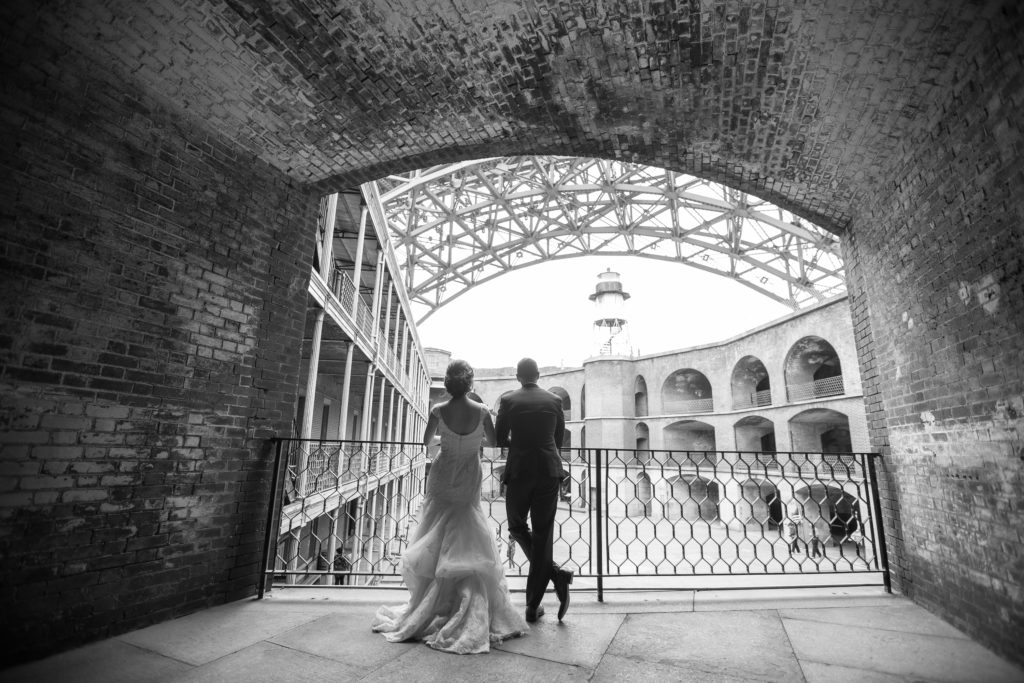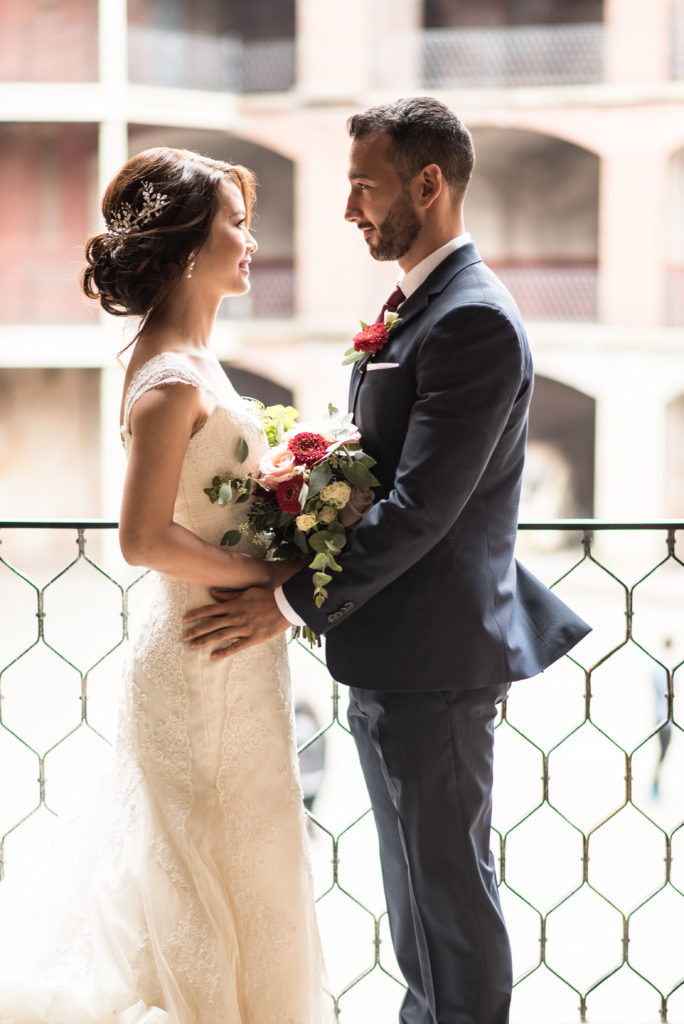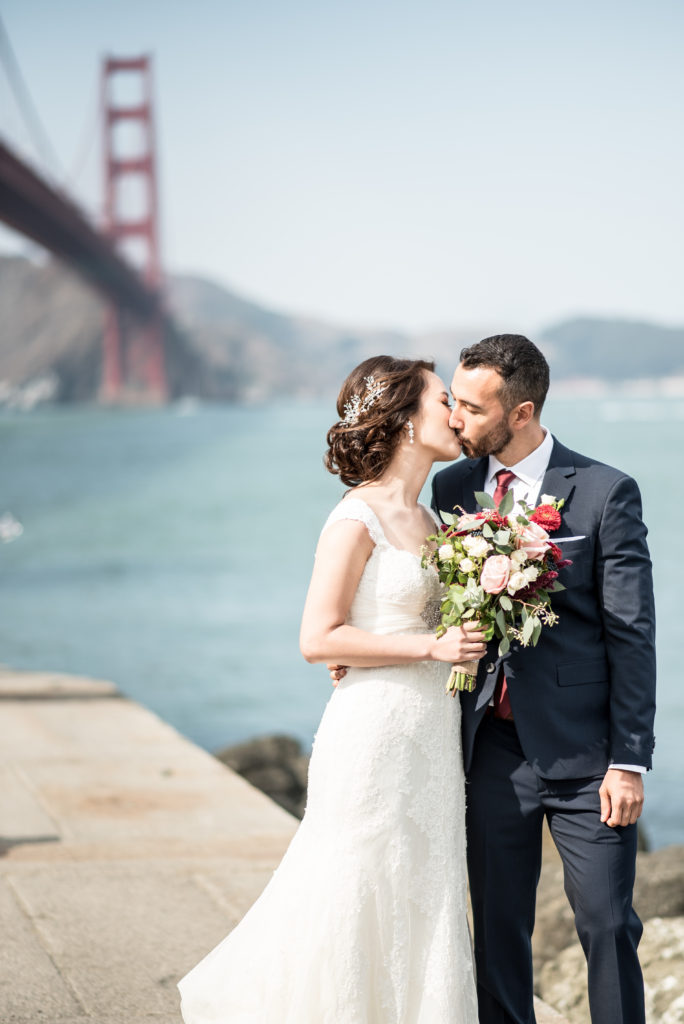 Meanwhile, frantic preparations were underway to get both the ceremony site – a lawn in the historic Fort Mason area overlooking the Bay – and the reception venue – the Captain's Room at the iconic McCormick & Kuleto's restaurant at Ghirardelli Square – ready on time. The team of YPR delivered the ceremony chairs. DJ Ron Israel of Legendmakers made sure we had sound and music both out on the lawn and at the restaurant. My assistant Myrtle held out in the cold (wind and fog came up in the afternoon) guarding the fully set-up ceremony site. I was busy at the restaurant setting up decor. Team captain Larissa at the restaurant had the tables set up perfectly and the bar going.
Finally, Bride and groom arrived at their ceremony site shortly before their ceremony which was officiated by Minister Maggie Beretz – so personal and so warm! Here comes the (windswept) Bride: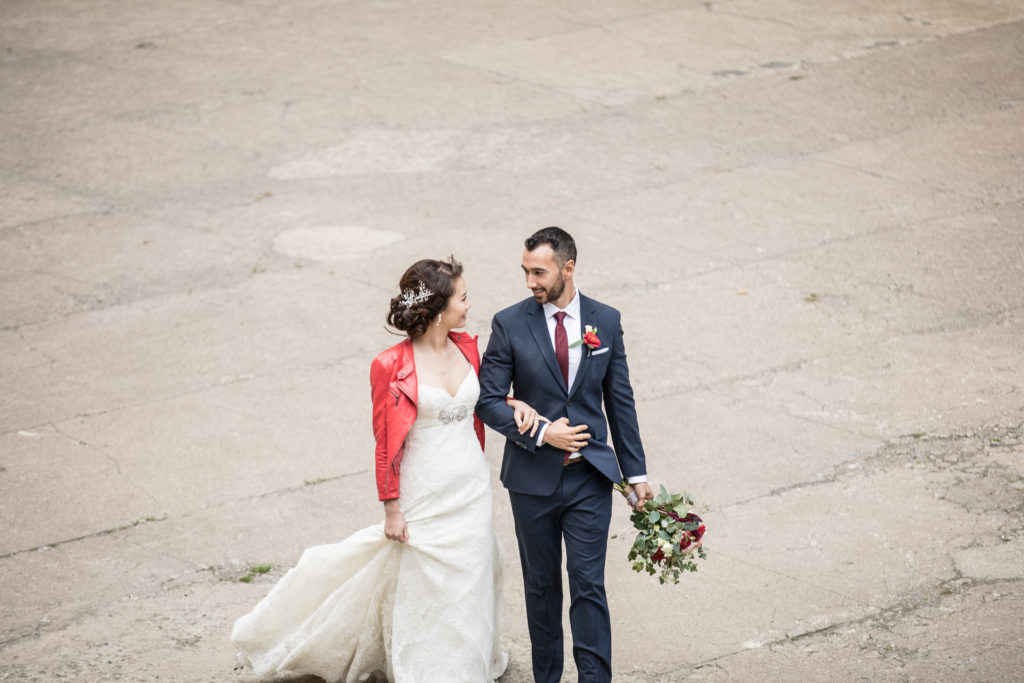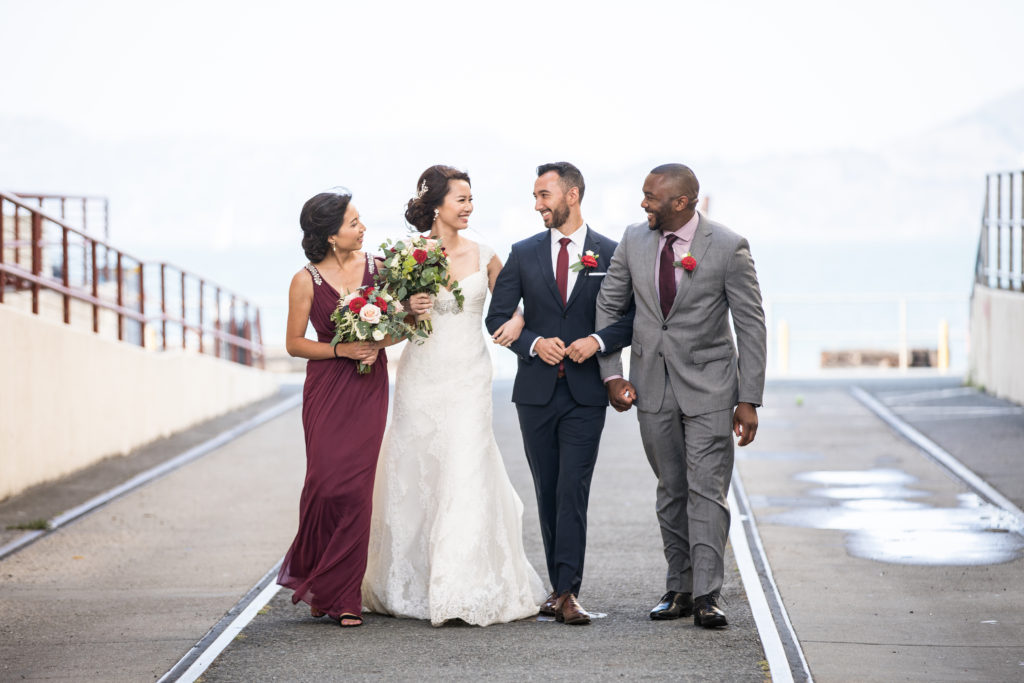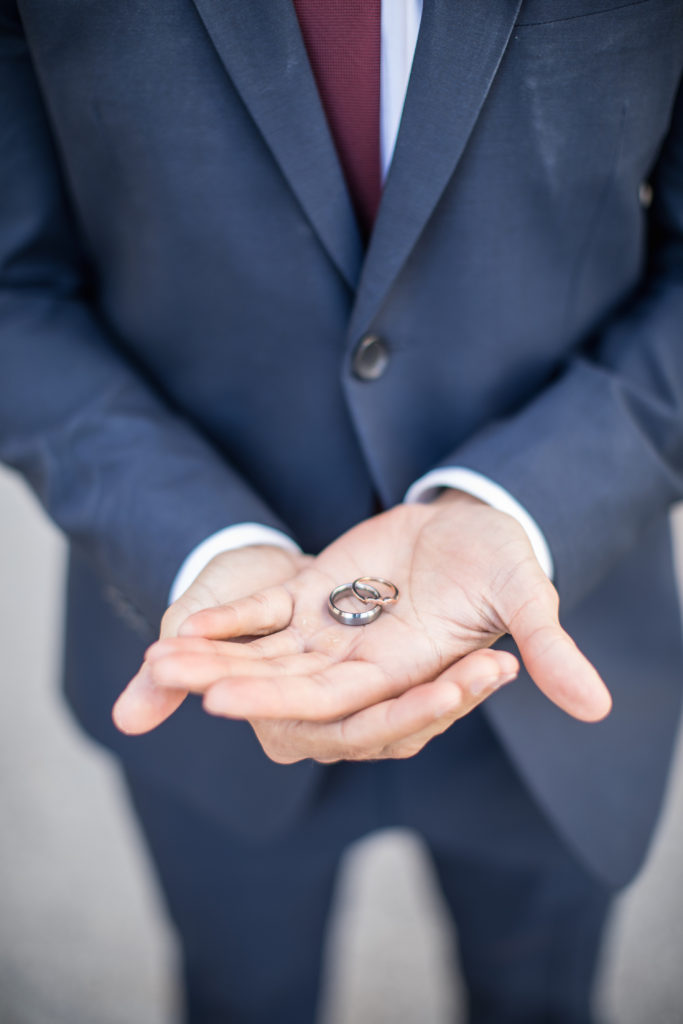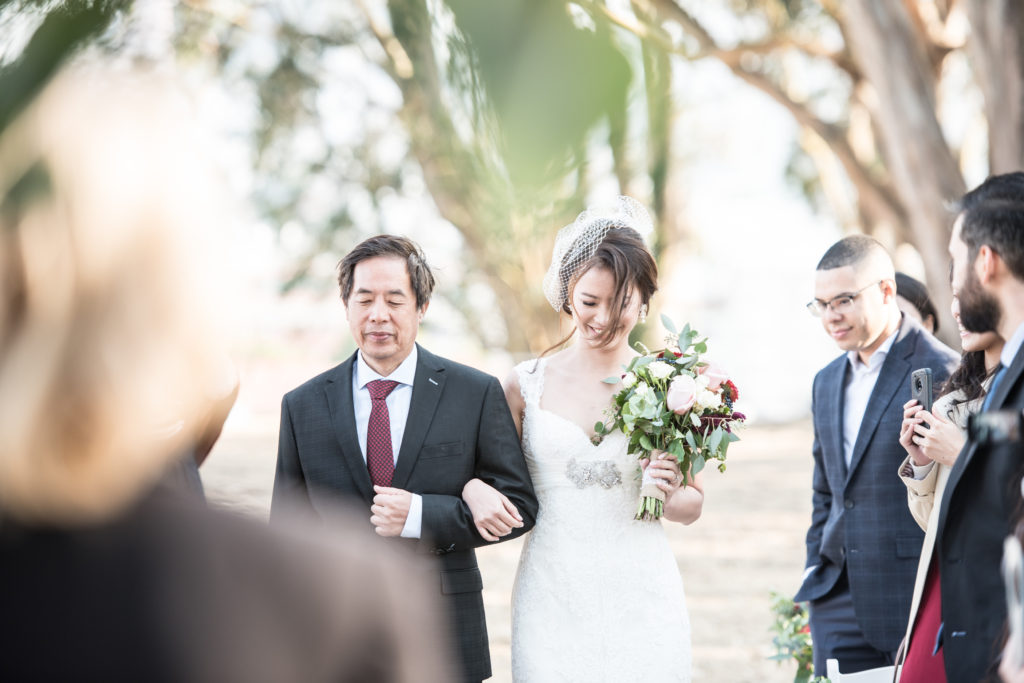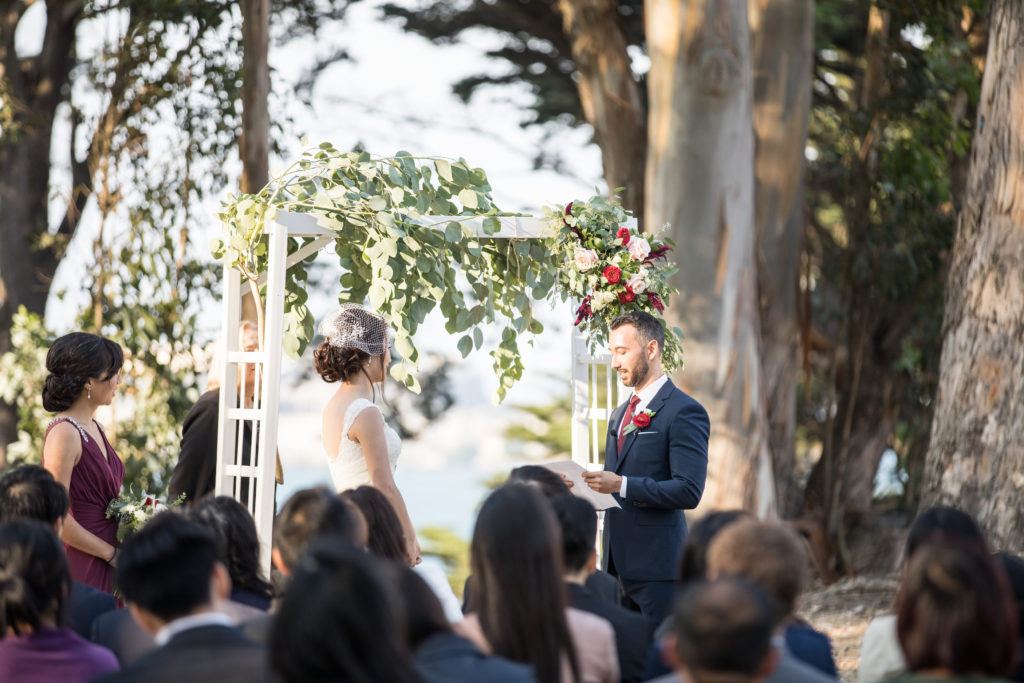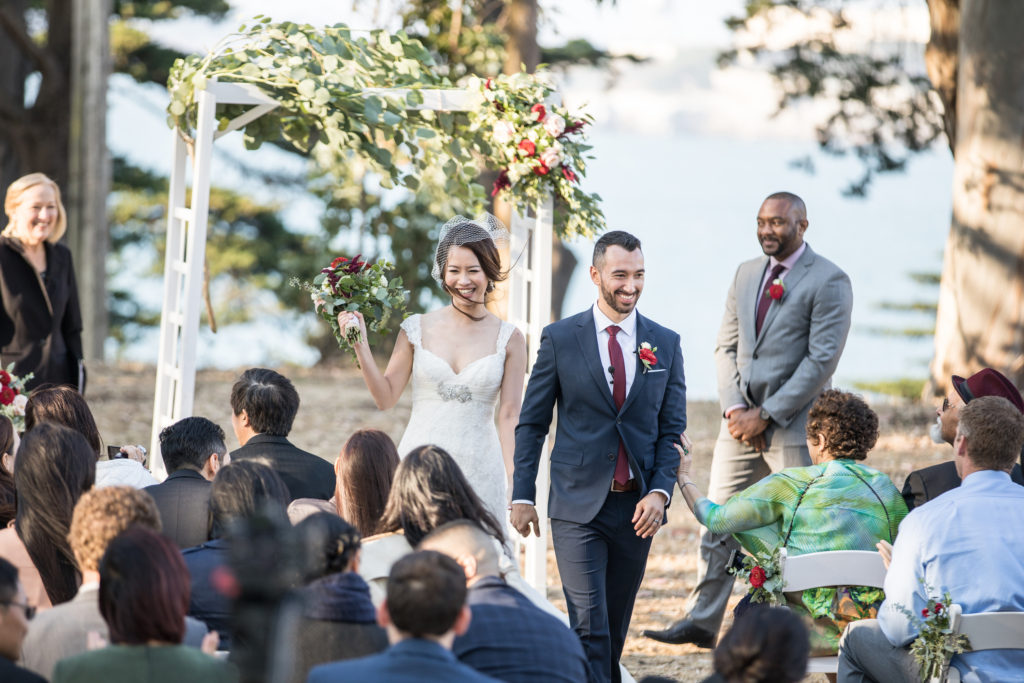 Just married! Now we'll have a photo with each and every guest: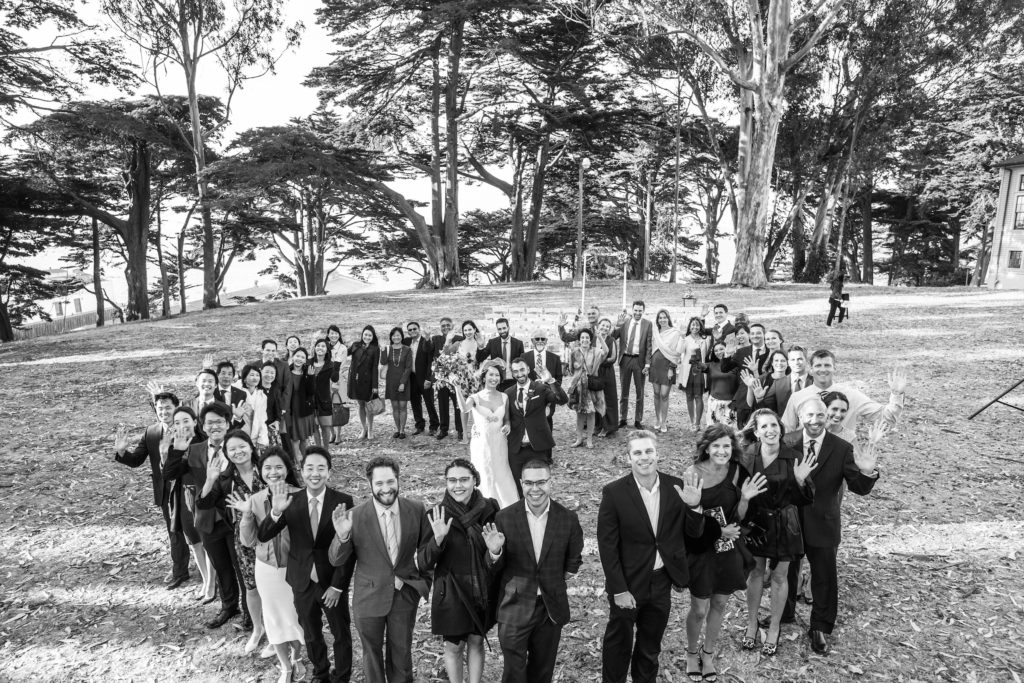 After the ceremony, guests walked over to McCormick & Kuleto's for cocktails and yummy hors d'oeuvres (Tuna tartare wontons and crab cakes – need I say more?!), and for the incredible views of the Aquatic Park with the historic tall ship "Balclutha" and of Alcatraz.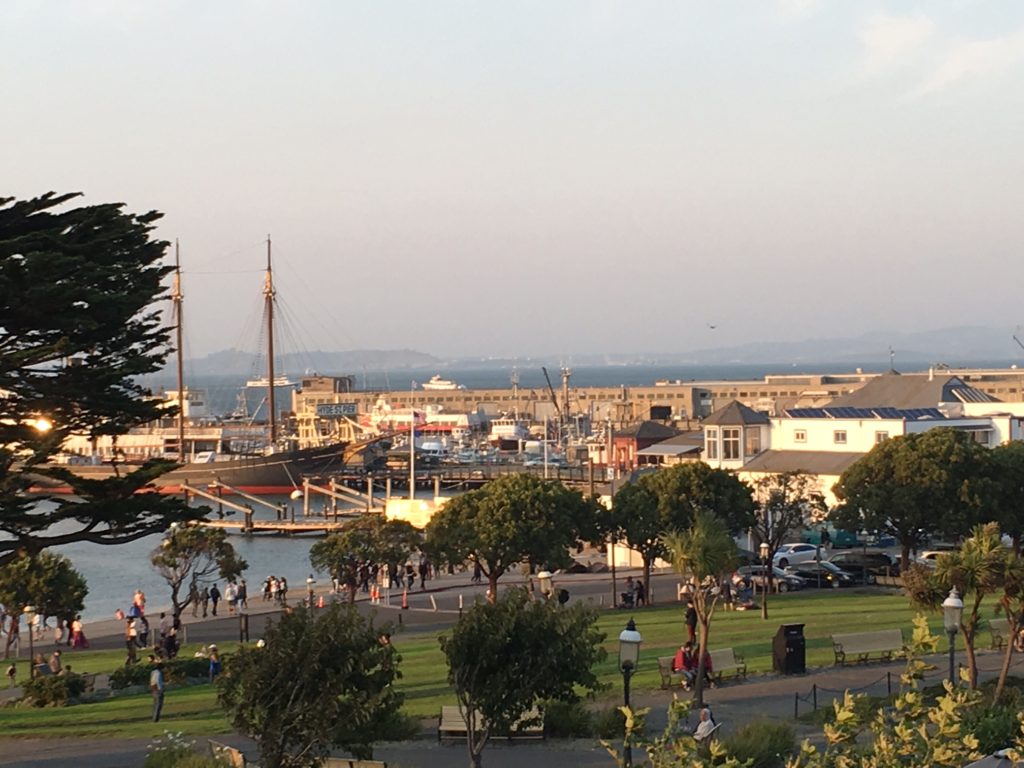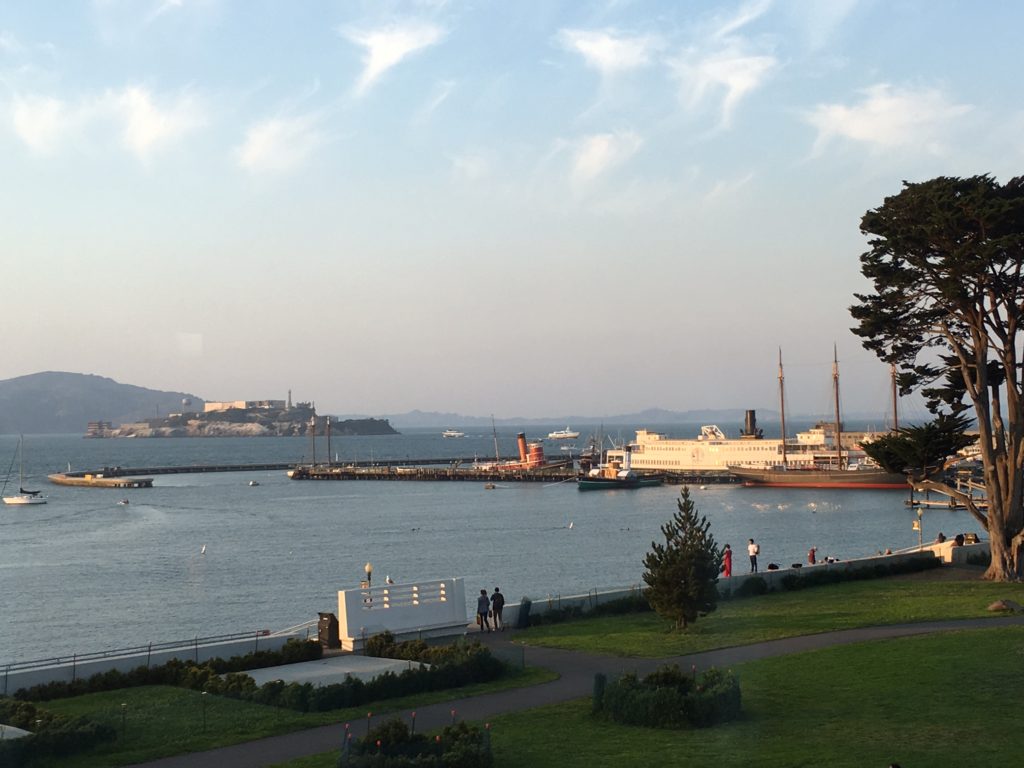 It was the "Golden Hour" before sunset, and the newlyweds took their time walking over with lots and lots of more photos.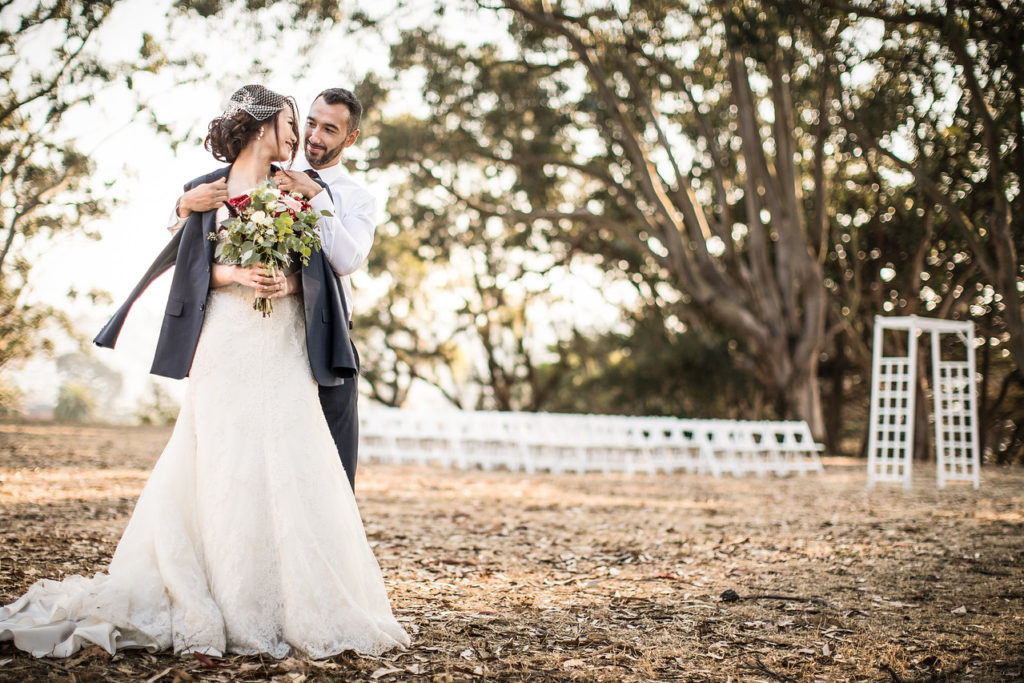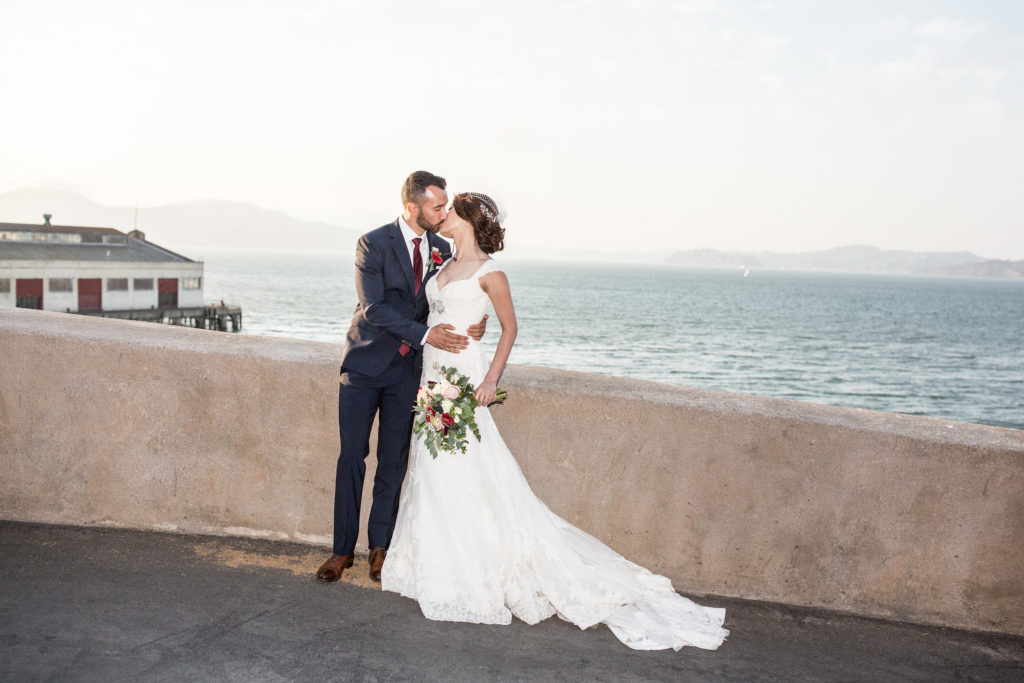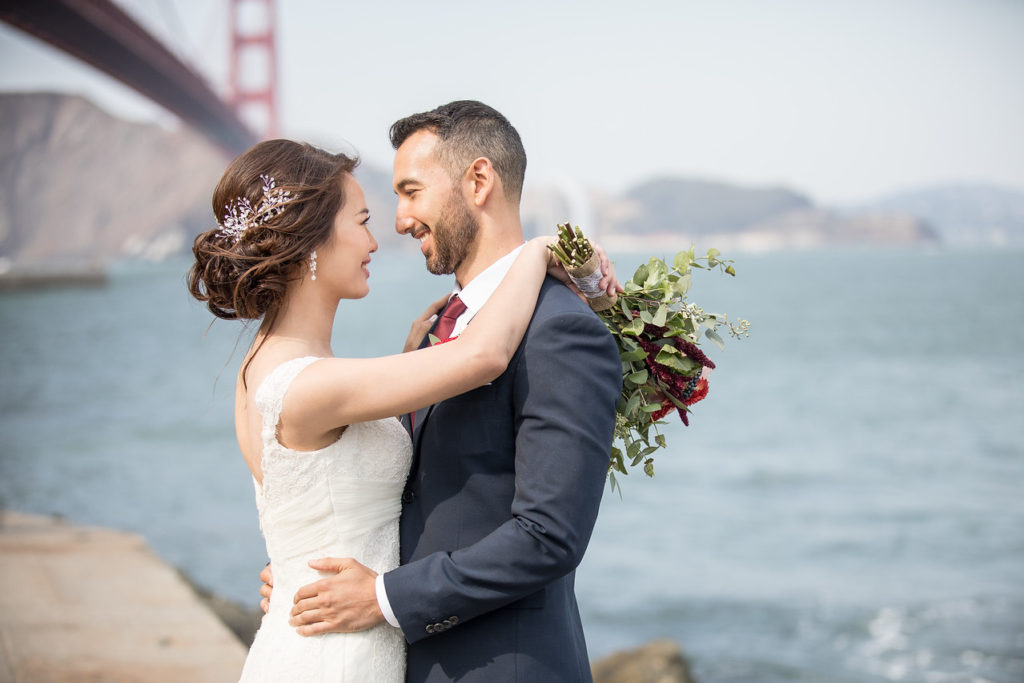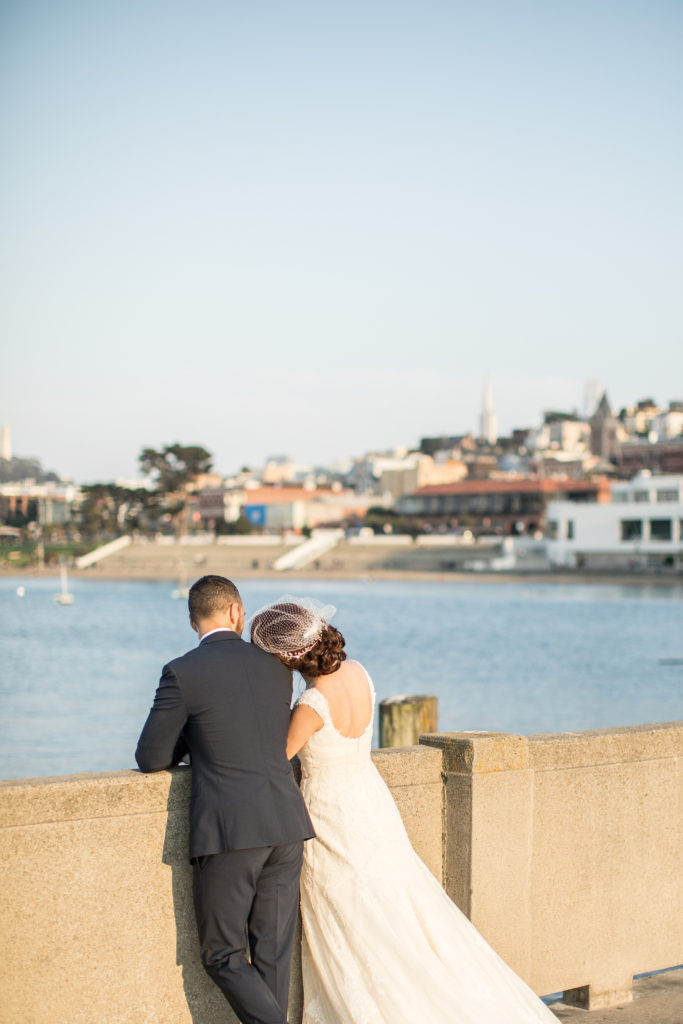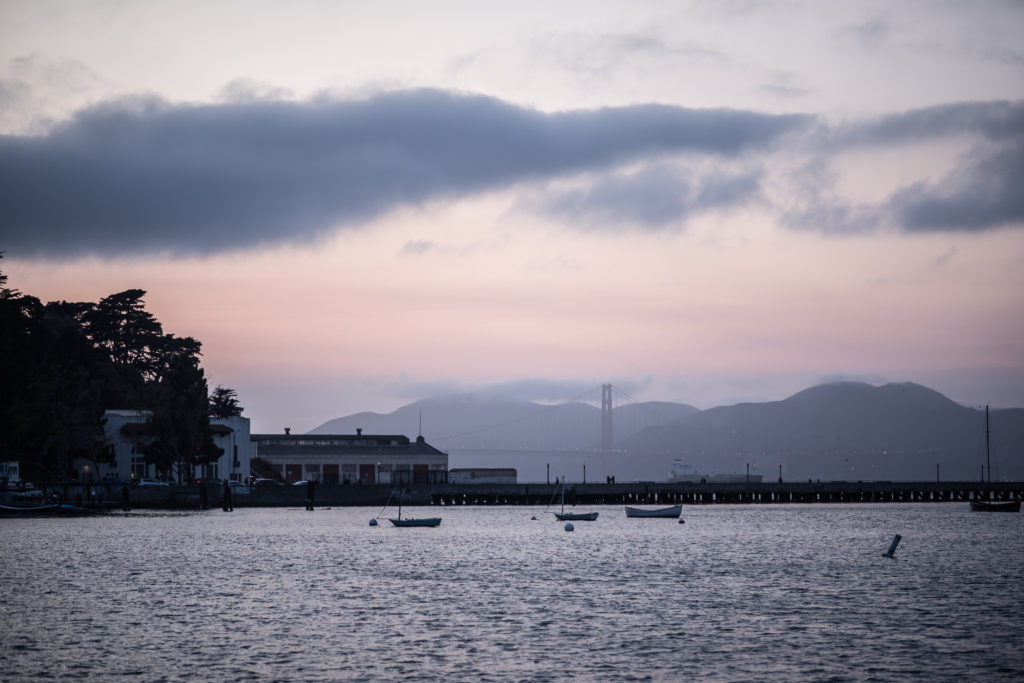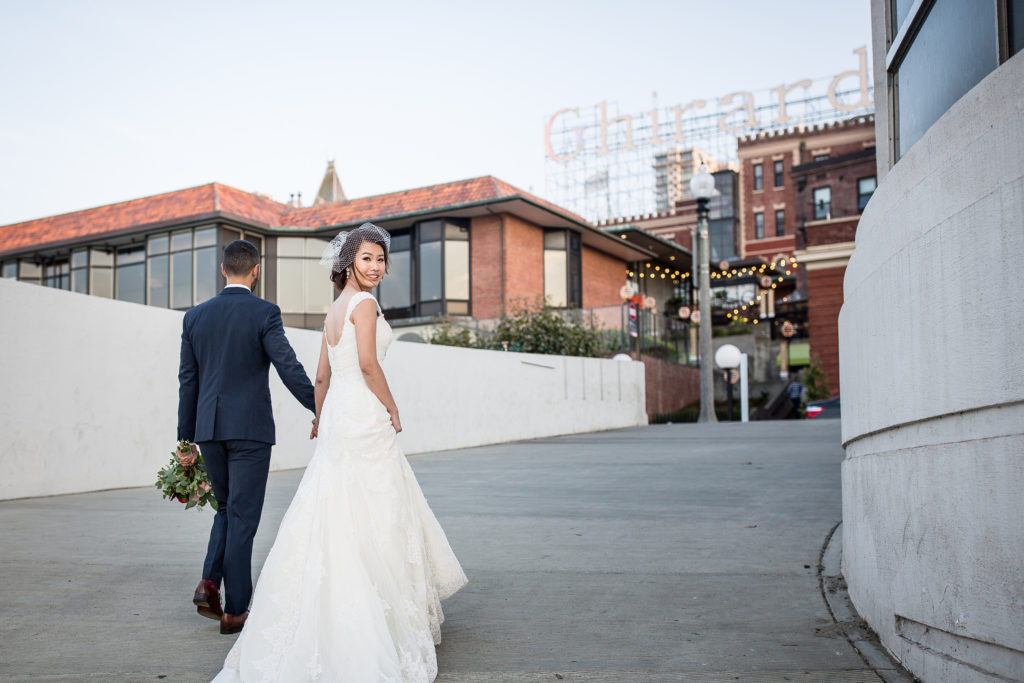 Guests were meanwhile busy finding their table assignments by Olivia's handmade chart…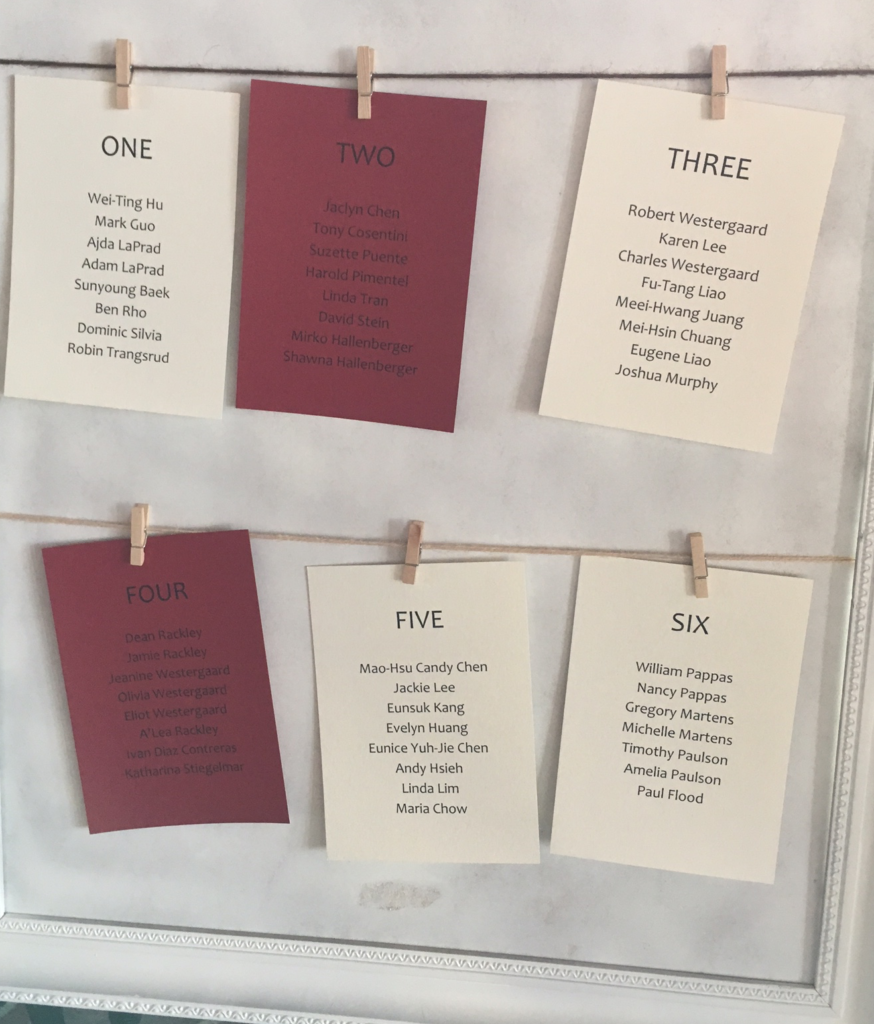 … sharing their words of wisdom on prepared Q & A cards…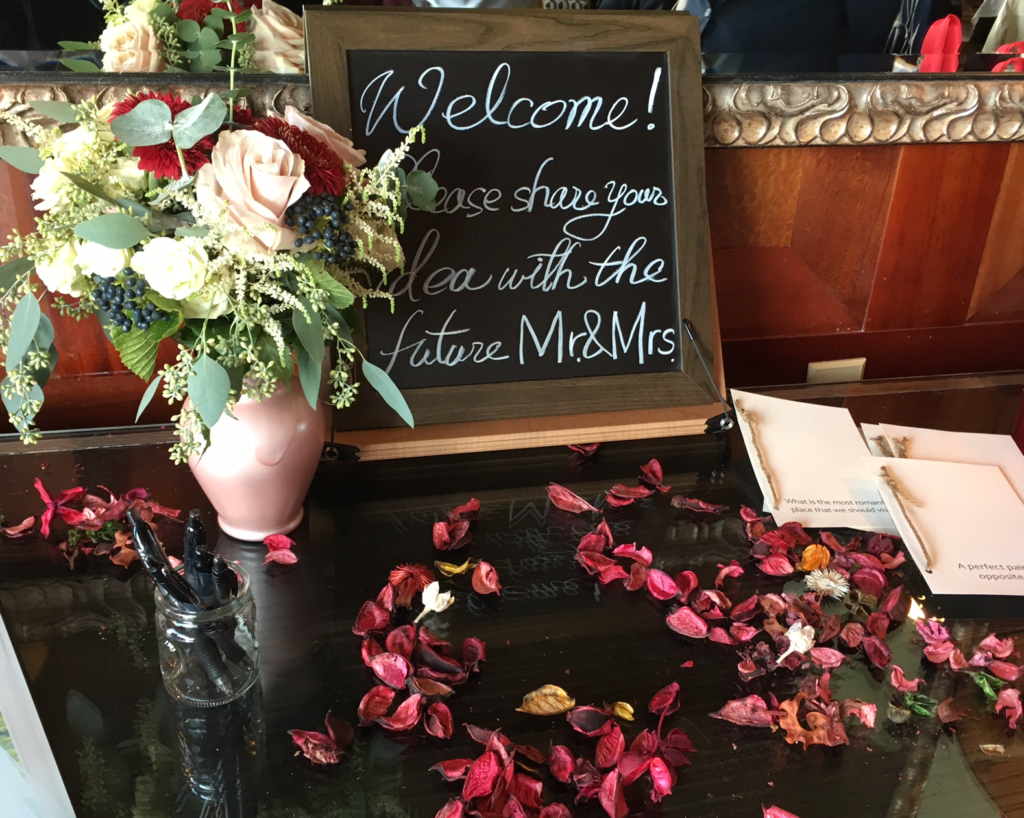 … and admiring Olivia's and Jake's engagement photos displayed in a huge, impressive coffee-table book.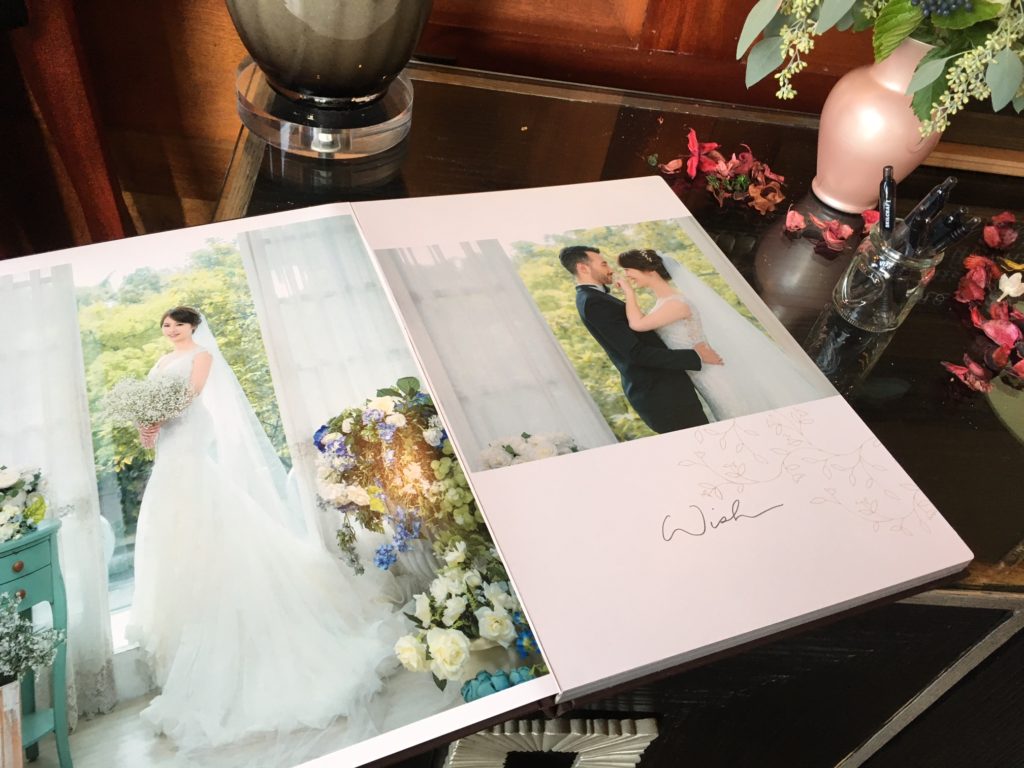 Grand Entrance!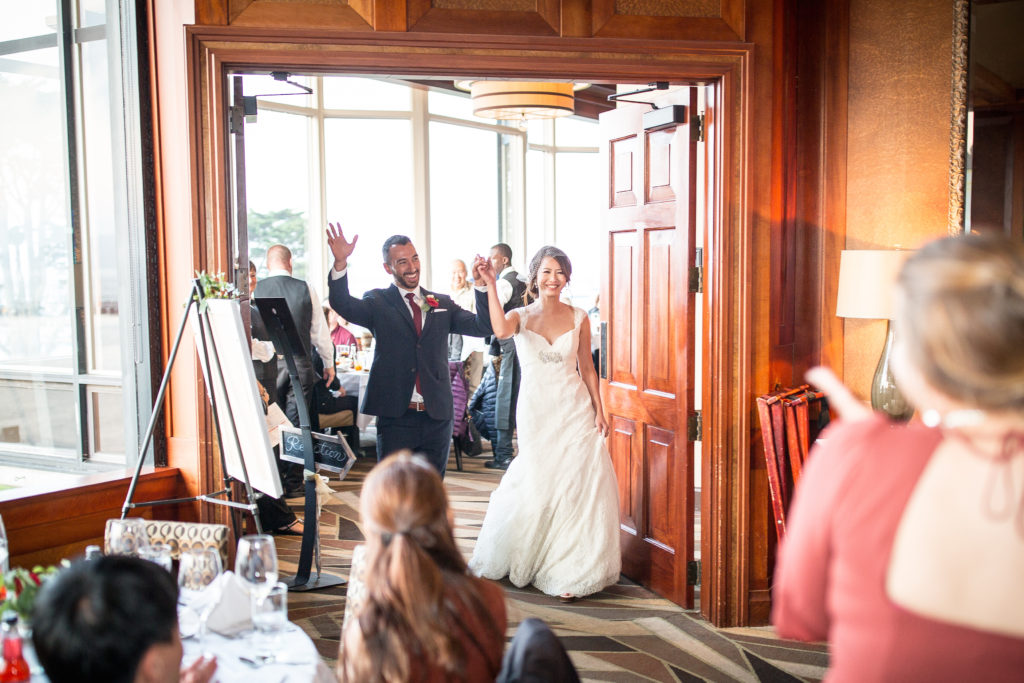 Dinner time!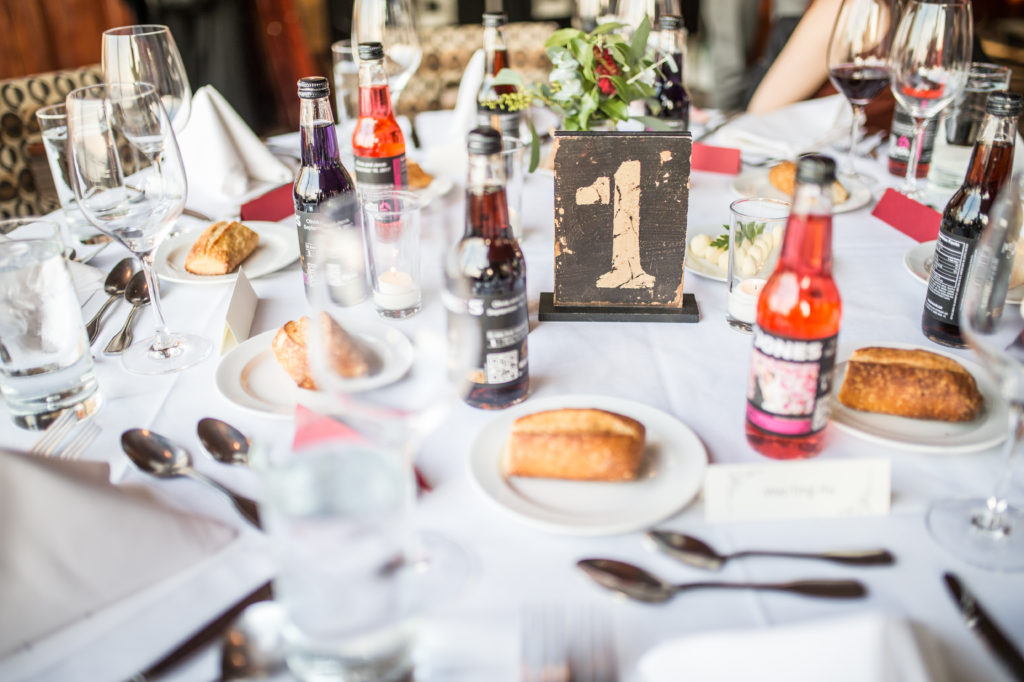 Everyone swooned about the fresh seafood for which McCormick & Kuleto's is famous. But that was not all. In addition to the elegant dessert (a rich espresso custard), there was THE CAKE! This beauty in the bride's favorite colors, ombre from blush pink to deepest wine red, came from Cake Coquette: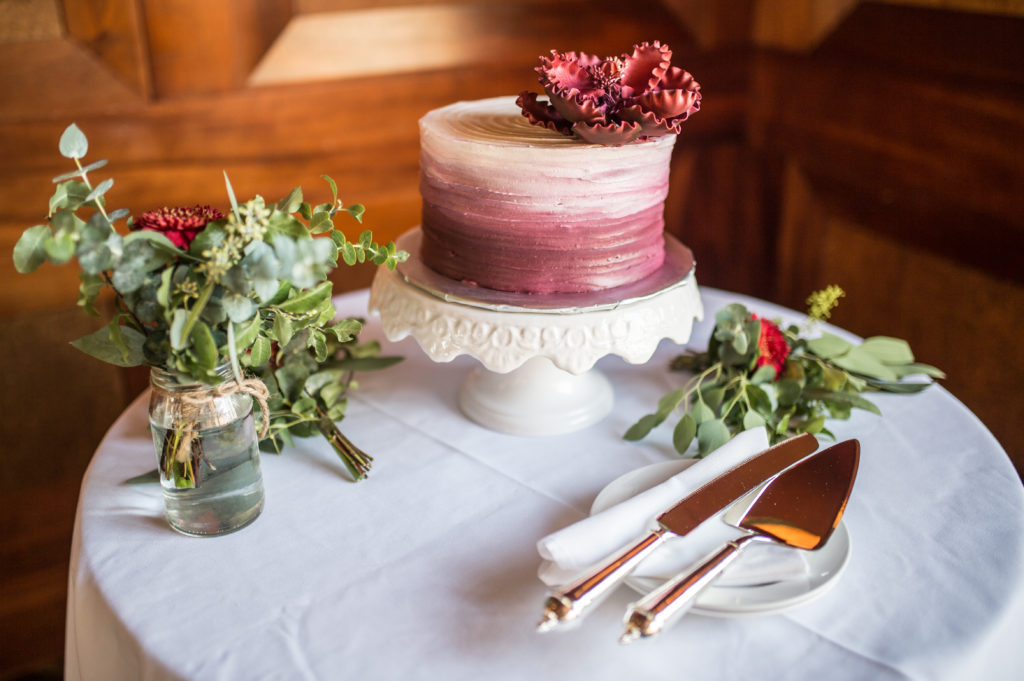 The new husband and wife were clearly reluctant to even cut into it – but when they did, they revealed a luscious red velvet cake with buttercream filling underneath. So delicious!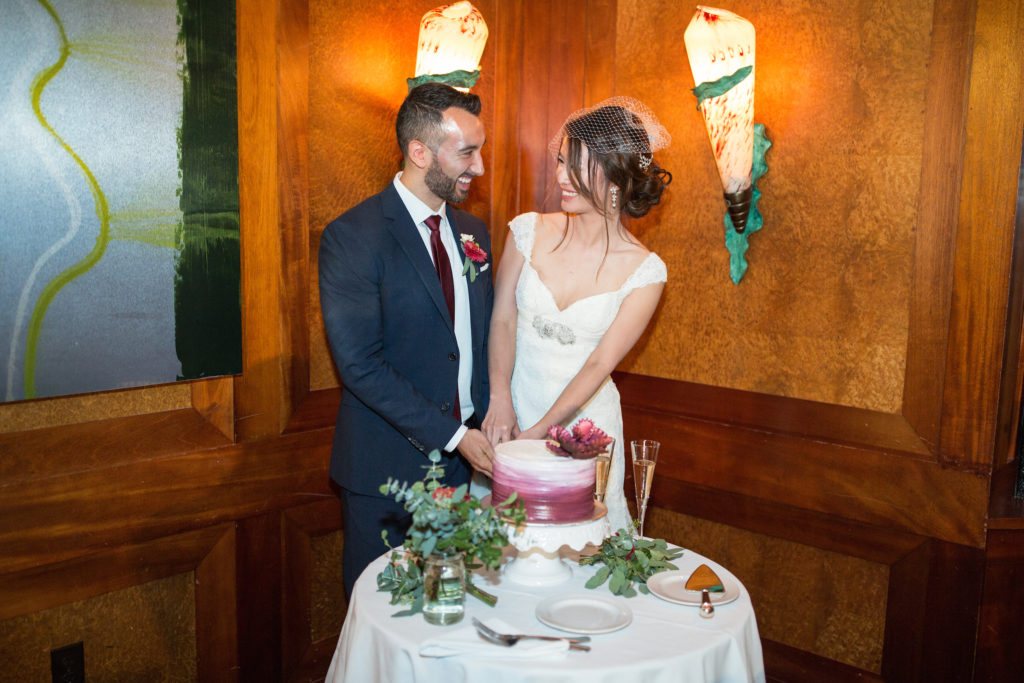 To the amusement of all guests, Olivia and Jake sat down for the traditional "shoe game" of guessing their similarities and differences as a couple. Each one held one shoe of the bride and one of the groom in their hands and answered questions by holding up the appropriate shoe: "Who of you takes longer in the shower?" "Who is the better driver?" "Who is the better cook?" – Let's say, Olivia and Jake did well in that game – with just a few very funny disagreements.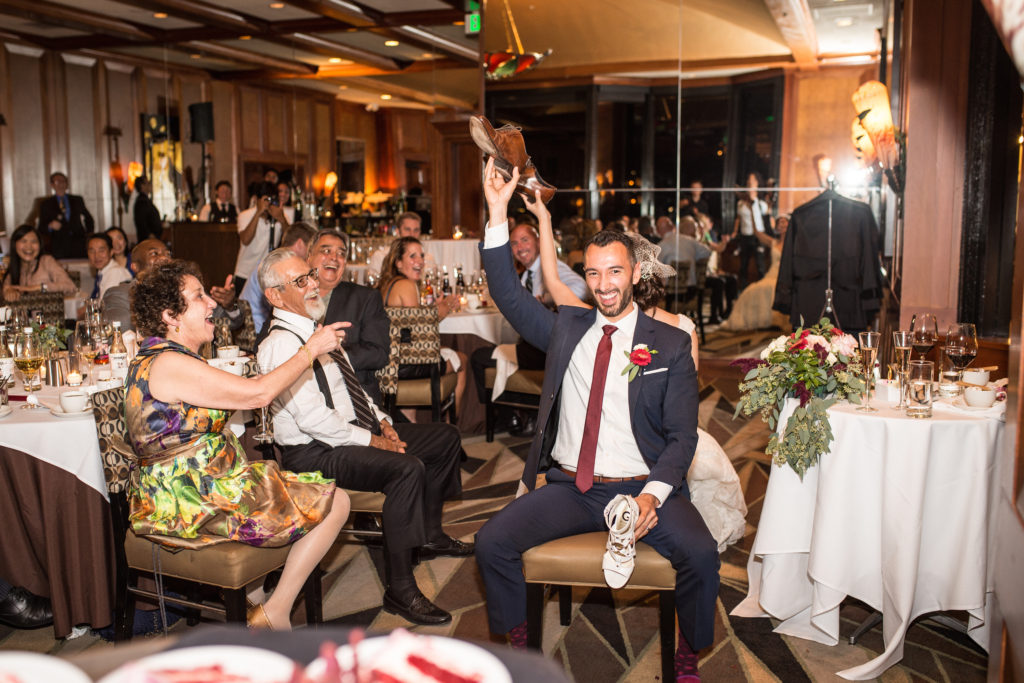 And when the party came to a close, everyone went home happy. It was a great celebration of love and togetherness.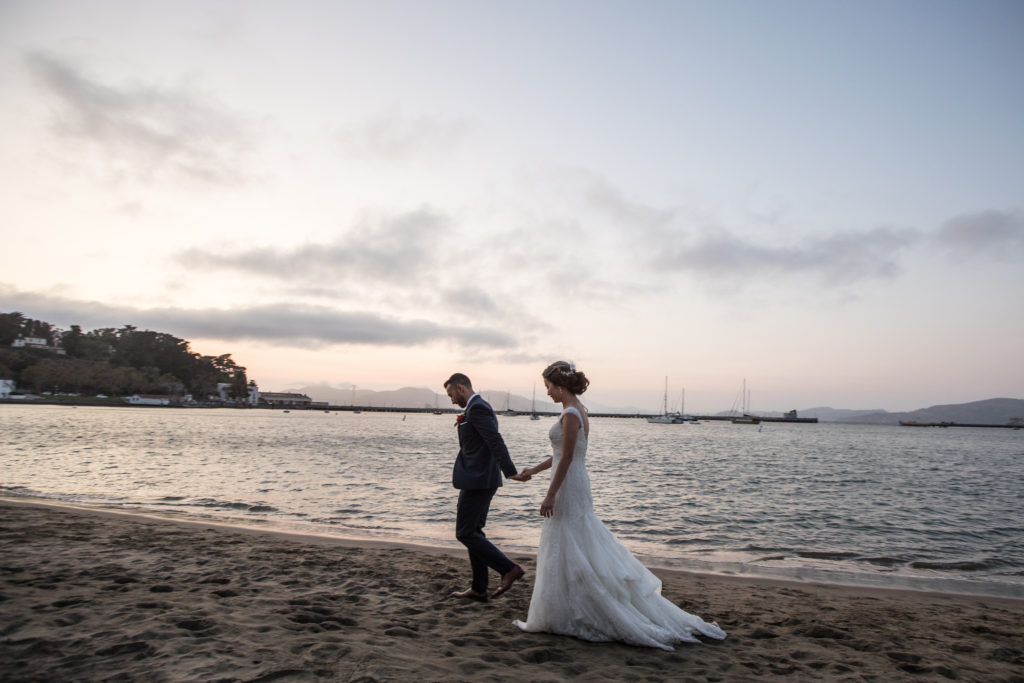 Many, many years of shared happiness to Olivia and Jake!
Let us create YOUR unique wedding celebration, too!
SaveSave
SaveSave