Michelle and Philipp did not only have a fairytale wedding – more of that in a moment – but just as much a fairytale courtship: born and raised at opposite ends of the world (Michelle in Inner Mongolia, Philipp in Germany), the two met in College, at the University of Southern California, literally during their first week in their first semester. Despite all that might have stood in their way, like having no language in common and coming from vastly different cultural backgrounds, they were inseparable from day one. They were truly made for one another! And they did everything together, studying, movies, playing sports: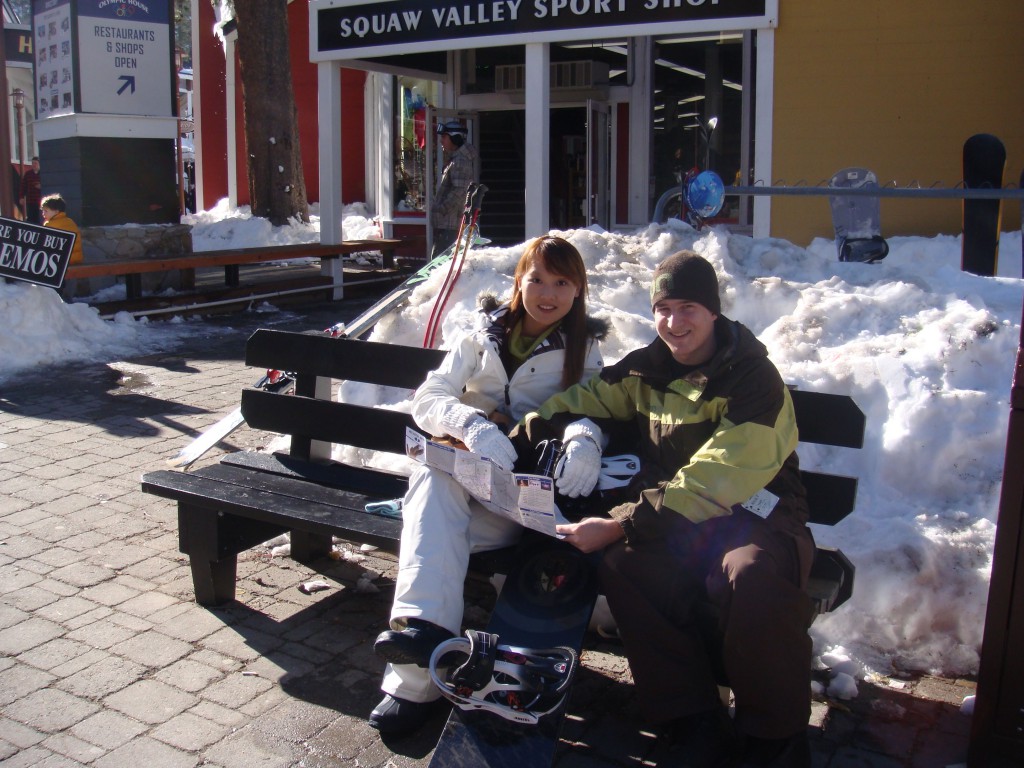 And that's why they decided to get married just out of College, and they made me their wedding planner. They entrusted to me the design as well as the organization of their wedding celebration, literally everything from their invitations to their Rehearsal Dinner, choice of venue to guest accommodations, from the dress to the groomsmen gifts, and, of course, the Great Day itself. They choose Tiffany blue as their wedding color – and this idea then carried through to all the details, the invitations, the bridesmaids dresses, the linens, the favors, the jewelry – and even the cake.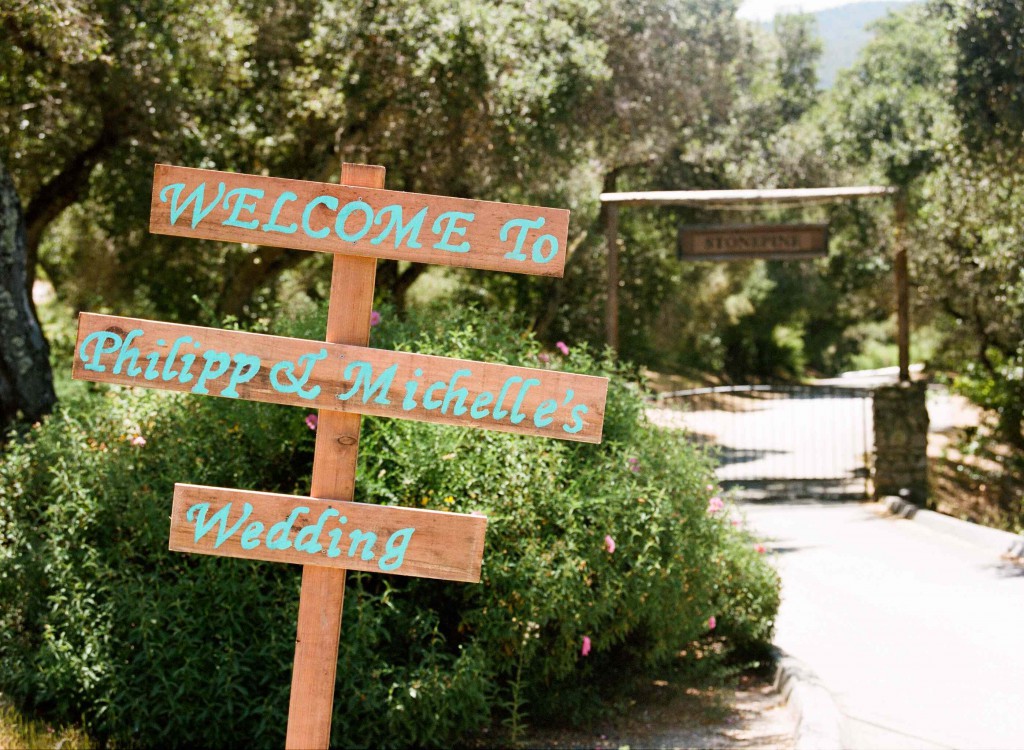 The wedding was held at Stonepine Estate, an equestrian estate in Carmel Valley – 330 acres of rolling hills and forests, vineyards and horse trails, and a French-Mediterranean chateau in the middle, surrounded by formal gardens.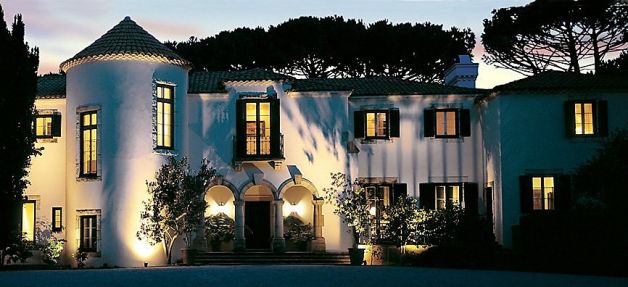 Definitely an appropriately magnificent setting for a fairytale wedding!
Here is the dress (by Priscilla of Boston) displayed with gorgeous bouquets from Christine Cater Floral Design: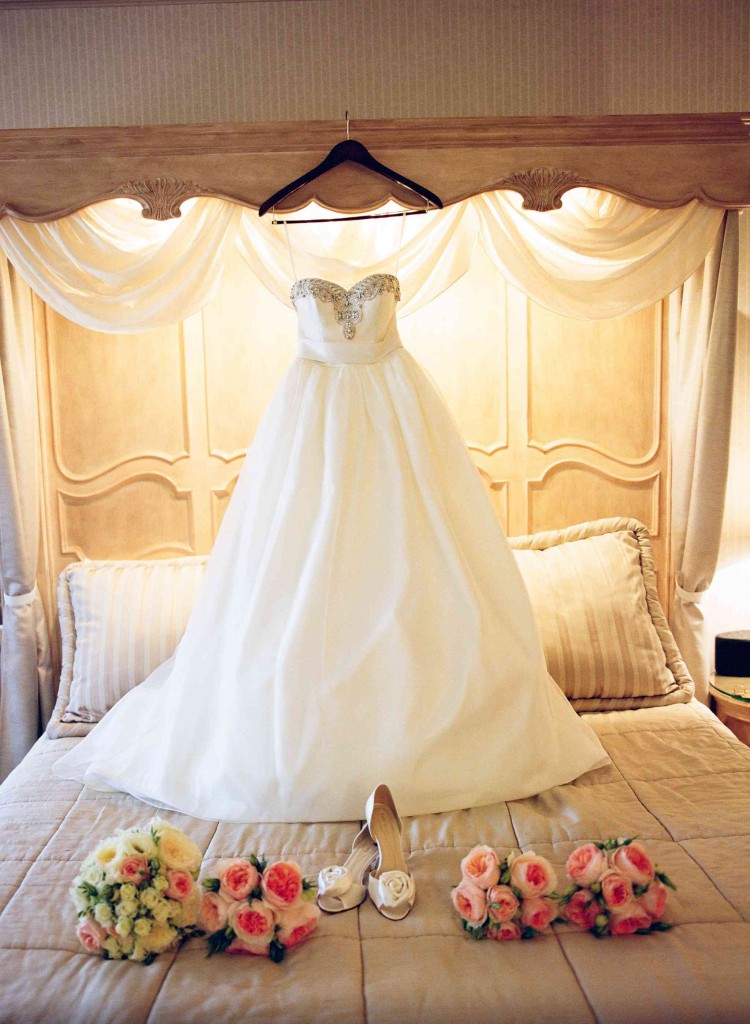 … and here is the bride getting ready for the great moment: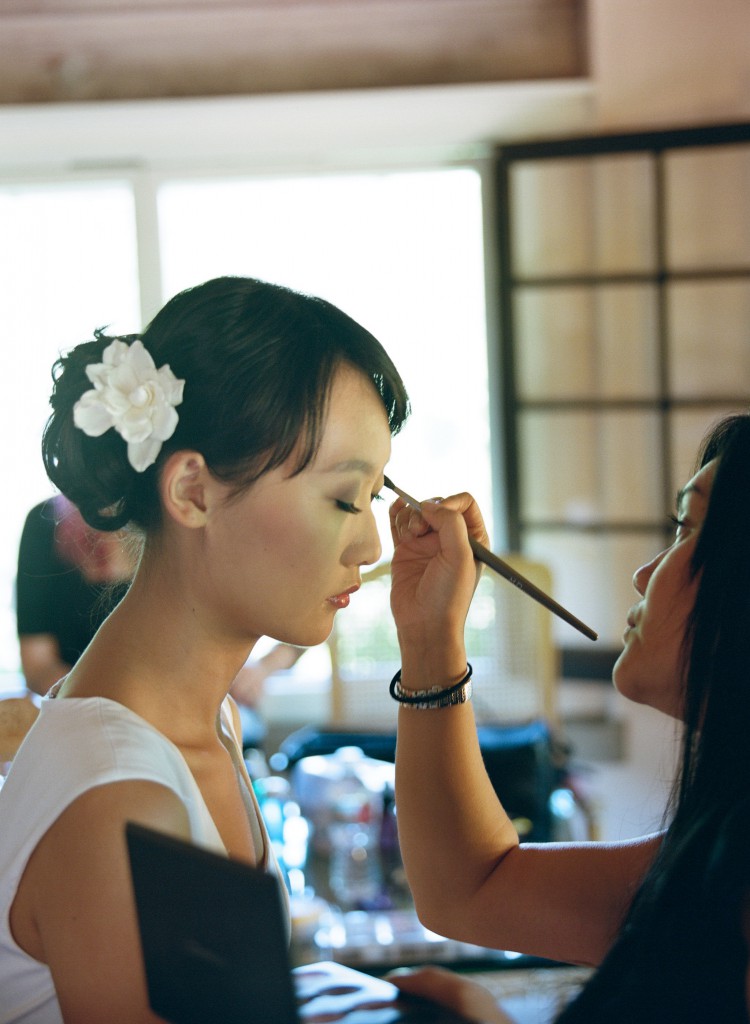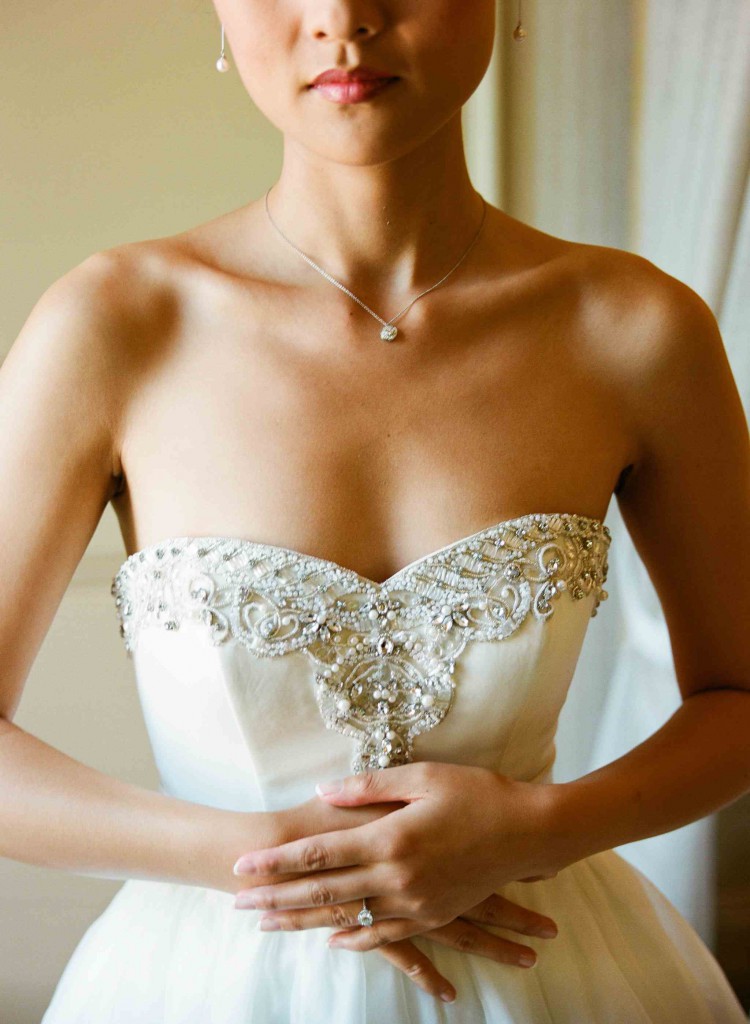 Bride and groom were transported to the ceremony in style: in a horse drawn carriage: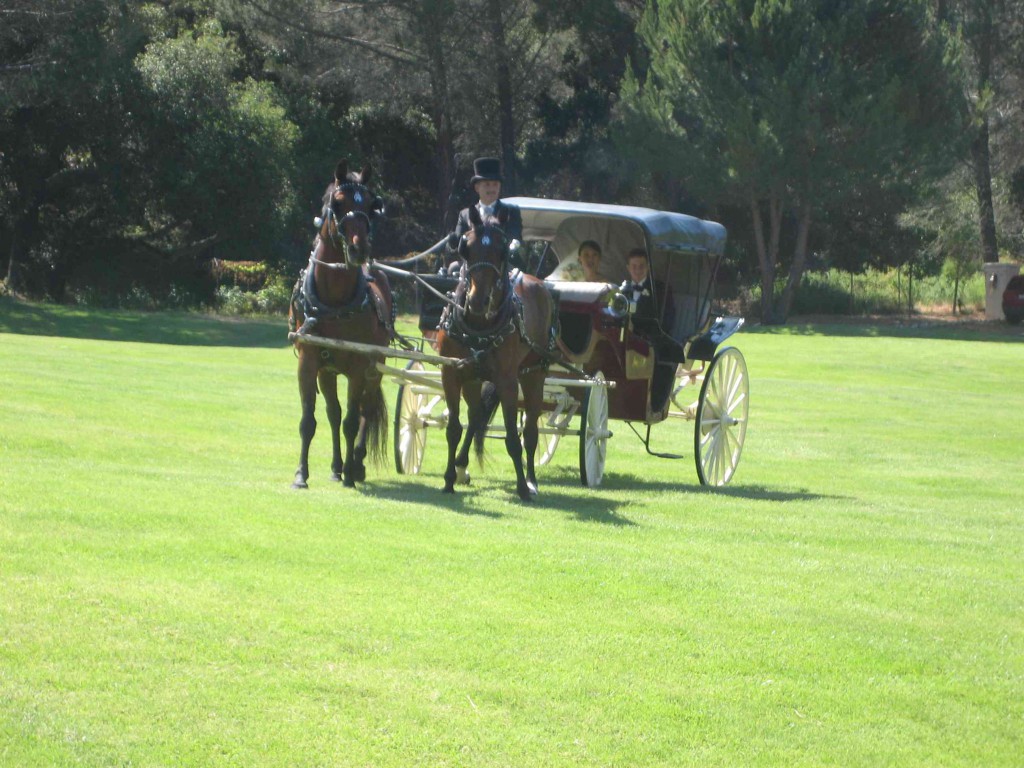 Guests arrived from all over the world – Germany, France, China, Canada, the East Coast – to attend their outdoor ceremony in the formal gardens of the Chateau: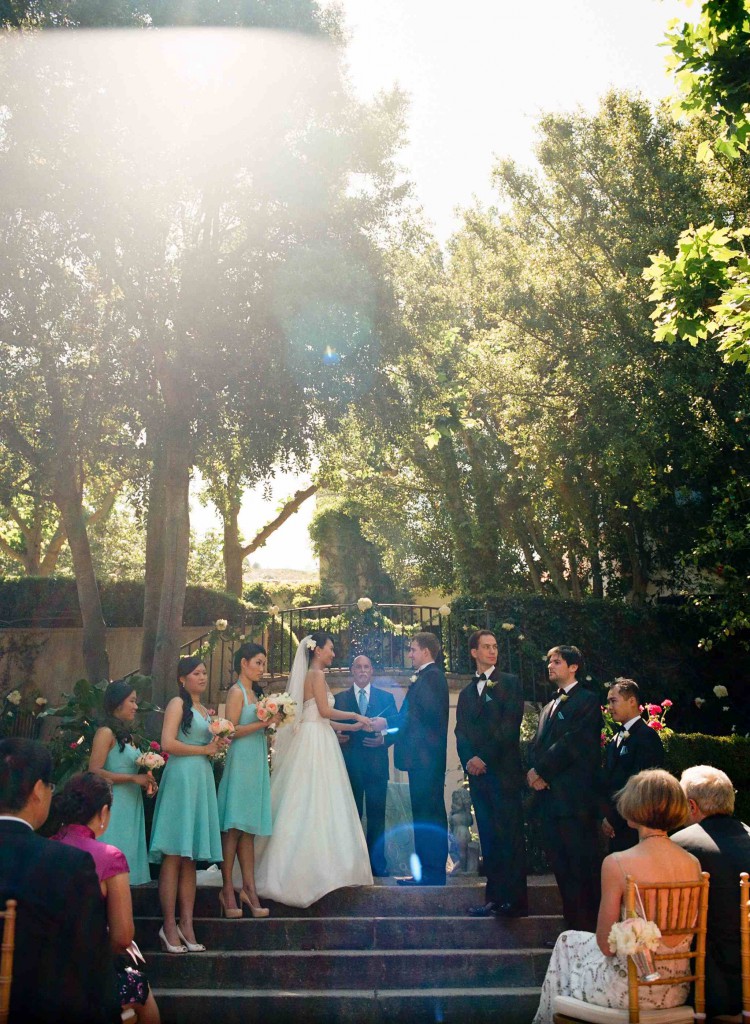 "You may now kiss the bride!"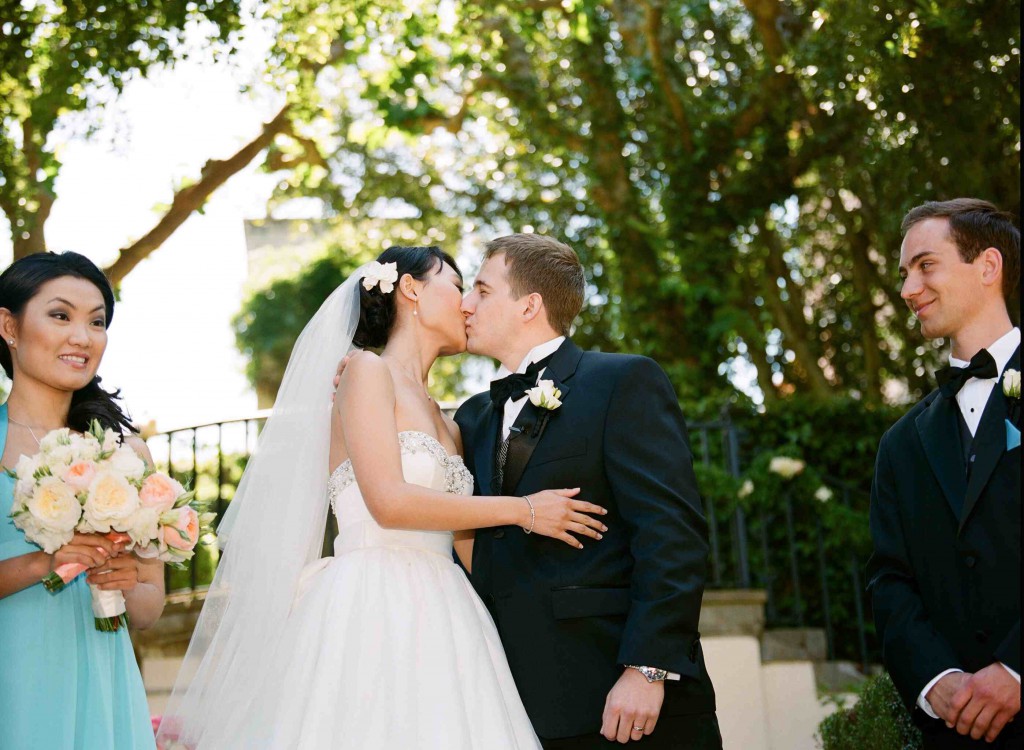 Now happily married, the two proceeded to cut their cake (by Cake Coquette) and enjoy their First Dance, but first the husband carried his young wife across the water…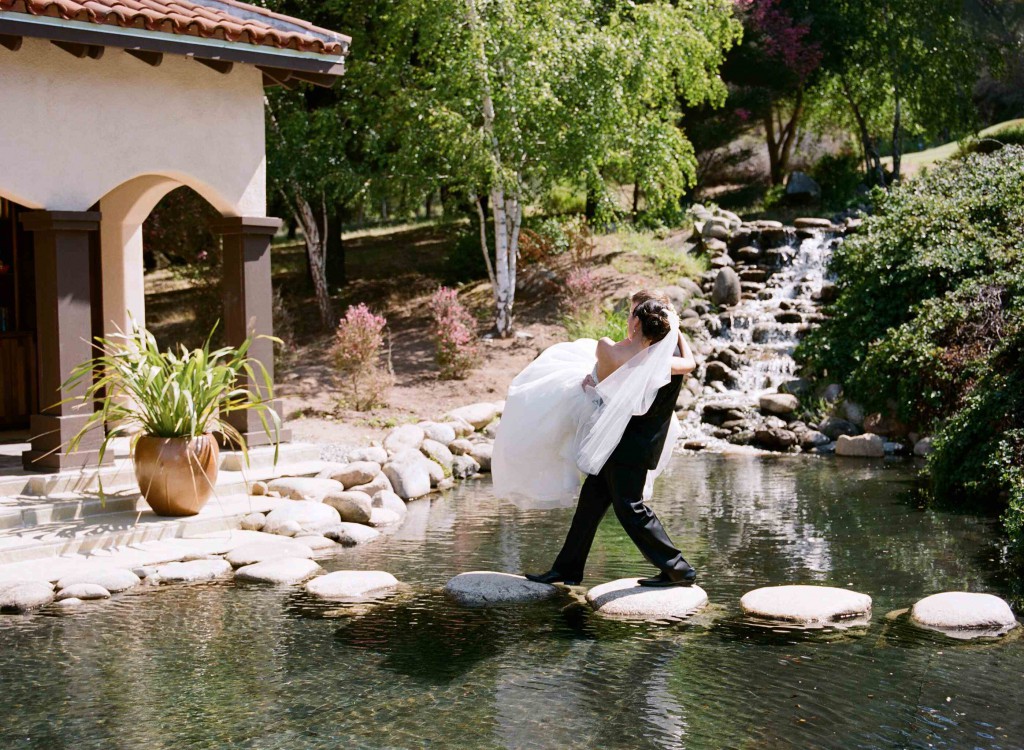 … to the Pool Pavilion, where, serenaded by a String Quartet, the two proceeded to perform their official first task together: cutting the cake which not only resembled a stack of Tiffany boxes, but actually contained ONE real box, filled with a pearl bracelet (the cake had to be guarded until the bride found her special gift!)
Then it was time for their First Dance, traditionally to the tune of Johann Strauss' "Blue Danube," music that even Michelle's parents had come to know and love in China. Videographer Andrew Hsu captured every precious moment.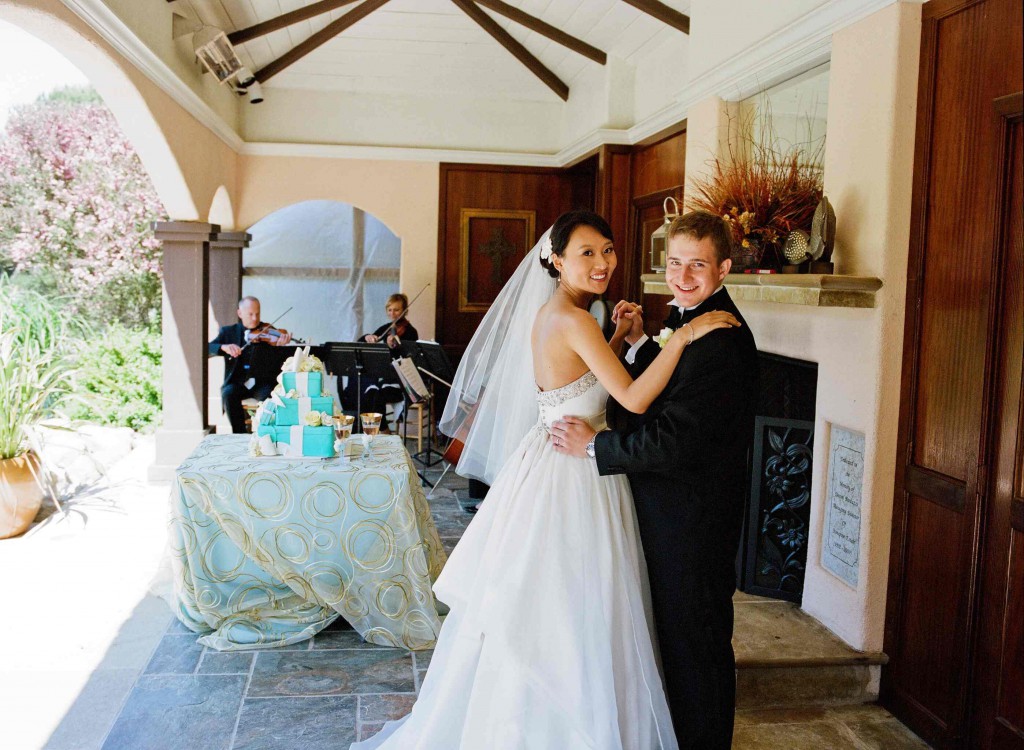 While their guests enjoyed an al fresco reception under blue skies, the couple had a photo shoot with photographer Kevin Chin in the Stonepine park…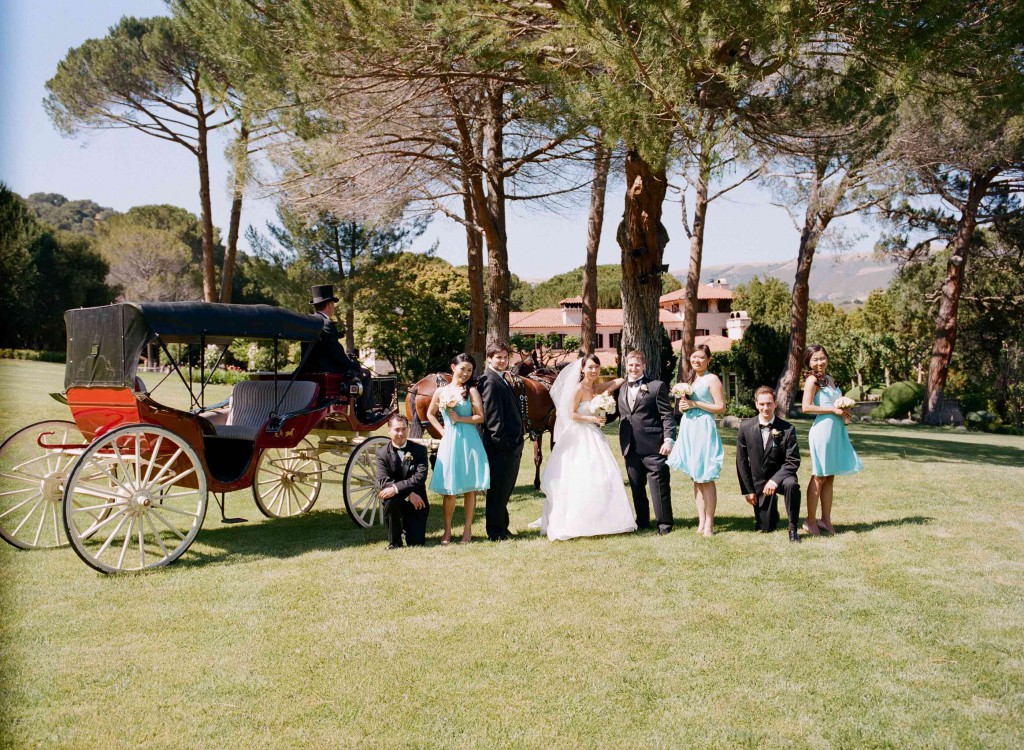 … some official ones…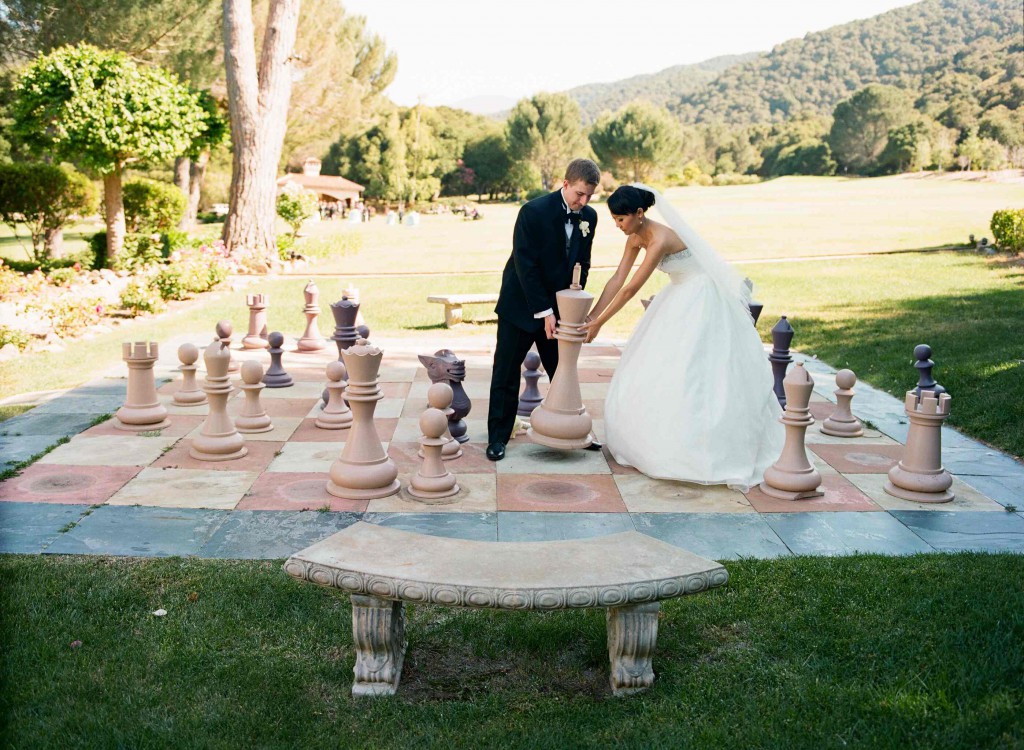 … some right out of "Alice in Wonderland" – but also some riskier poses on the diving board: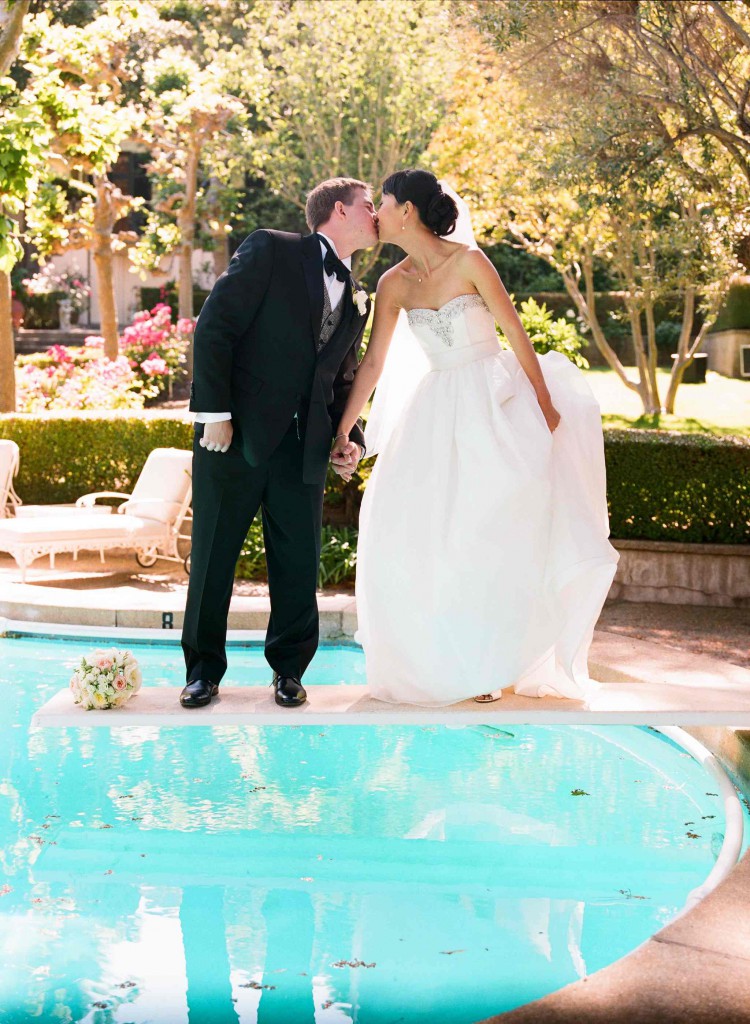 The two did NOT take the plunge, but returned to join their guests on the lawn…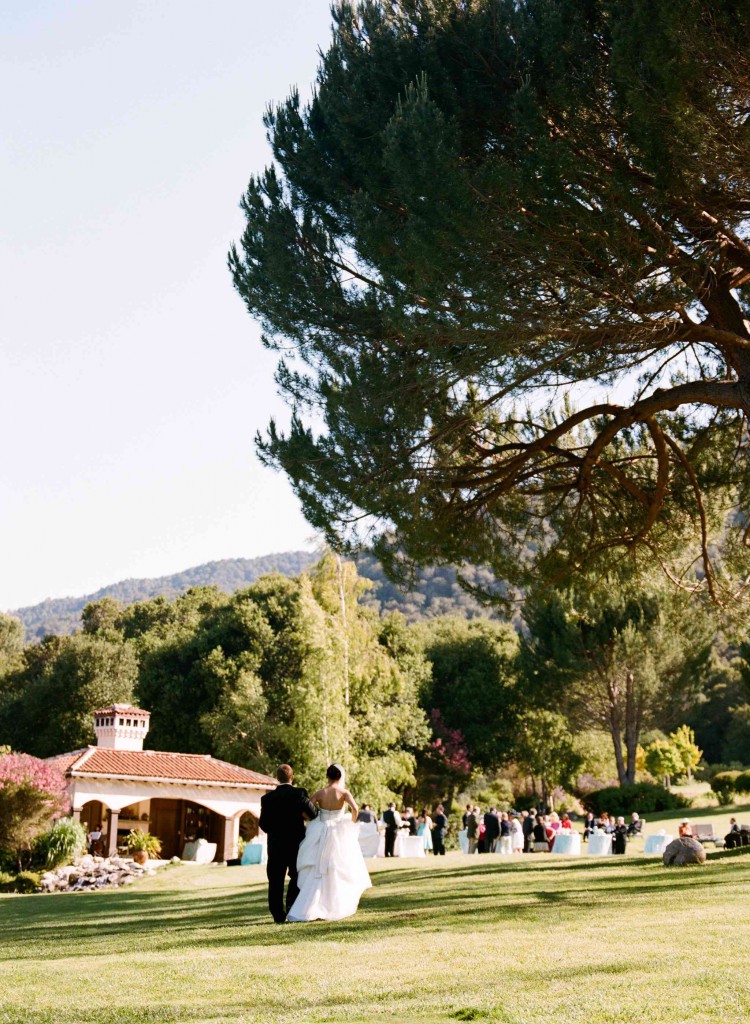 … where their beloved four-legged companion, Buzz, was already waiting for them.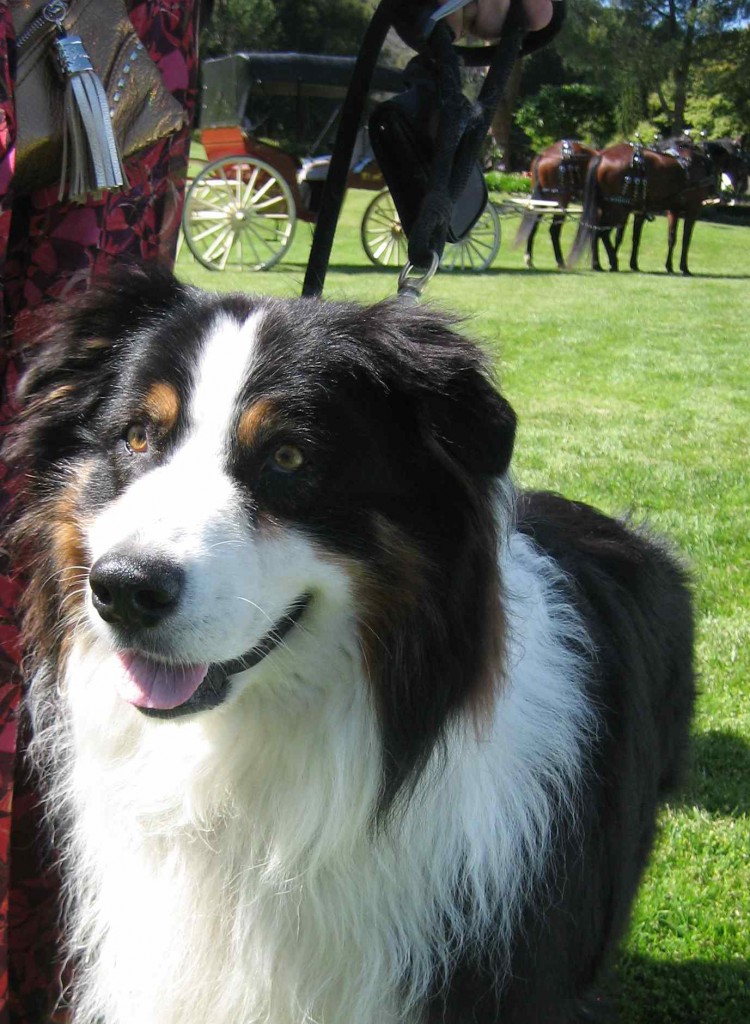 Everyone then took a short break…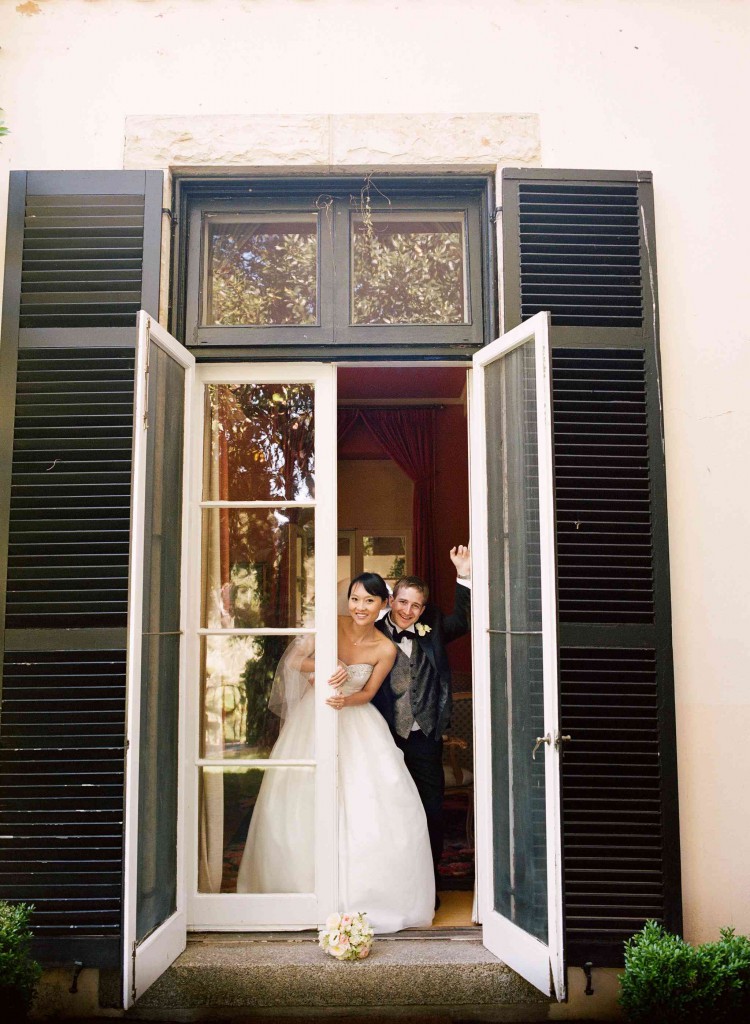 Peekaboo!
Buzz couldn't wait to finally sit down with closest friends and family for the wedding dinner on the loggia (well, Buzz, seated with his dog walker, dined a little bit away from the party, but got to enjoy the same entree of Filet Mignon…)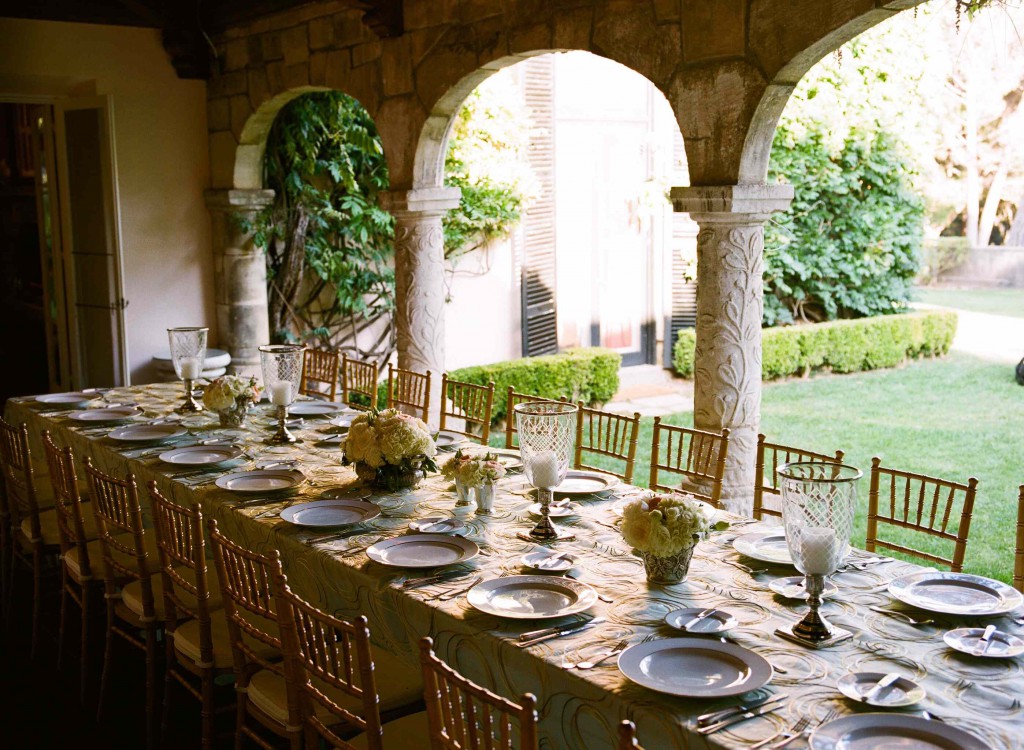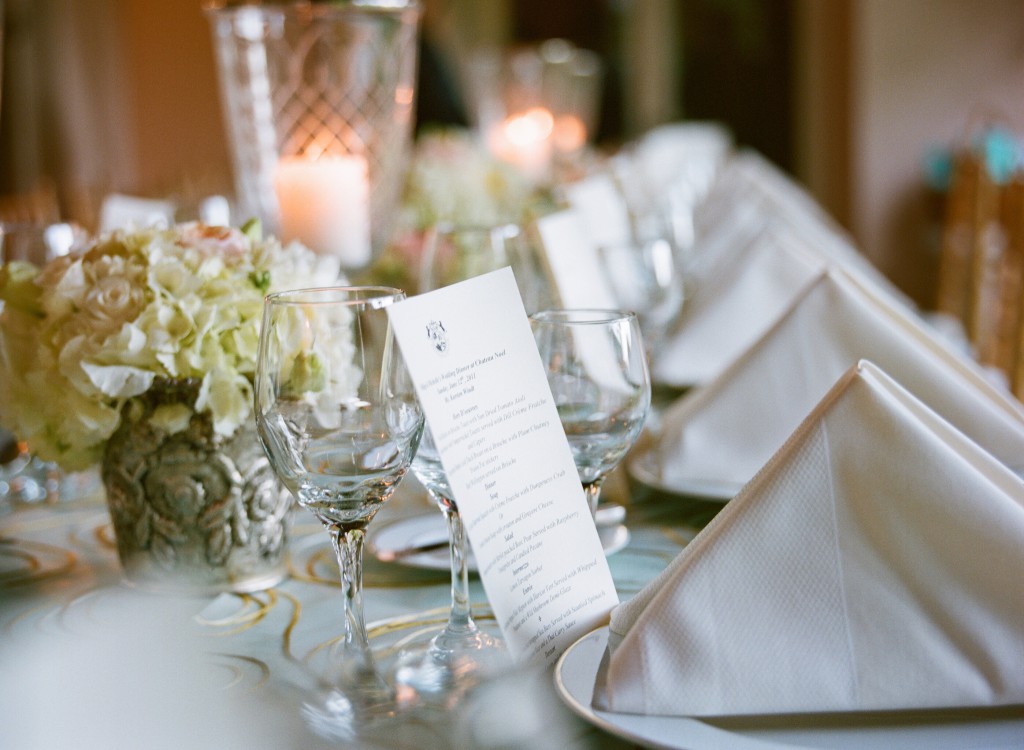 It was a wonderful conclusion to a one-of-a-kind day: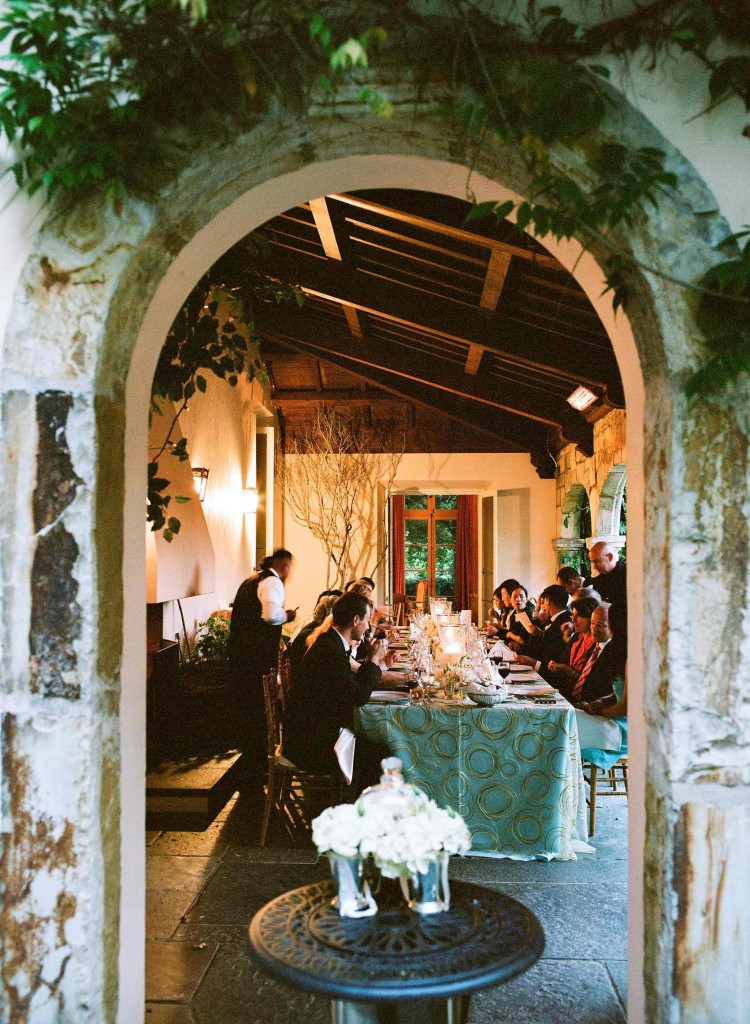 Congratulations and best wishes, Michelle, Philipp and Buzz! Your wedding was a fairytale – may your married life be one, too!
Michelle and Philipp | Stonepine Estates from andrew msv on Vimeo.
Wedding Coordination and Design: A Day Like No Other
Thanks to my Dream Team:
Venue and Catering: Stonepine Estate
Invitations: The Desk Set
Dress: Priscilla of Boston
Jewelry: Tiffany
Cake: Cake Coquette
Hair and Makeup: Triple Twist
Flowers: Christine Cater Floral Design
Photography: Kevin Chin Photography
Videography: Andrew Hsu / Studio MSV
Ceremony and Reception Music: Karsten Windt String Quartet
Dinner Music: Matisse Freimark, ph. 831-722-8131
Transportation: City Express Limousine Service